---
As a gun catalog writer, one, if not the most, important aspect to a client, is how an estimate on a firearm is determined. Price guides are often a year in the making before they are ever published and as such, current market trends may have already shifted. Price guides serve a great purpose as to knowing what you have and whether it is a valuable gun or not. Knowing what a gun is actually selling for at any given moment has far more variables. As usual, condition and demand are the driving factors in any collectible regardless of field. Rarity is important – but a very rare gun with little collector interest or condition is always triumphed by the former. Markets trend in all collectible categories based on age groups, current crazes (such as the unprecedented Colt Snake Guns wild ride into the stratosphere), the economy, the political climate with some added difference to regional interest and seasons.
We have seen downward trends in the last decade in many areas. Pre-64 Winchester Model 70's have cooled at least 25 percent in the last five years. We have witnessed this same trend in Henry rifles, Sharps rifles, Kentucky rifles and Civil War firearms. Some of this can be attributed to the economy, some to an aging group of collectors entering the era of collection disbursement or aging collector base with diminishing numbers, while some downturn is due to the sizzle of a craze finally coming to its end. Younger collectors are entering into their peak earning years with an increased interest in military weapons with WWII forward being the strongest at the moment. But even if something has been trending down, the best examples still command large amounts of interest and at times – world record prices. The moral here: Always buy the best condition you can afford, one gun over several, in an established collector category with a solid base. Up or down, you will always find an eager buyer. Junk is, and always will be, hard to sell.
If your eye is on usable hunting guns, the best quality and condition will still offer a safety net of future buyers, while inexpensive utility quality guns will lose their value far more quickly and permanently. Remember when a Colt Python was still being produced and could be had for under $400? Even if you bought it and used it to the point that it now remains with about 50-percent original finish, that gun will still sell for 3-4 times what you paid for it. On the other hand, if you bought an inexpensive Spanish .357 magnum at the same time and used it in the same manner, you might be lucky to get half of what you paid if you could find a buyer. As quality newly made guns either go out of production or their list price climbs year after year, you still retain an investment that should pay dividends rather than a gun that loses value like a used car.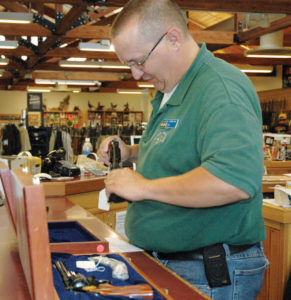 One new trend in collecting are guns that are expertly restored back to 'as new' condition. This practice has long been accepted in collecting venues such as automobiles or motorcycles. Shotgun collectors as well as big bore custom or English rifle collectors have accepted such examples with far more enthusiasm than, let's say – Colt, Smith & Wesson, or Winchester collectors – but that is changing somewhat. Regardless, a completely restored gun will still sell for a fraction of a like-condition original. Poorly refinished guns and those that have been altered by amateur gunsmiths become simply tools or fillers at best.
Bottom line, when thinking about gun values, always think condition, quality and demand. We will all have to sell our collection at some time or someone else will. Make smart choices and you should see a good return in time. Above all else, if you are new to the game, get every book you can find on your collecting interest and read them. Attend several gun shows and seek advice, consult and get opinions from others, and you will not be sorry.
---
Fully updated, The Official Gun Digest Book of Guns & Prices, 11th Edition is the perfect companion to take to any gun store, show or auction. The comprehensive guide gives you the power to identify and price thousands of non-military firearms from around the globe. Yet the wealth of information this volume provides has been condensed into an easy-to-use format and portable size. It is the perfect price guide for research on the fly, helping you maximize your next gun sale or purchase, no matter where you are. Get A Market Edge