Walther has just announced the Walther Magnum Pistol or WMP, a .22 Magnum optics-ready handgun with a 15-round capacity.
While .22 Magnum isn't the most popular of calibers, it does enjoy a wide variety of applications. This may be why Walther is marketing the new .22 Magnum WMP as being "ready for adventure," without being too specific about what that adventure may be. Whether the cartridge interests you for pest control, hunting, plinking or even self-defense, the WMP appears to be a capable and feature-rich pistol to do it with.
The .22 Magnum WMP is a full-size, polymer-framed handgun with a 4.5-inch barrel and a 15-round magazine capacity (10-rounders available for ban states). The pistol also features an optics-ready slide and comes with two adaptor plates. Walther doesn't specify which optic footprints the adaptors are for, but the product page features a WMP sporting what looks like a Vortex Viper which uses Docter-pattern mounts. For those who prefer to use iron sights, the front post is fiber-optic as well.
The .22 Magnum WMP is also completely ambidextrous, featuring not only a slide release lever on each side but a magazine release as well. Actually, the WMP has four activation points for the mag release, and Walther is calling the system the Quad release mechanism. This means that the pistol not only has a traditional button release on each side, but a classic Walther-style paddle release on both sides too.
A few other features of the WMP worth mentioning are its accessory rail, front slide serrations and trigger safety. Each pistol will include two magazines and the MSRP is $549.
For more on the Walther Magnum Pistol, please visit waltherarms.com.
---
Get More .22 Magnum Info: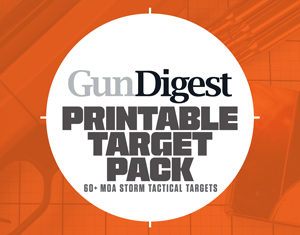 Next Step: Get your FREE Printable Target Pack
Enhance your shooting precision with our 62 MOA Targets, perfect for rifles and handguns. Crafted in collaboration with Storm Tactical for accuracy and versatility.
Subscribe to the Gun Digest email newsletter and get your downloadable target pack sent straight to your inbox. Stay updated with the latest firearms info in the industry.