Accurate and powerful, .22 Magnum revolvers might be the ideal rimfire for small game handgun hunting.
What Are The Best .22 Magnum Revolvers For Hunting:
Since the late 1950s, the .22 Winchester Magnum (more simply .22 Magnum) has fascinated rimfire shooters. Velocities better than any other rimfire cartridge of the same caliber, the snappy magnum flies further and flatter, and hits harder. This last point, however, creates issues, particularly in the context of hunting.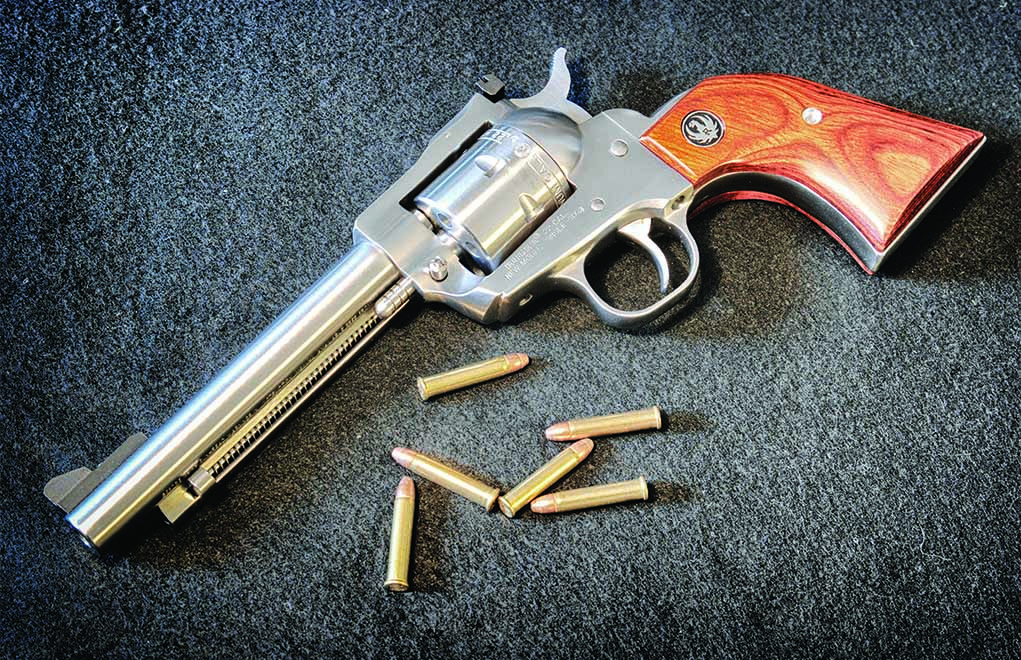 The problem, you see, the .22 Magnum has been known to pop eat'n critters too dang hard, especially out of a firearm that maximizes the cartridge's velocity. Say a rifle. Dang accurate out of a long gun, the cartridge tends to decimate squirrels and can even leave larger prey, such as cottontails and jackrabbits, with a good chunk of bloodshot meat. None too appetizing, enough to relegate the magnum to target practice or pest control. Or is it?
If you're up to the challenge, there is a class of gun downright dandy for shelterbelts teeming with brush tails or bunny-filled meadows. One that leaves plenty for the dinner table, without surrendering nearly all the cartridge has to offer. Here I refer to the .22 Magnum Revolver.
The .22 Magnum Wonderful Wheelie
Most are cognizant of the allure of handgun hunting. Stalking game close enough to smell its musk, then placing a shot with an inherently less accurate firearm than a rifle. At once, it's challenging and satisfying. And while dominated by centerfire handguns, thanks to the .22 Magnum rimfire enthusiasts have an adept tool for potting game.
The .22 Magnum revolver generally is the best bet. At least to my mind, three areas make the magnum revolver—rather than pistol—particularly suited for small game hunting:
Longer Barrels—Better velocity profile and longer sight radius.
Single-Action Trigger—Light, snappy and likely to milk more accuracy out of a shot.
Adjustable Sights—Plain and simple, you can dial them in.
I'll add, most .22 Magnum revolvers are lookers, which never hurts. But what does the cartridge-gun combination bring to the table when it comes to putting meat there? As it turns out, a lot.
Back in the day, Winchester stated the magnum was better out of a handgun than any other .22 out of a rifle. This is mostly true. A snubbie .22 Magnum revolver is likely beatable by even the humble .22 Long Rifle with the right load. But, a suitable .22 Magnum hunting revolver … that's a different story. A brief example might shed some light.
Take CCI's 40-grain .22 LR Velocitor and send it out of an 18.5-inch barreled Henry Classic lever-action, you'll achieve a muzzle velocity of around 1,370 fps. Now pitch CCI's 40-grain .22 Magnum Gamepoint ammo from a 6.5-inch barreled Ruger Single-Six and the muzzle velocity is right around 1,480 fps. Obviously an improvement, and from rig a fraction of a rifle's size.
Even better, the hot .22 is generally tame enough out of a handgun to preserve the meat. Though, it does take some study to ensure this, namely when it comes to ammo.
A Note On Ammo
Aside from case volume, one of the major differences between the .22 Magnum and most other .22s is its bullet. By and large, they're jacketed—thinly jacketed. This is problematic, given the terminal profile of these projectiles in a word are explosive. They're the type typically favored by varmint hunters who aren't worried about pelts or meat.
Ammunition manufacturers are cognizant of this issue. And while the fast-expanding pest-control style loads dominate the market, they have thrown a bone to meat hunters.
There are several small-game hunting loads tailored to knock the stuffing out of critters without destroying them. For the most part, this ammo is loaded with controlled-expansion bullets similar to those use for large game, designed to retain mass upon impact. CCI's Gamepoint, Remington's Magnum Rimfire and Winchester's Dynapoint are good examples of these options.
The likes of Speer TNT or Hornady V-Max—known for their rapid and volatile expansion—are best left for pest control. Either way, plan on doing your homework before heading afield.
---
Get More .22 Magnum Info:
---
Best .22 Magnum Revolver Options For Hunting
Smith & Wesson Model 648
The K-frame and .22 Magnum have a long history, dating almost back to the inception of the cartridge. The Model 48 (we'll talk more about it further down) was one of the first guns chambered for the cartridge in the late 1950s. Evolving over the years, S&W's latest iteration—the rebooted Model 648—might be among the company's best cracks at a .22 Magnum revolver. True enough, the 648 is a competitive gun, ramped up to ring steel and punching paper. But the double-action/single-action still holds its own in the field.
To this end, the hefty 8-round revolver has an exceptional trigger you'd swear rolled out of Smith & Wesson's Performance Center. Unlikely as it is most hunters will use the double-action pull, it's still nice to have in the quiver for a follow-up where the hammer can't be cocked in time. Though, that's a difficult task, given the spur is wide and well-textured, easy to catch with the thumb. Additionally, rubberized grips keep the revolver well in hand. Not that you have to worry about it jumping, at 46-ounces it's a stainless-steel beast.
The 648 has a fully adjustable rear sight, which you dial in the windage and elevation with a small flathead screwdriver. This works in conjunction with a Patridge front, more a target option, but its crisp sight picture is suitable for hunting. The one drawback, the Smith & Wesson will hit you right in the pocketbook.
MSRP: $772; smith-wesson.com

Ruger Single-Six Convertible
I have to confess bias here—I have a Single-Six Convertible and love it. A 6.5-inch barrel, the all stainless-steel gun has taken its fair share of squirrels—both ground and tree. Plus it's murdered more bottles and cans than I can count. The purpose of the revolver all just depends on what cylinder I run—.22 Long Rifle or .22 Magnum. Now, if my particular set-up doesn't appeal to you, never fear—the Single-Six comes with barrels ranging 4.62- to 9.5-inches long, and nearly everything in between.
A rimfire clone of the legendary Single-Action Army, the Single-Six isn't everyone's cup of tea—namely because it's a single-action. Give most hunters prefer to cock the hammer for the light trigger break, most reading this article will more than find the .22 Magnum revolver suitable. Well balanced, the piece is easy to hold on target, though for longer attempts a good shooting stick proves a quality investment. A must on most hunting revolvers, the rear sights are fully adjustable and work with a massive front ramp sight.
It's worth mentioning, Ruger produces a dedicated .22 Magnum revolver in the same family—the Single-Nine. A fine revolver holding 9 rounds, instead of the Single-Six's 6, it isn't convertible—the dealbreaker for me. Still, for someone who wants a few more rounds on tap and a bright set of fiber-optic sights—Williams Adjustable in the rear—the gun is worth a look. MSRP: Staring at $629; ruger.com

Smith & Wesson Model 48
Told you we'd get back to this classic. Smith & Wesson reintroduced the somewhat iconic .22 Magnum revolver in recent years, keeping it true to its original form. Though, the company improved the overall design, in part thanks to more modern manufacturing processes. Even so, the gun has the timeless lines S&W fans love and all the accuracy the target gun is known for.
The decision point on the Model 48 is barrel length, with 4- and 6-inch variants available. Both are suitable for taking game. From there the guns are veritable twins.
Especially nice, the gun's walnut square-butt grips. While they seem somewhat archaic by today's standards, the style is quite ergonomic and very conducive to resting on a support. Furthermore, the gun has an excellent trigger in both double- and single-action, and like its successor a large hammer spur with an aggressive diamond texture. Sufficed to say, it's quick to cock.
Like most .22 Magnum revolvers, the Model 48 has some welcome heft (nearly 42 ounces on the 6-inch barrel variation), which helps in holding the K-frame on target, as well as mitigating recoil. Not mentioned on the previous two guns, but as applicable, the classic Smith & Wesson is all the more enjoyable with a quality holster and a good gun belt. MSRP: 4-inch model $976; 6-inch model $1,017; smith-wesson.com

Charter Arms Pathfinder
Most write Charter Arms off a purely a concealed-carry revolver-smith of the budget variety. However, the company has expanded its horizons in recent years, producing more versatile models and at least one fairly well suited to taking small game. Here, I allude to the Pathfinder.
Admittedly, the 4.2-inch barreled .22 Magnum revolver runs at the short end of the hunting spectrum, but not prohibitively so. The bore is enough to keep it competitive with most .22 LR loads out of a rifle. Plus the DA/SA's somewhat demure size gives the gun the added benefit of being the lightest (20 ounces) on the list. Furthermore, the revolver has passable adjustable rear sight (front ramp). Nothing to write home about, but it's reliable enough that it will get you hitting where you aim. Also in the plus column, the 6-round revolver's comfortable rubberized finger-groove grip, which does a fairly good job of asserting control of the gun.
The trigger, well it's a Charter revolver, so double-action is heavy and not the smoothest in the world. But its single-action is good, light and responsive. Given it's the cheapest option for a .22 Magnum revolver that checks off all the boxes, there isn't a ton to complain about. MSRP: $425; charterfirearms.com

Rock Island AL22M
Yeah, they have a ton of well-priced 1911s, but Rock Island has come into its own in the revolver market. The AL22M is proof. The Czech-made (Alfa Proj) .22 Magnum revolver was released in late 2020 and offers some nice design points that help it excel in the field. At the same tick comes in at a price most can afford.
Funny as it might sound, the 4-inch barreled revolver's grip is one of its most attractive features. Very slender at top and featuring an undercut trigger guard, it facilitates a solid high grip, thus more control over the gun. It also helps with recoil, not that it's an issue on the 38-ounce wheelie. The sights are solid as well, with an adjustable rear and a ramp front. But Alfa Proj went the extra step of an orange insert on the front making it a bit easier to focus on, especially in a shadowy environment. Topping it all off, it holds an ample 8 rounds.
The AL22M's trigger is adjustable but requires taking off the side plate to access the adjustment screw. Most hunters won't find this necessary, with a 2-pound single-action break and a double-action pull around 7 pounds. As a bonus, full underlug and your choice of blued or stainless steel finish. MSRP: Blued $589; Stainless $799; armscor.com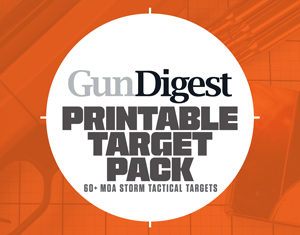 Next Step: Get your FREE Printable Target Pack
Enhance your shooting precision with our 62 MOA Targets, perfect for rifles and handguns. Crafted in collaboration with Storm Tactical for accuracy and versatility.
Subscribe to the Gun Digest email newsletter and get your downloadable target pack sent straight to your inbox. Stay updated with the latest firearms info in the industry.