Imported by SDS out of Turkey, the Zigana PX-9 G2 has several new features but the same affordable price.
Tisas Zigana PX-9 G2 Features:
Customizable Grip Panels
Removable Magazine Well
Ambidextrous Controls
Light Rail
18+1 Capacity Of 9mm
Turkish firearm manufacturers have seemingly found their niche in the international arms trade. They have proven to be more than capable of producing functional, yet affordable guns, especially shotguns and pistols. One of these companies is Tisas, mostly known in America for their 1911 and Hi Power clones that serve as many new shooters' first foray into the "classics". The Zigana PX-9 may not be a classic, but since its release, it has proven to be more than adequate as a full-sized duty pistol. From Malaysian and Filipino police officers to American citizens, the Zigana PX-9 offered its users a no-frills, modern service pistol experience for less money than the competition. The same is true about the pistol's 2021 second-generation update, the Zigana PX-9 G2, but it is now more ergonomic and customizable too.
With today's handgun market so dominated by the hottest new CCW pieces, it's easy to forget about full-sized pistols. In areas where concealability isn't of concern, however, there's really no reason to choose a smaller gun over a larger one that will be easier to aim, shoot and will have a higher ammo capacity. Whether its for your nightstand, your glove box, or just for the range, large frame pistols still have their place. If all you need is something basic, the Zigana can get the job done for cheaper than a Glock, Sig or any other name-brand analogs.
The Zigana PX-9 G2 has changed in appearance slightly since its first generation. Updates made to the grip allow for 27 different configurations, accomplished by swapping out the side panels and backstraps. A removable magazine well is also included to assist with reloading. The manual thumb-safety is ambidextrous out of the box and the magazine release can be swapped to either side.
Like the first-generation PX-9, the G2 model still has a light rail and forward slide serrations. It also still has reverse compatibility with S&W M&P 2.0 rear sights as well as Sig P226 magazines. While similar to the Springfield XD, the Zigana has no grip safety or trigger safety, instead opting for a simpler and cheaper to produce manual thumb safety. While some dislike having to remember the extra step of flicking a safety off during a draw, many others also prefer it to the less comfortable grip and trigger safeties.
The Zigana PX-9 G2 has an MSRP of $379.95, only $10 more than the previous generation. Each pistol ships with two magazines, a magazine loader, a cleaning kit, an OWB holster and a lockable hard case. It may not be the fanciest gun on the block, but for the price, you get a very capable service pistol with a lot of extras and features right out of the box.
For more on the importer, please visit sdsimports.com.
---
More On 9mm Defensive Pistols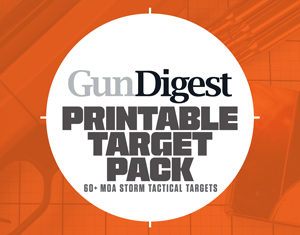 Next Step: Get your FREE Printable Target Pack
Enhance your shooting precision with our 62 MOA Targets, perfect for rifles and handguns. Crafted in collaboration with Storm Tactical for accuracy and versatility.
Subscribe to the Gun Digest email newsletter and get your downloadable target pack sent straight to your inbox. Stay updated with the latest firearms info in the industry.