Updated 7/27/2021
Understanding the AR-10 lower receiver is key to getting the rifle you want.
What are the specifics on AR-10 lowers:
Two main receiver patterns: DPMS and ArmaLite.
DPMS has an elliptical rear cut on its lower, ArmaLite an angular cut.
Patterns are not cross-compatible with the upper receiver.
Series B ArmaLite receivers use magazines based off the M14's.
DPMS and ArmaLite Series B receivers are compatible with industry-standard "SR" magazines.
Nearly all AR-15 triggers can function in an AR-10.
AR-10-specific triggers generally have beefed up hammers.
AR-style rifles, certainly they're fun to shoot, but that's perhaps only half their story. The aspect that seems to capture shooters' fancy as much as accuracy, ease of use and ruggedness is their simplicity of upgrade. Want an in-your-face carbine, begging for close-quarters action? An AR can do that. How about a long-range system configured to clip a fly's wings well past the 500-yard mark? Again, look no further than Eugene Stoner's eminently talented brainchild.
Upgrading an AR is nearly a no-brainer, at least when talking the smaller AR-15. The civilian rifle has benefitted greatly from its cousins' – the M-16 – military service with a veritable cornucopia of upgrades for nearly every conceivable application. More importantly, the rifle has become standardized, in turn nearly every single aftermarket part is certain to work on your rifle, whether it wears a Colt, Smith & Wesson, CMMG or any other brand. Things get a bit trickier with the big brother of the black-rifle family – the AR-10.
Scant military use has made building and shopping for the larger-caliber AR a bit more convoluted. Free to design as they please, manufacturers have done exactly this over the years, placing some constraints on how you go about upgrading or slapping one together. Not standardized, it takes additional consideration to get things to work properly with an AR-10; it's not exactly rocket science, but it positively isn't a pick-and-place affair like the AR-15. But once you grasp the fundamentals, you open the door to a whole new world of calibers – .308 Win., 6.5 Creedmoor, .270 Win., just to name a very few. Furthermore, you can expect a rifle every bit as flexible and adaptable as its little brother, just one is a bit fussier when it comes to parts.
The key to making the most of an AR-10 is a good foundation of the rifle, the popular patterns and what parts work with what systems. And there's no better place to begin decoding these brutes than, well, they're foundations.
AR-10 Lower Receiver
Aside from calibers, receivers (upper and lower) pretty much define the AR-10 and dictate how you move forward building, upgrading or maintaining your rifle. Even if you plan on buying one off the shelf and leaving it stock, you should give some thought to the heart of the rifle. Sooner or later you'll have to replace a component. When that time comes, your receiver choice could potentially make life easy or difficult.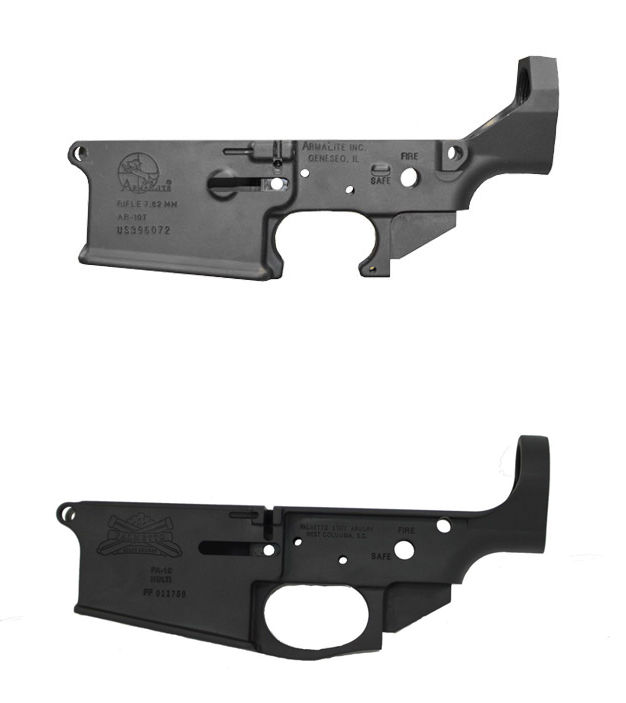 The great majority of AR-10s are one of two receiver patterns: DPMS or LR-308 and ArmaLite (by definition the AR-10). Rock River was also a major player in the early days, however, its LAR-308 pattern didn't see as widespread aftermarket profusion. Today the world is awash in AR-10s, and unlike its little brother the AR-15, manufacturers have done anything but standardize. This means there are many other patterns on the market, specialized designs that veer from what use to be the norm and are only compatible with parts from that particular company. But since these are highly proprietary, we'll stick with what you'll most likely encounter on store shelves and through AR parts dealers.
The differences between the patterns are fine, but particularly notable on the AR-10 lower receiver's geometry. The rear cut on a DPMS lower is elliptical, while ArmaLite's is angled. The means, for the most part, upper receivers only play nice with their own kind. A DPMS pattern upper won't work on an ArmaLite lower, but the inverse will. Not that this is an advisable configuration. You'll have a functional rifle, but one with large breaches between the receivers, begging to invite filth into internal components. Additionally, the gap is right around face level when the firearm is shot, not ideal if ever a case ruptured. There are some other notable differences between the patterns, mainly pertaining to parts, we'll get to that when we delve into AR-10 upper receivers in another post.
A not-so-obvious variance in the AR-10 lower receiver patterns is magazine compatibility. Time was DPMS had a definitive advantage in this facet, using modern magazines based on the original waffle-pattern. Produced by manufacturers such as Magpul and D&H Industries, these SR- or DPMS-pattern magazines were and are readily available and economical.
Conversely, for a spell, ArmaLite turned out their own magazine stock (there were a few other manufacturers) based on the one used by the M14. This changed earlier this decade. ArmaLite introduced what it calls its Series A receivers (Series B is the traditional receiver design), which are compatible with industry-standard magazines based on the waffle pattern. At this point, the newer pattern dominates the company's catalog. Though, Series B AR-10s are readily available.
---
Learn More About The AR-10:
---
There are a number of manufacturers who are on each team, though the DPMS perhaps has more. For instance, Fulton Armory, Palmetto State Armory and CMMG all use Gen I DPMS designs. As far as ArmaLite, Knight's Armament and Noveske are notable examples, besides, of course, ArmaLite.
AR-10 Triggers, Buffer Tubes And Stocks
Following along to the internals and other aspects affiliated with the AR-10 lower receiver, things loosen up quite a bit, given there are a number of AR-15 parts that are compatible. But not all. Bolt catch, magazine catch, buffer, buffer spring and takedown pins are no-goes between the large and small ARs.
However, the platforms can share pistol grips, buffer tube, trigger guard, safety selector (and spring), magazine release button (and spring), trigger guard, buttstock, hammer and trigger. This last component – trigger – is especially nice, opening a veritable floodgate of top-shelf options.
Love Timney's AR-15 Competition Trigger in your 5.56 rifle? It's at home in your .308. Same goes for a Primary Arms model or TriggerTech or Velocity or what have you.
That said, most trigger makers do offer options specifically designed for the larger-caliber rifle. The difference, they're beefed up – especially their hammers. Some examples are Jard's single and two-stage .308 triggers and Timney's .308 Drop-In, which have much more meat on their bones. Some shooters swear by them, citing greater durability and reliability. The point is debatable, given there are plenty of cross-purpose AR-15/10 triggers running in the larger-caliber rifle without a hitch.
The Best AR-10 Lower?
Given the variation in the market and the proprietary nature of the rifle, this is a difficult question on a general level. Making matters more difficult, the exclusivity of designs has made a ground-up build more difficult as the years have gone on. Easier for a manufacturer to offer a complete rifle and do away with spelling out all the nuances of compatibility. Not to mention emails complaining, "My gun didn't work with XYZ component …" Who needs that headache?
That said, there are still options to cobble together a rifle in the most popular patterns starting at the foundation. Two good areas to begin are Aero Precision and good ol' Armalite itself.
Aero M5

For first-timers, the M5 is an excellent option in an LR-308 pattern lower. Aero components are affordable, yet well made, with tight specs. Maybe not up to snuff for the true rifle snobs, but passable for the everyday shooter.
Forged, the M5 is tough as cut nails and should provide a lifetime of service. But it has a few other bells and whistles making it a solid investment. One of the most notable, a polymer-tipped set screw that takes the rattle of a rifle. Best of all, it's an LR-308 pattern, which means the lower is much easier to build out given the number of aftermarket parts available.
Armalite AR-10 A Series

Where else would you turn to build an AR-10? Not only are you getting the Armalite markings on your build with this lower, but also a dang nice receiver to boot. Plus, it being an A Series design, the lower offers up greater magazine compatibility.
What you get out of the Armalite lower is a forged receiver, the perfect foundation for a tactical workhorse build. One with a nice flare of tradition, reaching back to the beginning of the rifle. While not readily available, occasionally B Series receivers crop up, bad news for throwback builders. If you're wed to the older design, likely you'll have to keep your eyes peeled on third-party sellers.
Parting Shot
Certainly not as clear-cut as shopping for or building an AR-15, decoding the AR-10 isn't an absolute mind-bender either. Understanding the difference between the AR-10 lower receivers is a good starting point and lays a solid foundation to the parts of the platform that are a bit more intricate and nuanced – upper, handguard and barrel in particular.
More than anything, it's a matter of understanding the rifle's compatibility with parts, then shopping for them accordingly. This means serious research on the rifle you plan to build. Once you decide the manufacturer of AR-10 lower, question them to the nth-degree about exact specs and compatibility of parts. Glancing at the geometry of the receiver isn't enough to verify it'll work.
It might seem a slog for a modular system, especially after getting spoiled by the Mil-Spec AR-15. But learning the ins and outs of AR-10 pays off with a greater variety of caliber options and a rifle ready to go the extra mile. Not to mention, mastering a truly unique weapons system.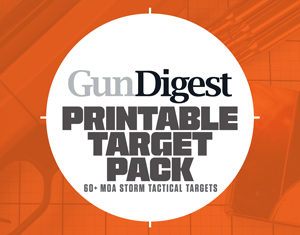 Next Step: Get your FREE Printable Target Pack
Enhance your shooting precision with our 62 MOA Targets, perfect for rifles and handguns. Crafted in collaboration with Storm Tactical for accuracy and versatility.
Subscribe to the Gun Digest email newsletter and get your downloadable target pack sent straight to your inbox. Stay updated with the latest firearms info in the industry.