Sig Custom Works' new Spectre pistols include Sig's two most popular handgun models, and they're ready to be carried right out of the box.
Spectre Series Features:
Laser Engraved LXG Grip Module
Distressed Spectre XSeries Slide
XSeries Trigger
Optics Ready
XRay3 Day/Night Iron Sights
Sig handguns have been seeing greater success than usual in the U.S. market for a few years now. Their P365 XL is generally considered to be the king of micro-compact double-stack 9mm carry guns. And the army's adoption of the P320 as the M17 service pistol helped to boost their popularity as well. Now Sig Custom Works has released the Spectre line which features the P365 XL and the P320 XCompact, both designed to be ideal concealed carry pieces without any further modification required (besides perhaps the addition of an optic).
Both Spectre pistols feature an LXG grip module which has been laser engraved with aggressive texturing to provide for a solid grip. They also include XSeries triggers, XRay3 Day/Night sights and an XSeries slide. The slides both feature Spectre X-pattern engravings and lightning cuts.
The P320 XCompact Spectre's XSeries straight trigger has been skeletonized, something not found on the P365 version. The P320 also has more direct optics mounting options than the P365 XL, ready to accept a Sig Romeo1PRO, a Deltapoint PRO, or an RMR. The P365 Spectre is only cut for the Sig ROMEOZero.
The Spectre XSeries slides on both guns have also been intentionally distressed at the factory to give each one some unique character. It certainly looks cool, but it's also a bit like buying pre-torn jeans. If you are training with your defensive handgun as rigorously as you should be, the finish should distress naturally.
The Spectre P320 XCompact
The larger of the two Spectre pistols, the P320 XCompact is still small enough to be easily carried. It is more comfortable to shoot and has a bigger magazine capacity than the P365 XL, but comes at the cost of being less concealable.
The Spectre P365 XL
The regular P365 XL has already been lauded for how ergonomic and comfortable of a shooter it is despite its small size. This can only be more true on the custom Spectre model due to the aggressively engraved grip texture and improved XSeries straight trigger.
The Sig Spectre pistols have been listed for sale from $1099 to $1199. This may be a large sum for a carry pistol, but it has come to be expected for a custom gun of this quality. They each also ship with two magazines (15-round for the P320 XCompact and 12-round for the P365 XL), a certificate of authenticity, and a Sig Custom Works challenge coin.
For more on Sig Sauer, please visit sigsauer.com.
---
More CCW Guns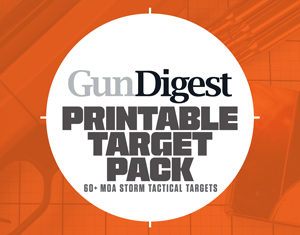 Next Step: Get your FREE Printable Target Pack
Enhance your shooting precision with our 62 MOA Targets, perfect for rifles and handguns. Crafted in collaboration with Storm Tactical for accuracy and versatility.
Subscribe to the Gun Digest email newsletter and get your downloadable target pack sent straight to your inbox. Stay updated with the latest firearms info in the industry.