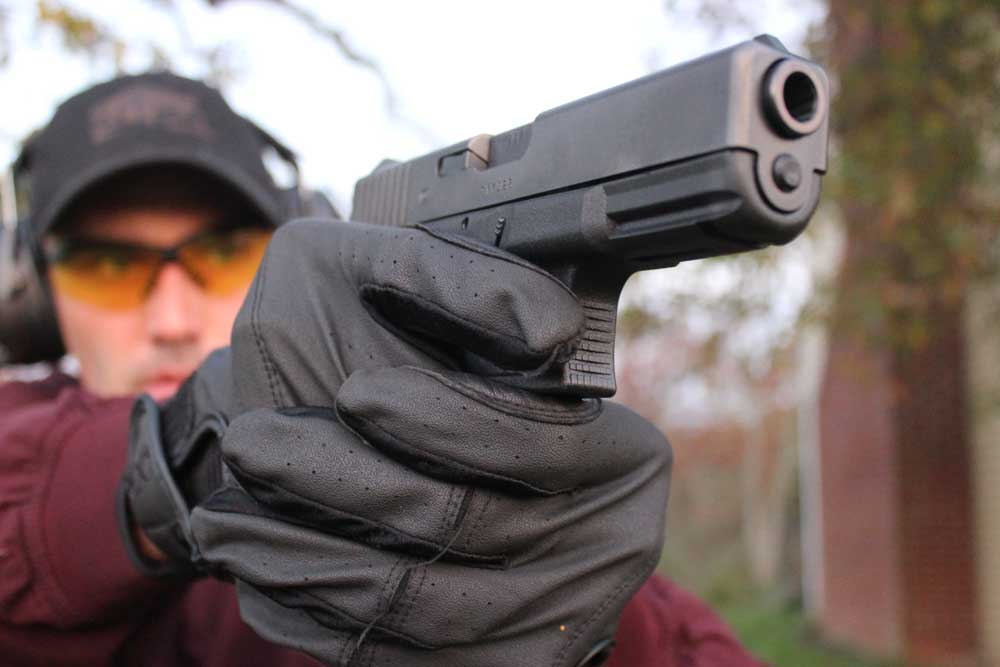 Updated 4/2/2021
Double-stack 9mm pistols abound, find out the top options in this class of handgun for concealed carry.
What Are The Top 9mm Double-Stacks:
Going on two decades now, concealed carry has been the driving force in the handgun world. Specialized heaters meant for competition or pleasure still abound, but more than anything on-person personal defense has defined the modern pistol. And when it comes to calibers for the task, more armed citizens have drifted to one in particular—the 9mm.
Is the good ol' Parabellum the best possible choice? That's a matter for barbershop debate and comment section flame wars. Suffice to say, with quality ammunition and a well-placed shot it's more than adequate to get the job done. Furthermore, given its mild recoil out of most handguns, the average shooter can become proficient enough with the 9mm to ensure they'll deliver a potential life-saving shot.
This raises the question, what exactly is the best 9mm pistol for the task of concealed carry? As has been uttered again and again, that all depends. Risk profile to skill level and even wardrobe (if it's light garb a big gun might not be your best option) among a host of other factors play a role in determining what handgun is best for you. While we can't hash out those for you, we can showcase some of the best options you have at your disposal. In this case, double-stack 9mm pistols.
What Is A Double-Stack?
Since we're talking about double-stack 9mm pistols, the question might be raised "What exactly is a double-stack?" Fair enough. Essentially, there are two dominant magazine configurations for handguns and rifles, single- and double-stack. In the single stack, the ammunition sits atop each other in a linear fashion, while in the double-stack they are staggered in what is best described as a zig-zag pattern.
There are advantages and drawbacks to each, which should play a role in determining the best concealed carry option to fit your needs. Single-stack mags are whisper-thin, helping keep guns that utilize them usually less than 1-inch in width. In turn, these pistols tend to be more comfortable and easier to conceal. The tradeoff is capacity. Not a hard and fast rule, the upper limit of single-stack magazines is typically 10 rounds; the iconic 1911 in traditional .45 ACP is eight rounds by and large. Typical encounters with felonious jackasses, this should prove more than enough firepower for the proficient handgunner. Black swan defensive situations … practice your reloads.
Peace of mind when it comes to firepower, the double-stack magazine in most cases has a 50- to 70-percent capacity advantage over its straight-and-narrow counterpart. Expect to find most pistols arming you with 15 to 17 rounds standard. Plenty of ammo on tap, double-stack pistols have redundancy built into the system, not to mention the means to handle rare, but more deadly multi-attacker encounters. There's a but … which is these guns are girthy—generally more than 1 inch in width—which makes them a bit harder to keep under wraps. Less talked about, those with small paws can find a solid grip tricky.
Why A Double-Stack 9mm Pistol?
Though new single-stack handguns have made headway in recent years, the double-stack 9mm pistol remains the dominant choice for a concealed carry gun. We've already touched on one of the reasons why—capacity. Don't wrinkle your nose, it's a huge advantage. Every time you have to reload your gun is out of the fight—a potentially deadly disadvantage. Important as this facet is there are some other advantages to 9mm double-stacks.
The 9mm itself is an ideal middle-ground defensive caliber, very shootable and very potent. It is no stretch to say most citizens looking to go armed—with the right amount of practice—can become proficiently accurate with a nine. Shot placement the predominant variable in neutralizing a threat, it goes without saying a handgun that is easily shot accurately is a leg up. Conversely, there isn't a huge tradeoff in the 9mm's terminal ballistics. Thanks to modern ammunition advancements—particularly more reliable and consistent expanding bullets—the caliber has become a more dependable threat stopper. The greater the wound channel, the more vitals are damaged and blood is lost, the better the chance an attacker will be thwarted. Sure enough, the good ol' .45 ACP will always possess a greater margin of error in this department given its diameter, but to say it's a world better presently would be a vast overstatement.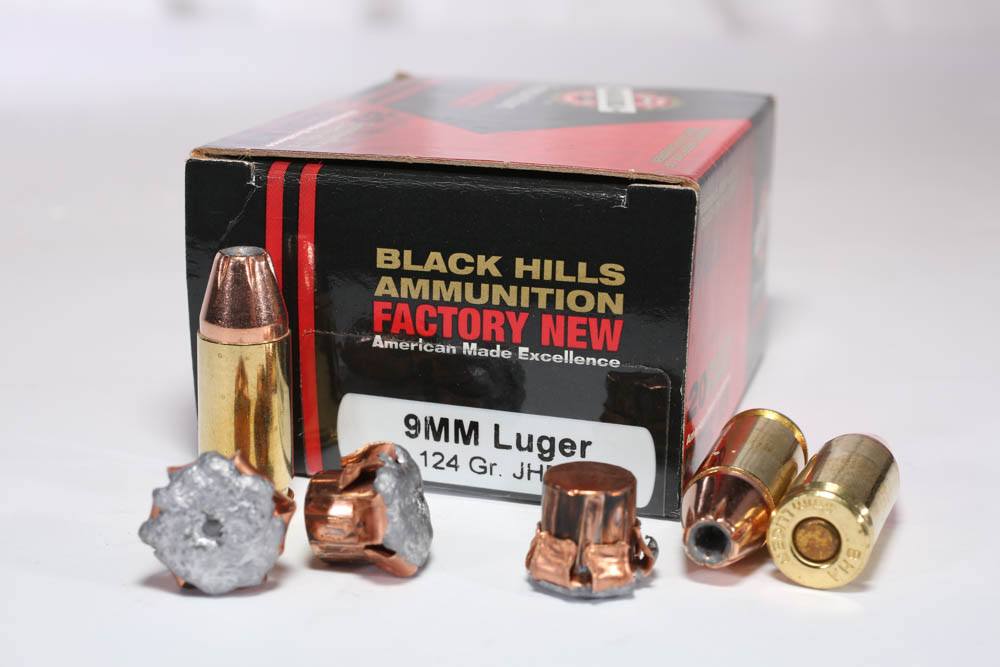 Finally, the double-stack 9mm pistol is a bit heftier than its slimline counterparts. Yeah, fully loaded the pistols will weigh more on the hip, which might not appeal to everyone. Taking on this burden, however, generally means a more controllable gun. Weight soaks up recoil, in turn, the gun is easier to keep on target shot to shot, thus potentially upping the speed at which you can fire it accurately.
Top Double-Stack 9mm Pistols
Sig P365
Few pistols have created as much upheaval as the P365. It happens when you do about everything right. The demure double-stack 9mm is among the most compact options on the market, but doesn't compromise one tiddle. The magic is in the magazine, which Sig took extraordinary pains designing. Not only does it hold 10-rounds with its flush-fit magazine (12- and 15-round extend mags), but it does so while achieving near single-stack dimensions—1.1-inch width and 17-ounces in weight. That's minuscule, particularly for the class of pistol.
Size and firepower are only part of the equation. Sig built the P365 as a fighting pistol and it has the assets to fill this role. A crisp and light trigger aids immensely in keeping the 3.1-inch barrel pistol on target and its short and positive reset means it can run fast when you need it to. Steel night sights, larger than you find on many in the class, are quick to build a sight picture, yet they aren't obnoxious enough to impede a draw. Add in elementary school math simple takedown—plus an easily removed fire control group—makes it an afterthought to keep the pistol in tip-top shape. It's easy to see why the P365 is the hottest ticket in defensive pistols presently.
Sig P365 Specs
Overall Length: 5.8 inches
Width: 1.06 inches
Height: 4.3 inches
Barrel Length: 3.1 inches
Weight: 17.8 ounces
Capacity: 10+1
Sights: X-RAY3 Day/Night
Trigger: Striker Fired
MSRP: $599
sigsauer.com
---
Load Up On More 9mm Knowledge:
---
Walther PDP
Unless throwback designs and metal frames are your things, Walther often gets overlooked in the defensive realm. A mistake for certain. In the game longer the most, the gunmaker understands what works and what doesn't. This more than shows in the expertly executed PDP.
On this list, the newly minted pistol (2021) replaces another top-notch Walther, the PPQ, which has been discontinued. Fret not, because the PDP offers everything its predecessor did and more. In particular, Walther maintains much of the PPQ's feel, while improving its ergonomics. Enhanced texturing on the striker-fired, a hexagonal pattern with a pyramidal structure, offers both comfort and an extremely positive grip. Additionally, Walther has gotten much more assertive with the gun's cocking serrations. Protruding above the surface of the slide, the wide-spaced ridges pick up the pace of manipulation, making reloads and clearing failures much quicker. Furthermore, the controls—mag and slide release—are reversible, thus ambidextrous. As to the size of the optics-ready PDP, we prefer the 4.5-inch compact (there's a 4-inch model as well as a 5-inch full-sized option), given it's not much larger than the smallest iteration, but offers an improved sight radius. As a side note, the pistol is backward compatible with PPQ magazines.
Walther PDP Specs
Overall Length: 7.5, 8 inch (Compact); 7.5, 8 and 8.5 inch (Full Size)
Width: 1.34 inch
Height: 5.4 inch (Compact); 5.7 inch (Full Size)
Barrel Length: 4 and 4.5 inch (Compact); 4, 4.5 and 5 inch (Full Size)
Weight: 21.4, 23.1 ounces (Compact); 21.5, 22.3 and 23.8 ounces (Full Sized)
Sights: 3 white dots, adj.; optic ready
Trigger: Striker-Fired
MSRP: $649
waltherarms.com
Ruger Max-9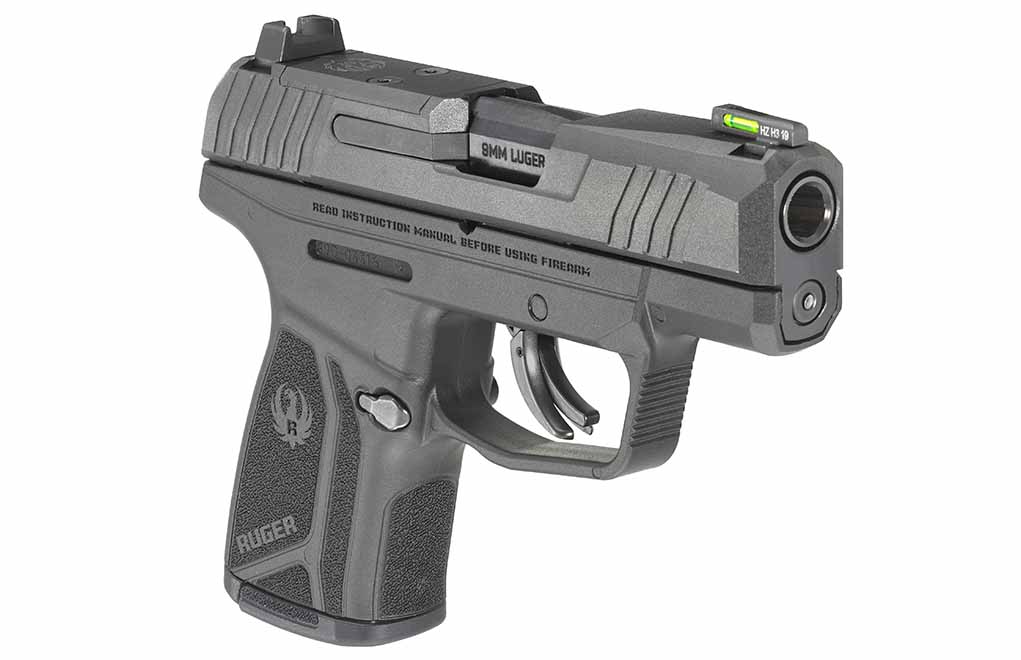 To some extent, Ruger has bucked many of the dominant trends in concealed carry, and has been successful in going rogue. Though, its latest endeavor—the Max-9—is decidedly mainstream, fully embracing the wave of micro-compact, double-stack 9mm pistols flooding the market. And shooters should count themselves lucky the massive gunmaker decided to go with the flow.
Not only is the Max-9 on par with class leaders in form and function, but it also comes in at a much more affordable price. As to the tale of the pistol's tape, it measures 6-inches long, 1 inch in width, boasts a 3.2-inch barrel and weighs in at 18.4 ounces unloaded. By most people's standards, that's fairly compact, enough to stay undercover in light summer garb, without having to compromise firepower. And the Max-9 has plenty on tap, feeding off 10+1 flush-fit magazine and 12+1 extended capacity. Overall, the pistol proves very comfortable with aggressive grip texturing keeping it in hand, and fore and aft cocking serrations making it easy to manipulate. The trigger is snappy to boot.
Max-9 Specs
Overall Length: 6 inches
Width: .95 inches
Height: 4.52 inches
Barrel length: 3.2 inches
Weight: 18.4 ounces
Capacity: 12+1 or 10+1 rounds
Sights: Tritium fiber optic front, drift adjustable rear
Trigger: Striker-Fired
MSRP: $499
Springfield Hellcat
Sig isn't the only gunmaker that knows how to go small. Shake hands with the Springfield Armory Hellcat. Concealable in every sense of the word, the double-stack 9mm offers firepower well beyond its size. To be exact, its flush-fit magazine holds 11 rounds and its extended 13. More than enough to dissuade even the most determined criminal nitwit. Yet the gun is decidedly a micro-compact—1-inch width, 3-inch barrel, 4-inch height and an extremely manageable 17.9 ounces. Quite a feat.
For its size, the +P-rated Hellcat is surprisingly easy to manage. Assertive grip texturing keeps the pistol in place, a snappy little trigger aids in keeping it on target and ample and aggressive cocking serration fore and aft make the slide a snap to manipulate. The Hellcat's sights are a bit different, a U-notch rear and tritium front, nonetheless instinctive. And if you run a red-dot optic, the OSP model comes with milled slide for direct mounting. Best of all, the Hellcat comes in at an affordable price, opening it up to the vast majority of the market.
Springfield Hellcat Specs
Overall Length: 6 inches
Width: 1 inch
Height: 4 inches
Barrel Length: 3 inches
Weight: 17 ounces
Capacity: 11+1, 13+1
Sights: U-Notch Rear, Tritium Insert Front
Trigger: Striker Fired
MSRP: $599
springfield-armory.com
Glock 19
Like it or not, the Glock 19 is the measuring stick by which all other double-stack 9mm pistols (perhaps all defensive pistols) are measured. Is it perfect? Not quite. But a mixture of a forward-thinking ergonomics, almost boring accuracy and a design so simple it almost never fails, it's practically perfect. More than can be said for others.
Compared to the micro double-stacks, the G19 is on the largish side, but interested parties shouldn't let this scare them off. Certainly, at 1 ¼ inch in width and 21 ounces in weight (unloaded), the pistol takes a bit more consideration keeping under wraps. Yet, those that do are rewarded with exceptional firepower with a 15-round magazine coming standard and 17-round extended capacity more than feasible for carry. Also, the sight radius. This doesn't get talked about enough but plays an important role—particularly with new shooters' accuracy. At 6-inches the G19 has plenty of it, making alignment a heck of a lot less shaky when you're mastering a fast and effective sight picture. Also, if there's anything that doesn't quite cut it with the Glock, you can upgrade. The aftermarket is bristling with top end parts to get the most out of your pistol.
Glock 19 Specs
Overall Length: 7.36 inches
Width: 1.26 inches
Height: 5.04 inches
Barrel Length: 4.02 inches
Weight: 21.16
Capacity: 15+1
Sights: Rear Outline, Front White Dot
Trigger: Striker Fired
MSRP: $600
glock.com
Smith & Wesson M&P9
For certain segments of the shooting world, the M&P9 represents the best of the best when it comes to striker-fired, polymer-framed pistols. It should. Smith & Wesson didn't attempt anything over the moon with the 9mm double-stack, just a dead-on reliable defensive pistol that has everything you need to save your skin.
First and foremost, the M&P9—now in its second generation—is reliable as a faithful hound. There are examples with thousands of rounds run through them without so much as a hiccup. Reassuring in a gun meant to save your life. Additionally, it's familiar. By this I mean, S&W modeled its form and feel after one of the all-time greats—the 1911. This is particularly seen in the 18-degree angle of its grip, which many argue is more conducive to two-hand shooting than pistols with a steeper rake. Similar to many in this class, the 9mm is tailorable to your hand size through replaceable back straps and fits tightly thanks to a notable palm swell. Furthermore, the 4-inch barreled Compact (the most logical model for carry) won't leave you hanging on capacity holding 15+1 rounds. The pistol is weighty for its class (27 ounces unloaded), but not prohibitively so.
M&P9 Specs
Overall Length: 7.3 inches
Width: 1.2 inches
Height: 5 inches
Barrel Length: 5 inches
Weight: 27 ounces
Capacity: 15+1
Sights: White 3 Dot
Trigger: Striker Fired
MSRP: $569
smith-wesson.com
Heckler & Koch VP9
You may have forgotten, the VP9 was a big deal when it came out. Not H&K's first foray into striker-fired guns, the pistol was a drastic break for a company that had poured its heart and soul into hammer guns. The double-stack 9mm didn't disappoint. Ticking like a Teutonic timepiece, the top-shelf striker-fired pistol was everything shooters expected and more.
Ergonomics are a big draw for the pistol, it just feels right in the hand and is a natural pointer. Much of this is thanks to adjustable grips via an interchangeable backstrap system and lateral grip panels. Also helping, rather understated finger grooves that situate the hand for a high, commanding grip on the pistol. Additionally, Heckler & Koch has included some interesting design points on the pistol, such as polymer charging handles at the rear of the slide. The gun is a shooter with an excellent trigger, which boasts a short reset (.24 inch) that lets you pick up the pace as needed. Very manageable in size and weight, the 4-inch barrel VP9 costs a bit more than most on this list, but still proves a great value.
H&K VP9 Specs
Overall Length: 7.34 inches
Width: 1.32 inches
Height: 5.41 inches
Barrel Length: 4.09 inches
Weight: 25.56 ounces
Capacity: 10+1, 15+1, 17+1
Sights: White 3 Dot
Trigger: Striker Fired
MSRP: $749
hk-usa.com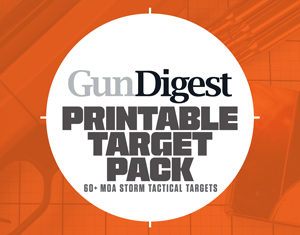 Next Step: Get your FREE Printable Target Pack
Enhance your shooting precision with our 62 MOA Targets, perfect for rifles and handguns. Crafted in collaboration with Storm Tactical for accuracy and versatility.
Subscribe to the Gun Digest email newsletter and get your downloadable target pack sent straight to your inbox. Stay updated with the latest firearms info in the industry.