Updated 5/6/2021
More than ever before the 1911 pistol is configured for concealed carry. Find the top models to protect your six.
What Are The Top Concealed Carry 1911 Options:
$500-$1000
$1000-$2000
>$2000
More than 100 years and still going strong. Few firearms can make this claim. Then again, few firearms are the 1911 pistol.
Born from the genius of John M. Browning, the handgun is among the most iconic of all time. Honorable service through two world wars, countless other conflicts and in the hands of law enforcement and armed citizens alike tends to elevate stock. So, today the venerable pistol remains a giant among guns, even with the onslaught of polymer pistols flooding the market.
In fact, safe bet that next to plastic striker-fired pistols there are perhaps more makes of 1911 than any other handgun. In other words, navigating the market is confusing, especially for first-time gun or 1911 buyers. This raises the question, where to start?
Thumbnail History Of The Icon
Not absolute imperative to purchasing a modern 1911, it's worth the time to understand the gun's roots. (Though, if you want to skip ahead to the buyer's guide, you're more than welcome.) We won't dive deep into the ins and outs of its development here, instead, point you to some out-and-out experts on the 1911 have produced deep dives into the gun's history. Among the suggested reads include Robert Campbell's The Birth of The 1911 Pistol and Patrick Sweeney's 1911: Before the Great War. You won't find a much more thorough background on all facets of the gun's development.
For our purposes, will home in on two facets imperative to the topic at hand—the modern 1911 pistol. First off, through extensive testing, John M. Browning's design proved eminently dependable—almost as steadfast as the march of time. One famous example of the pistol's reliability, not failing through 6,000 rounds of testing in its 1907 field trials. Pretty stout showing to say the least.
The other facet to consider, the pistol was designed as a man stopper. Certainly, extensively used in competitive shooting in modern times, the 1911 has outgrown this pigeon hole. However, its resume as among the deadliest handguns ever developed has been proven over and over, across the globe in some of history's bloodiest conflicts. Important today, given the 1911's potential as a lifesaving option for the armed citizen. Of course, on this point, the pistol only gets to take partial credit.
.45 ACP
Ammunition also plays a role in the potency of the 1911, and the .45 ACP certainly offers that in spades. Also developed by Browning, in conjunction with U.S. Army Colonel John T. Thompson (Thompson submachine gun fame), the cartridge defined non-magnum power for most of the 20th Century. Though, in truth, the low-pressure cartridge is relatively mild to shoot and by no means as speed demon out of the muzzle.
Instead, where the .45 ACP makes hay is its diameter. Essentially, a threat is neutralized by massive neural or cardiovascular damage or pain. Bullet breath, especially with non-expanding military full-metal jacket bullets, greatly increases the chances of inflicting one of the three. Depending on who you talk to nowadays, this is considered a negligible advantage in modern defensive handguns. Given the improvements in ammunition, particularly more consistent bullet expansion, some contend the 9mm is just as good as the .45 ACP.
There is some truth in this. The 9mm is absolutely a viable self-defense option and its effectiveness has only been enhanced with ammunition improvements. But even with leaps in terminal ballistics, not every bullet expands and the .45 ACP also reaps the benefits of better bullets. No matter what, a .45 bullet will almost always cut a larger wound channel than any other mainstream self-defense option on the market.
Buyer's Guide Stipulations
A brief word on the buyer's guide. Chamberings for the 1911 are legion, as are sizes and styles. We'd be here all day with a phonebook-length post attempting to list every worthy 1911 to come down the pike. In turn, there are some stipulations to the picks. Well, three.
As the title says, we're looking at models best suited for concealed carry. In turn, large Government-sized models and those decked out for competition are absent.
On chamberings—we're sticking with .45 ACP models. Yup, this leaves out many a fine gun, but we're suckers for tradition. And it doesn't get much more traditional than a .45 1911.
The final facet, the pistols are in production today. Again, there are some fine classics out there—some coming in at decent price points—but availability is an issue. While shopping GunBroker.com is fun, we aren't shooting to send you on a wild goose chase. Also, these are production and semi-custom guns. If you're purchasing a top-to-bottom custom gun you certainly don't need a buyer's guide.
---
Raise Your 1911 IQ:
---
Best 1911 Pistols $500-$1000
For an all-around gun at this price point, Springfield Range Officer is your best bet. For a fighting 1911, it's the Ronin Operator … particularly the Commander-sized 4.25-inch barreled model. Where Springfield did right is the aluminum-alloy frame, trimming up the pistol to a near featherweight (for a 1911) 29.5 ounces unloaded. Lack of heft makes it more conducive to everyday carry.
The pistol boasts a traditional barrel bushing system, foraged steel slide ample checkering on the mainspring housing and a nice set of laminate wood grips complete with Springfield's dual cannon logo. Combat sights—fiber optic front—are low enough to ensure a clean draw and are quick to build a sight picture. And a "Mama Bear" thumb safety—left-side only—is large enough to intuitively engage and disengage, without creating a dig point in your side when holster. For the money, the Ronin Operator is a top concealed carry 1911.
MSRP: $849; springfield-armory.com
Classics are difficult to beat. A staple for personal defense since 1950, the Combat Commander definitely qualifies as one. Following the original aluminum-frame design, the 1911 qualifies as a concealed carry piece tipping the scales at 27 ounces unloaded. Certainly, lightweight equates to a bit more buck in the hand but makes it all the more conducive to carry on an everyday basis.
In 2016 and 2017, Colt upgraded a number of its pistols' standard features, including the Lightweight Commander. These improvements included the manufacturer's dual recoil spring system, an upswept beavertail, undercut trigger guard, G10 "Black Cherry" grips and genuine Novak sights. Excellent fighting sights, they sit close to the slide, but the familiar three dots grab the eye. Unfortunately, Colt continues to make the Commander with a series 80 fire control—a drop-safety system that results in a trigger not nearly as snappy as the original series 70. Comparably crisp to what you'll find on nearly any striker-fired, this is far from a deal-breaker.
MSRP: $999; colt.com
Colt Lightweight Commander starting at $900 at Armslist.com
Yeah, it pushes the price ceiling of this tier, still, the Riptide-C is perhaps among the best values on the list. Founded by the former president of Dan Wesson, the manufacture is probably best known for custom 1911s and parts. A few years back they jumped into the production pistol game with very impressive results.
It's difficult to go wrong with any of the Freedom Series, however, the Riptide-C stands out as a gem concealed carry 1911. It's the little things that make it a self-defense winner—mainspring and frontstrap checkering, fastback grip cut, lowered and relieved ejection port, front cocking serrations, among other things. And the 4.25-inch barreled pistol is 100-percent steel. A bit hefty, but appreciated when you pick up the gun's pace. Make no mistake you can run the Riptide-C fast. Outfitted with a tradition Series 70 firing system, it offers a very predictable and light break—right around 4 pounds. A side note, consider the price listed hear as a starting point. Spend a bit more money and Fusion will customize any aspect of the Riptide-C.
MSRP: $999; fusionfirearms.com
Fusion Firearms Riptide-c starting at $995 at Armslist.com
Best 1911 Pistols $1000-$2000
Fit tight as a drum and finished to turn heads, one wonders how Dan Wesson can hang such a relatively low price on the Vigil CCO. By the company's standards, it's entry-level, but heads and shoulders above nearly anything in its price tier and below. Every part of the gun is forged or tooled, including its lightweight aluminum frame. In short, the Vigil CCO is a quality gun.
It's also fit for carry. For those unfamiliar with the CCO 1911 configuration, it's simply a Commander-length slide on an Officer-sized frame. Drastically cutting down on the pistol's height, the main culprit of printing, a CCO maintains a longer sight radius and more weight up front. It's a nice compromise, keeping it low-profile, yet extremely shootable. You sacrifice a round and the grips are abbreviated, yet Dan Wesson doesn't leave you hanging (maybe your pinky).
Ample checkering on the frontstrap and mainspring housing, as well as hardwood grips allows supreme control. Also worth note, the pistol comes with a tritium front sight and tactical rear, making it low-light ready.
MSRP: $1,298; danwessonfirearms.com
Colt Wiley Clapp Lightweight Commander

Comfortable as well-worn shooting gloves, the Wiley Clapp Lightweight Commander might be the ergonomic masterpiece of this buyer's guide. Oval grips comfortably fill the hand and, combine with 25 LPI checking fore and aft, create a positive surface from which to control the gun.
While lightweight, the gun is a bit more middle-ground for aluminum-framed irons at 30 ounces. Far from prohibitory for everyday carry and a benefit when exercising the gun's series 70 trigger to its full potential. Similar to most Colts rolling out of Connecticut, the Clapp LW Commander has top-notch accouterments—genuine Novak sights and dual recoil springs.
Particular to Clapp models, the rear sight has an extra-wide rear notch for faster target acquisition and boasts a low-profile thumb safety (pro or con depending on who you are). Designed as a fighting pistol that's exactly what shooters get with the Clapp Commander.
MSRP: $1,299; colt.com
Colt Wiley Clapp Commander starting at $1,250 at Armslist.com
Best known for DA/SA beasts and military-grade striker-fired pistols, Sig Sauer's 1911 catalog is somewhat overshadowed. Pity, the manufacturer turns out a dang nice version of Browning's masterpiece. When it comes to models tailored for concealed carry few outshine the Fastback Nightmare.
As its name suggests, the gun's defining feature is its rounded frame, making for a smooth-drawing pistol that won't hang up and is less likely to print. But the gun's assets don't stop there. Boasting a 4.2-inch match-grade barrel, a smooth 5-pound trigger and Siglite low-profile night sights, the gun gets on target quickly and hits where aimed. Of course, there's the Nightmare's slide. Depending on the beholder, the squared hunk of steel is either a welcome update to the tried-and-true design or sin against nature. Functionally, it's responsive, thanks mainly to deep and aggressive cocking serrations at the rear.
MSRP: $1,300; sigsauer.com
Best 1911 Pistols >$2000
Wilson Combat CQB Compact

Why spend the money on a top-shelf 1911? Get a CQB Compact in your hands and you'll understand the difference. Fitted and tuned by master gunsmiths, the pistol has an utterly exemplary slide-to-frame fit, which at the range or in a defensive situation makes it run like a sewing machine. It also won't poop out on you, always good on a concealed carry piece.
Wilson Combat lays the pistol out well. Its High-Ride Bullet Proof beavertail grip safety is especially pleasant, making a fundamental high grip on the pistol intuitive. Also appreciated is the ample mainspring housing and frontstrap checking that frame the starburst G10 grips. Add all of these together and you get a gun that's natural to handle and stays put, even under stress.
Wilson in-houses nearly every part, which is seen in little details such as the low-rise combat sight's shelf on the rear unit. Good for one-handed slide manipulation. Yet, be aware, this is an all-steel pistol and comes in at a hearty 37-ounce unloaded. That will do a number on recoil, and also on less than structurally-sound gun belts.
MSRP: $2,890; wilsoncombat.com
Guncrafter Industries No Name CCO

For the money, you get exactly what you expect out of the No Name CCO—an impeccably built 1911 that won't fail and is as concealable as they come. Gad, what more do you need? Not much, given the Guncrafter 1911 is a no-frills fighter.
Yes, there are some functional ergonomics considerations, such as the soberly extended thumb safety. But overall, what it appears the gunmaker was striving for was a streamlined piece that didn't step on itself with trimmings. As is the case with many 1911s, the trigger is the belle of the ball, smooth at polished marble and breaking like thin ice—4 pounds or a hair under.
To get on target, you get the choice of GI tritium sights, with a square or U-notch rear, and choice of blackout front post or fiber optic standard. Again, this is CCO configuration (explained above), in turn, it feeds off 7-round magazines. But the No Name's smaller frame makes it a bit lighter (33 ounces) and a cinch to keep undercover.
MSRP: $2,995; guncrafterindustries.com
No matter the Nighthawk, you'll purchase uncompromising execution. Like nearly every example at this tier of 1911, the pistols are built to excruciating tolerances, by masters of the craft, with top-grade material and customizable in any way you can imagine. Though, even if you stuck with the base model of the Talon II, you wouldn't compromise in any way.
The commander-sized pistol boasts several features that make it an exceptional choice for concealed carry. Chief among these is a forged aluminum frame, lightening the pistol to a hair under 35 ounces. To this, Nighthawk installs upgraded controls, including a bilateral safety with matching paddles on both sides of the gun, a beavertail grip safety with memory pad and a conventional slide lock. Constructed of aluminum, the trigger boasts an adjustable overtravel stop, and its guard has a high cut at the where it and the frontstrap meet. All this makes for very intuitive manipulation and shooting.
The Talon II is outfitted with Heinie Slant Pro Straight Eight Tritium night sights, for low-light operation, as well as a match-grade barrel to hit what you aim at. Checkering abounds fore and aft, and Cocobolo grips gives the pistol a timeless look. In short, it's the whole package.
MSRP: $3,449; nighthawkcustom.com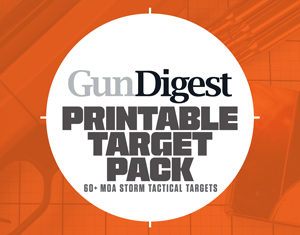 Next Step: Get your FREE Printable Target Pack
Enhance your shooting precision with our 62 MOA Targets, perfect for rifles and handguns. Crafted in collaboration with Storm Tactical for accuracy and versatility.
Subscribe to the Gun Digest email newsletter and get your downloadable target pack sent straight to your inbox. Stay updated with the latest firearms info in the industry.