CZ has just announced the Scorpion 3+ Micro, an upgraded iteration of the popular Scorpion EVO 3 pistol caliber carbine.


The Scorpion EVO 3 has been one of the most popular guns in its class since it was released. Whether you call it a large format pistol or a pistol caliber carbine, the 9mm Scorpion EVO provided good firepower and modern features in a very compact package. Understanding that there is always room for improvement, however, CZ decided to listen to customer feedback and implement the most requested upgrades into the new Scorpion 3+ Micro.
The first major improvement on the Scorpion 3+ Micro is its increased level of ambidexterity. The pistol's bolt catch and mag release are now accessible from both sides of the weapon, and the mag release has been made to be more familiar to those used to AR-style controls. With the safety having already been ambidextrous, these changes will make the 3+ Micro ideal for use with either hand. The redesigned magazine release also means that the Scorpion 3+ Micro has new magazines as well, but they are at least backward compatible with older Scorpion EVO 3 models.
The Scorpion 3+ Micro's ergonomics have been upgraded too, with the handguards now being made of a strong yet light polymer material with M-LOK incorporated throughout. This change will not only slow down heat transfer to the shooter's hand during firing but provide more space for mounting accessories as well. The pistol grip has also been made to be more ergonomic.
The iron sights have also received some upgrades. Now made of aluminum for increased durability, they feature four different apertures and can provide a lower 1/3 co-witness with popular red dot models. Changes have also been made to the upper and lower receivers to increase modularity and improve ergonomics for shooters with larger hands. Its 4.2-inch barrel also comes threaded 1/2×28 and includes a flash can. The Scorpion 3+ Micro will have an MSRP of $1,299 and seems to be a good option for shooters who take their pistol caliber carbines seriously.
To learn more, please visit cz-usa.com.
---
More On Pistol Caliber Carbines: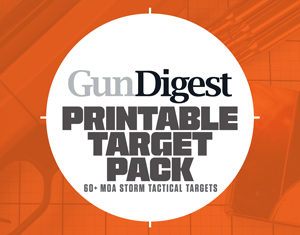 Next Step: Get your FREE Printable Target Pack
Enhance your shooting precision with our 62 MOA Targets, perfect for rifles and handguns. Crafted in collaboration with Storm Tactical for accuracy and versatility.
Subscribe to the Gun Digest email newsletter and get your downloadable target pack sent straight to your inbox. Stay updated with the latest firearms info in the industry.