As far as competition revolvers are concerned, the Smith & Wesson R8 is everything the legendary Model 19 was … and more.
How The R8 Outdoes The Model 19:
Boasts an 8-round cylinder compared to the 19's 6-round.
Its a few ounces lighter than the 19, thanks to a scandium frame.
The revolver's cylinder is cut to accomodate moon clips for faster loading.
Its rear adjustable sight is exellent and its front is an interchangable Patridge style.
Tapped and drilled, an optic is easily mounted.
Fifty years ago, I was an avid shooter, but I'd never shot in a match. I simply didn't know how to get started. A close friend let me know there was going to be a police practical pistol match held within 10 miles of my home and that civilians were welcome. The match was being held by the local community college for its law enforcement program. I signed up the next morning.
There were four divisions for active and reserve officers, students and civilians. I won civilian and was in the top 25 percent in the overall results. My gun-of-choice was a Smith & Wesson Model 19, 4 inches. I used a Bianchi lined gun belt and a thumb break Bianchi Model 10 holster. The winner shot a 6-inch Colt Python that was original on the outside but with a smoothed-up trigger.
In those days, the revolver was "king," and while Pythons were great guns, the Model 19 was the working man's revolver. In fact, it was easy to buy a Python; they were in every gun shop. But Model 19 Smiths were hard to come by and often brought a price far above retail and often higher than a Python.
The S&W Model 19: All Business
Arguably the most influential law enforcement shooter of the time was Bill Jordan, who carried a Model 19. In fact, Jordan was instrumental in the development of the Model 19. One appears on the cover of his book, No Second Place Winner.
It was introduced in 1955 and, unlike the chrome-and-finned cars of the 1950s, it was all business. It was available with 2½-, 4- and 6-inch barrels and had quality adjustable sights with some options, oversized "Combat" checkered exotic wood grips (either rosewood or goncalo alves) and a shrouded ejector rod. It was based on the K-frame—small enough to be fast and strong enough to handle the powerful .357 Magnum round. To this day, no handgun feels better in my hand than a Model 19.
At the time of its inception, the Model 19 was a remarkable handgun and certainly one of the most iconic pistols of the 20th century. It was capable of serving the competitor, law enforcement officer and sportsman equally well. It won trophies and awards, put bad guys behind bars, defended citizens and protected sportsmen. It was the perfect combination of a reliable, powerful, accurate and easy-to-shoot revolver.
Many years later, I was invited to cover the Bianchi Cup for Gun Digest the Magazine. I've always been a competitor and don't shy from trying new things, so I wanted to shoot. I chose to shoot a revolver like the one I shot in my first pistol match. I began to think of what would make the best firearm.
I briefly considered shooting a Model 19. My original M19 was long gone (traded for some other pistol that's also long gone), but I still had an old, nickel-plated, 4-inch Model 19. It wouldn't be competitive—but then, neither would I, so the idea was appealing.
Then, I saw a Smith & Wesson R8 at the NRA Convention and knew that would be just the trick. I could shoot the cup with it and also write a review, thus killing two birds with one stone. It did really well, and a better shooter could have placed pretty high in the standings with it.
The Smith & Wesson R8: Deadly Accurate
As good as the Smith & Wesson Model 19 was (and still is), the R8 is better in every category. If law enforcement officers still carried revolvers, it would be the best service revolver available. Out of the box, it's capable of winning local revolver matches. As a defensive pistol, it has eight rounds, and the opportunity for malfunctions is as close to zero as firearms get. It's powerful, easy to shoot and deadly accurate. As a sportsman's gun, it holds eight powerful .357 Magnum rounds and is light enough for daily carry in areas where animals that bite might be encountered. And with an optic, it's a perfectly capable hunting instrument for deer-sized game.
The Smith & Wesson R8 is everything the iconic Model 19 was … and even more. It's based on the N frame, larger and now with an eight-round cylinder instead of the six of the 19 and earlier N frames. Because of a scandium frame, it's a couple of ounces lighter—slightly fewer than 36 ounces—than the all-steel Model 19.
The cylinders are cut to accommodate moon clips for faster loading and ejection. The R8 comes with a synthetic grip that closely resembles the Hogue Monogrip. I've never liked that grip and instantly replaced mine with a Pachmayr Presentation rubber grip. For several years now, all K-, L- and N-framed S&Ws feature a round butt frame. Even so, standard square butt grips fit.
The Smith & Wesson R8 is a Performance Center gun with features that relate to a broad range of use, but those features really work as a competition revolver. The rear sight is the excellent S&W adjustable, and the front sight is an interchangeable Patridge style that's popular with competitive shooters. There's a bottom rail in front of the shrouded ejector housing, and the top of the sleeved barrel housing is drilled and tapped for a supplied top rail for mounting optics.
In-Depth Testing
Even though I've shot thousands of rounds through both these guns, I decided I should go through the same testing procedure I'd use as if I had never fired them before. I ordered 500 rounds of Aguila 130-grain .38 Special and 158-grain .357 Magnum ammunition and set about a serious testing session.
Because both could be considered target guns, I bench-tested them at 25 yards and wasn't disappointed. I could have easily put an optic on the R8, but I kept things fair and tested both with iron sights. Both guns easily delivered consistent groups of around 2 inches, with occasional groups close to 1 inch (with better eyes and some experimentation with loads, I'd bet you could get close to a 1-inch average). I had to use sight black on both guns to get a sharper sight picture, especially with the Model 19. It had the popular, but almost useless, red ramp front sight so popular in the 1970s.
The Baughman Quick Draw front sight was fast out of those old leather holsters without dragging a wad of leather, but it left a lot to be desired in getting a really good sight picture. The Patridge front of the Smith & Wesson R8 is much better, but I'd add a high-vis front if I were going to shoot it a lot.
In deliberate single-action shooting, both guns have remarkable triggers. The break gives the impression of being lighter than it actually is, and there seems to be zero movement. You line up the sights, begin pressure on the trigger, and the gun seems to shoot itself.
Recoil anticipation isn't a problem, because the gun just seems to shoot when the sights line up. Maybe part of this comes from my youth being centered around revolvers, but it's the most natural kind of shooting I can imagine.
The same is true when shooting standing. I tested both guns with .38 Special for accuracy testing, and it was easy to hold the black on a 25-yard reduced pistol target. (In my youth, I could reliably hold that 5.32-inch circle in the classic "bullseye" shooting pose with one hand only.) I kept most shots inside the just-over-2-inch 8 ring. In that original PPC match mentioned above, you didn't get to put the support hand on the gun until you reached the 25-yard line and finished up at 60 yards.
Match Fever
Because revolvers do really well at shooting in falling plate matches, I also did quite a bit of plate shooting. I was surprised at how easy it was to run the plates clean in the time limit with the old Bianchi holster and the stock Model 19 trigger. It was easier with the Smith & Wesson R8 and a trimmed BladeTech OWB holster without retention, but the Model 19 held its own remarkably well.
Of course, these guns are chambered for the .357 Magnum cartridge, and it simply wouldn't be right to try them out with some full-power loads.
After that initial PPC match, my appetite for competitive shooting had to find an outlet. Metallic silhouette shooting became the latest rage. I settled into NRA Hunters Pistol and shot my first couple of matches with that same Model 19. I won unclassified with that 4-inch Model 19, shooting standing and with the ram target a full 100 yards away. Later, I switched to a 6-inch Model 28 and won a lot of matches—becoming one of the first three AAA class shooters in the state.
For more information on the Smith & Wesson R8, please visit smith-wesson.com.
---
Raise Your Smith & Wesson IQ:
---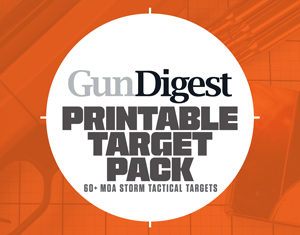 Next Step: Get your FREE Printable Target Pack
Enhance your shooting precision with our 62 MOA Targets, perfect for rifles and handguns. Crafted in collaboration with Storm Tactical for accuracy and versatility.
Subscribe to the Gun Digest email newsletter and get your downloadable target pack sent straight to your inbox. Stay updated with the latest firearms info in the industry.