Looking to upgrade your Ruger 10/22 stock? Here are five great options for improving your plinker.
The Ruger 10/22 and AR-15 have something in common, and it's likely one of the biggest reasons for the popularity of both rifles in the U.S. That feature is modularity, and in the land of rugged individualism, the ability to majorly customize one's gun is greatly appreciated.
There may not be quite as many 10/22 stocks on the market as there are for ARs, but there are still an impressive number of options. Whether you're looking to make your Ruger 10/22 more ergonomic, less cumbersome or just want to give it a facelift, there's a 10/22 stock out there for you.
Why Upgrade A 10/22 Stock?

The Ruger 10/22 is a very versatile rifle with many practical applications. They serve as many individuals' first gun to learn on as a youth while remaining fun plinkers at all ages. From shooting cans at the farm to participating in NRL22 competitions, or hunting small game to conducting pest control, the 10/22 is America's go-to option.
For many 10/22 owners, a factory Ruger rifle will have all the functionality they need, but there are many potential areas of improvement that can benefit certain types of shooters.

If precision is your goal, there are stocks that add higher cheek combs for use with scopes. Others add adjustability to help ensure a perfect fit between the shooter and the gun. If you plan on lugging your rifle around your ranch or on a hunt, some 10/22 stocks add the ability to fold or reduce the overall weight.
Different materials used in the stocks also affect their durability and ergonomics, all of which shine in certain settings while falling short in others. After deciding to upgrade your 10/22 stock, the next step is identifying exactly what you want it to do for you.
Even if none of your reasons are practical and you only want to give your Ruger a fresh look, that's still a legitimate pursuit with plenty of different options to choose from.
Replacing A 10/22 Stock

Thankfully, another similarity between ARs and the Ruger 10/22 is just how easy it is to replace most of the components.
No master gunsmithing is required here. Using a screwdriver or Allen wrench, the factory barrel band must first be removed, followed by the takedown screw on the underside of the rifle. After doing this, one should be able to simply lift the barreled action out of the original stock.

Installing a new 10/22 stock is essentially the same process in reverse, but details may vary depending on the exact stock being used. Some require the replacement of the barrel band, while others rely only on the single takedown screw. More detailed instructions exist online if you need them, but be aware there's no reason to fear the task of replacing a 10/22 stock.
Compatibility Notes

Before browsing and selecting the aftermarket 10/22 stock for you, there's one more thing that should be kept in mind, and that is compatibility.
There are over 50 models currently listed on Ruger's website, not even including the .22 Charger pistols or discontinued variants. Differences between these models, especially regarding barrel profiles, may affect your Ruger's compatibility with aftermarket stocks (though many models include inserts that make them compatible with multiple barrel profiles).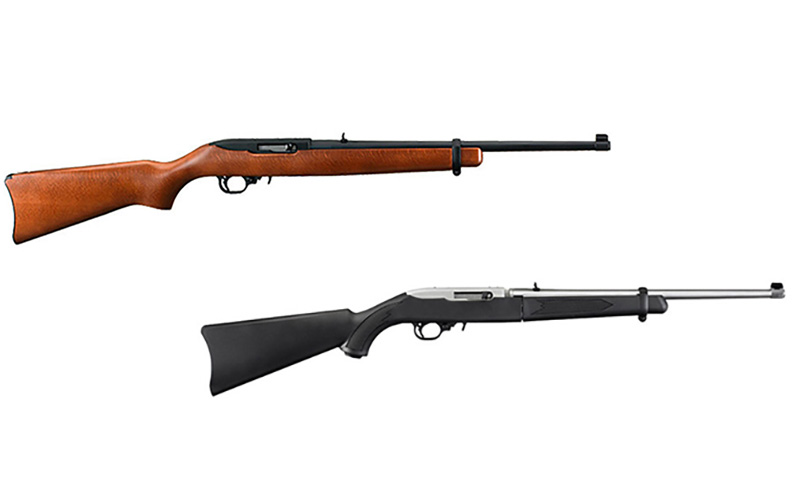 That said, the vast majority of the variants could still be categorized as "standard" 10/22s and will therefore be compatible with most "standard" 10/22 stocks.
The most common compatibility issue encountered has to do with takedown models, as one will need to specifically seek out an aftermarket 10/22 takedown stock to use with it.
Top 5 Ruger 10/22 Stock Options:
Best Folder: Samson B-TM Folding Stock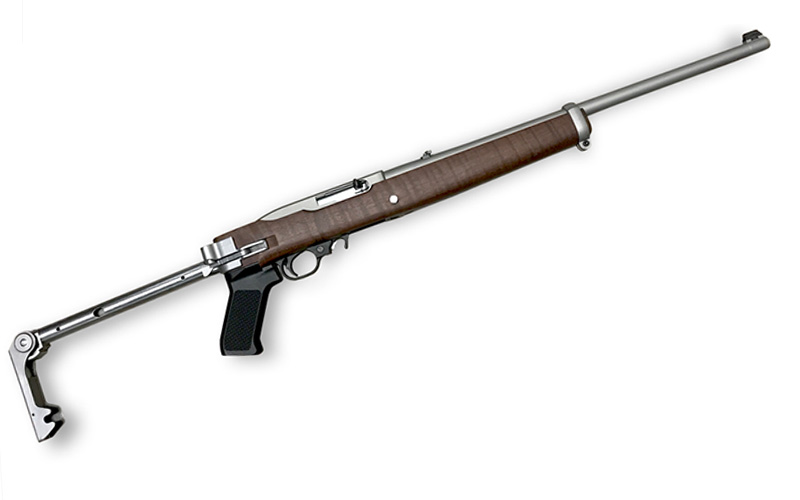 Samson Manufacturing is probably most famous for making the A-TM Mini-14 folding stock, a faithful and quality reproduction of the original Ruger folding stocks that came on the Mini-14 GB and AC-556. The striking design was made iconic through its use on the A-TEAM TV show, but many more Americans today own a 10/22 than a Mini-14.
Whether you want to overhaul your 10/22's aesthetics or are looking for a solidly built folding stock to make your rifle more handy and compact, the Samson B-TM stock is an easy way to do it.
The only downsides to this model are its price and weight (2.244 pounds). There are cheaper and lighter folding 10/22 stock options on the market like the ProMag Ruger Tactical if functionality is your only goal.
Just keep in mind that none of the plastic models will be as durable as the steel Samson B-TM. MSRP: $279.99 (Stainless) $299.99 (Black) // samson-mfg.com
Best Adjustability: Luth-AR MCA-22 Chassis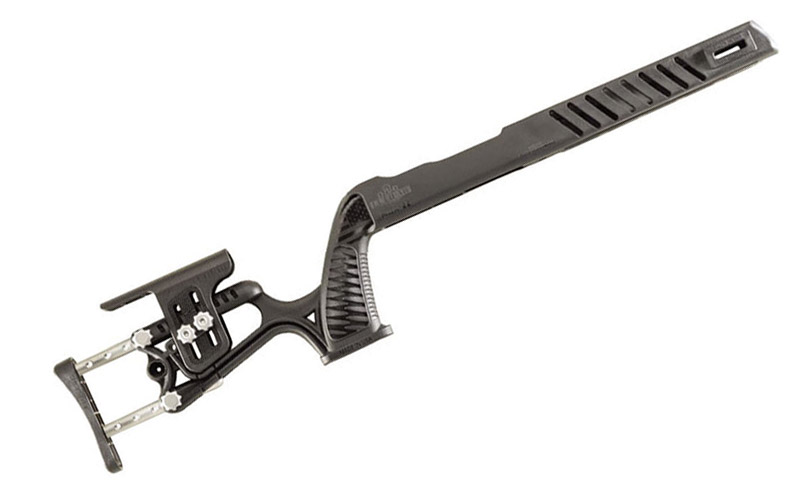 There have been plenty of 10/22 stocks over the years with an adjustable length of pull and comb height, but few have achieved it as handily or as sleekly as the MCA-22 Chassis.
New for 2022, this chassis is built using high-strength glass-filled nylon, 6061 aluminum and steel, making it both strong and light. It's also completely ambidextrous.
As for adjustability, the MCA-22 features a cheek piece that has .750 inches of lateral movement and 2 inches of vertical adjustment. The LOP can be extended by 4.5 inches, and the butt pad itself has one inch of vertical adjustment as well.
Together, these features allow the MCA-22 to conform to just about anyone's preferred shooting position. Other notable characteristics include its M-LOK foregrip, its ability to accept QD sling cups and its compatibility with both bull and pencil-profile barrels. MSRP: $189.95 // luth-ar.com
Best Takedown: Magpul X-22 Backpacker Stock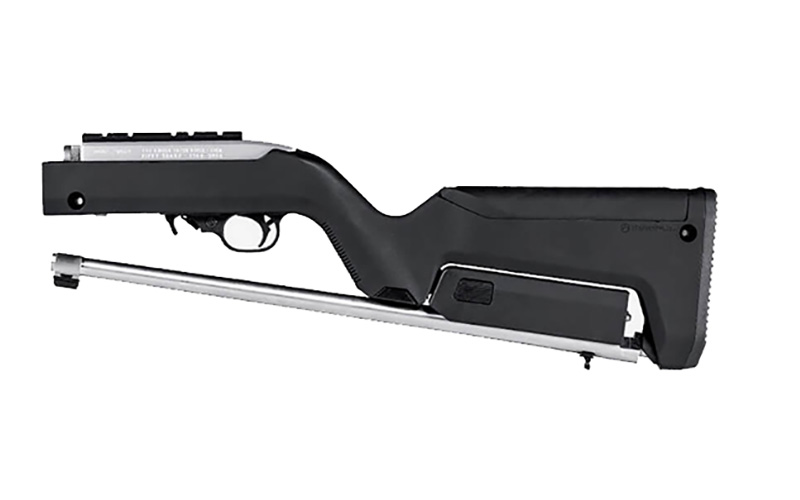 For those who own a takedown 10/22 model and wish to continue utilizing that feature, a takedown-specific stock must be acquired.
Undoubtedly one of the best options, both in features and price, is Magpul's X-22 Backpacker. It's compatible with all Ruger 10/22 Takedown models and adds additional functionality to the takedown concept.
While standard takedown 10/22 models simply separate into two pieces, the X-22 Backpacker adds a unique provision for storing the barrel directly on the stock.
Made from an advanced polymer, the X-22 is both durable and lightweight, barely weighing over a pound total. It's compatible with both bull and pencil-profile barrels and QD sling mounts are integrated as well.
Available in multiple colors and capable of storing three spare magazines inside, this is one of the most ideal 10/22 stock options for backpackers, survivalists and hunters who cover a lot of ground. MSRP: $109.95 // magpul.com
Best Budget: BlackHawk Knoxx Axiom R/F Stock

If all you need is an inexpensive, no-frills replacement for a standard 10/22 stock, the BlackHawk Knoxx Axiom R/F is a solid choice.
While it won't be as durable or as feature-rich as most others on this list, it still offers a lot for one of the lowest-priced options on the market.
The stock free-floats your 10/22 barrel, regardless of profile, and it's ready to accept a bipod as well. It has a basic, 6-position adjustable carbine-style stock, and the whole package weighs less than a pound.
The Knoxx Axiom may not satisfy all your needs, but it's an inexpensive way to decrease the weight and increase the potential precision of your 10/22. MSRP: $95.95 // blackhawk.com
Best Cool: West One Products 10/22 USGI Stock M1

To be fair, coolness is subjective, and many may have already deemed the Samson B-TM as the coolest 10/22 stock on the list. Those who prefer modern, tactical guns may have already set their eyes on a P90 or G36-style chassis kit as well.
All three of these are expensive, and the P90 and G36 kits add a lot of bulk for very little functionality. The sleekest, most practical and least expensive 10/22 stock that will raise your rifle's cool factor is the 10/22 USGI M1 stock from West One Products LLC.
The appeal of this rather basic wood stock is that it mimics the appearance of the iconic American M1 Carbine. The stock alone does a lot to change the rifle's aesthetics, but for those who want to take things even farther, sights, magazines and a flash hider are available that can make a 10/22 even more clone-correct.
Each stock includes two upper handguards too, allowing for use with either the factory Ruger sights or the aftermarket M1-style irons. It also includes a replacement barrel band with the appropriate sling swivel. MSRP: $169.95
More 10/22 Upgrades:
---
NEXT STEP: Download Your Free Storm Tactical Printable Target Pack
62 Printable MOA Targets with DOT Drills - Rifle Range in YARDS
This impressive target pack from our friends at Storm Tactical contains
62 printable targets
for rifle and handgun range use. Target grids and bullseye sizes are in MOA. Ideal for long-range shooting!
Subscribe to the Gun Digest email newsletter and we'll send your print-at-home target pack right away.
Just enter your email address below.
---