Armasight has just debuted the Contractor thermal optics line, featuring two new, American-made thermal imaging scopes.
Armasight specializes in night vision and thermal technologies, and they've been one of the leading names in that field since the company's founding over 10 years ago. The most recent addition to their catalog is the Armasight Contractor thermal optics line, featuring two new America-made thermal scopes with different levels of digital magnification.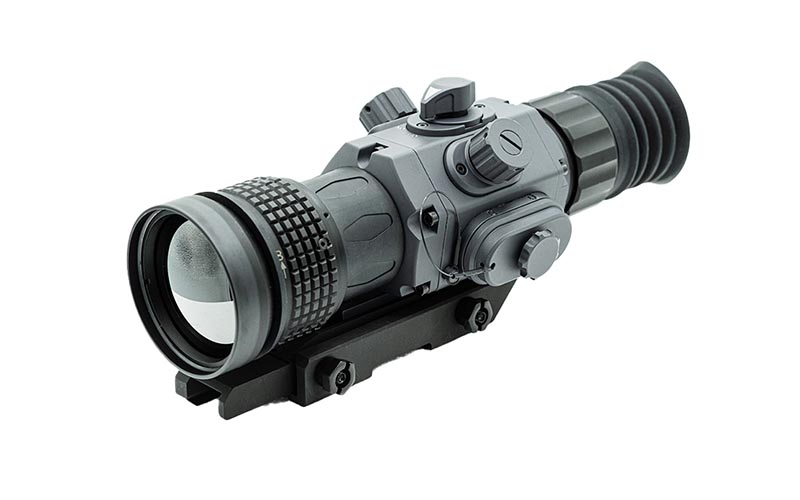 The heart of the Contractor thermal optics is the new detector called the ArmaCORE, a high-performance, 320×240 12-micron pixel thermal core. The captured image is then displayed on a 60 Hz 1024×768 display. This allows the Contractor thermal optics to be useful in a myriad of poor-visibility conditions, including total darkness, smoke and fog. Both new optics are also capable of recording video, featuring four hours of onboard storage and USB and WiFi streaming capabilities to watch what you've saved. Many of these features can also be controlled using the Armasight smartphone app. Both scopes are powered by two CR123A batteries and have up to four hours of runtime depending on temperature.
Other noteworthy features of the Contractor thermal scopes include their eight reticle options, six color palette choices and durable yet lightweight metal alloy housings. Both optics also feature a digital compass, an inclinometer and stadiametric reticles to assist the user with calculations in the field. Whether being used for hunting or more tactical applications, the Contractor thermal sights can provide a huge advantage, not only when it comes to target identification but for making accurate hits as well.
The Contractor 320 3-12x25mm has an MSRP of $4,299 while the Contractor 320 6-24x50mm has an MSRP of $4,799. Both models are available for purchase now.
For more information, please visit armasight.com.
More Thermal Weapon Sights And Monoculars
---
NEXT STEP: Download Your Free Storm Tactical Printable Target Pack
62 Printable MOA Targets with DOT Drills - Rifle Range in YARDS
This impressive target pack from our friends at Storm Tactical contains
62 printable targets
for rifle and handgun range use. Target grids and bullseye sizes are in MOA. Ideal for long-range shooting!
Subscribe to the Gun Digest email newsletter and we'll send your print-at-home target pack right away.
Just enter your email address below.
---