A look at some of the most common plate carrier accessories and the best locations to mount them, what they do and why they're useful.
In our first post discussing how to configure a plate carrier setup, we touched on the basics of what kinds of plate carrier accessories are typically attached to body armor, but this subject deserves to be explored much more thoroughly. Choosing what to attach to your vest is not an exact science, as much of it will depend on your personal preferences, environment and "mission". This guide won't tell you exactly which plate carrier accessories you should get, but it should give a better handle on the options, what they can do for you and where to mount them.
Attachment Methods
Before discussing where one should mount their plate carrier accessories, it's important to understand the different methods of attachment.
The most common method, and one you've undoubtedly heard of, is MOLLE. MOLLE stands for Modular Lightweight Load-carrying Equipment, and it is colloquially used to describe both sides of the loadbearing system. Technically speaking, only the gear which gets attached to the system has MOLLE, and what it attaches to is called PALS (Pouch Attachment Ladder System). Only the most pedantic of operators would be annoyed at you for referring to it collectively as MOLLE, however.
Attaching MOLLE And PALS
MOLLE plate carrier accessories attach to PALS by weaving the MOLLE straps of the components through the webbing of the PALS until the two are solidly intertwined. Feeding the straps through the webbing can be a challenge, especially when PALS real estate is limited, but I've found that using needle-nose pliers to grab the straps is very helpful during installation. This modular system for attaching accessories is used on everything from backpacks to armor vests and has proven to be a very solid method. While improvements to the system have been experimented with such as laser-cut MOLLE using different materials, the general concept is showing no signs of being retired any time soon.
Mag Pouches
Magazine pouches are usually considered to be the most important of the various plate carrier accessories, as having ammunition for your rifle is what keeps you in the fight. There are tons of different styles and brands of MOLLE magazine pouches for a variety of different rifles, so we're only going to look at a few examples of the different kinds.
Mag Pouch Caliber Considerations
The first thing to consider when selecting mag pouches is obviously the caliber and style of one's rifle. For the vast majority of Americans reading this, that will be a 5.56 AR-15, but just because that's what dominates the mag pouch aftermarket doesn't mean that's all you're limited to. For those who are building their kit around a rifle chambered for 7.62 NATO, 7.62 Soviet, a pistol caliber or anything else not STANAG mag-shaped, there are still plenty of choices out there.
How Many Mag Pouch Is Enough
Another consideration of rifle mag pouches is how many you plan on carrying on the front of your plate carrier. Besides the obvious limitation of PALS real estate, there are also concerns regarding weight, bulk, movement and the ability to get close to the ground. While some individuals choose to run two layers of magazines on the front of their carrier, others find that this method protrudes too far from the body. Ultimately, it's up to you to find the placement and number of magazines that work best for your purposes. There are pouch panels that exist as a single unit with a row of three or four mag pouches each as well as single-unit styles and everything in between.
Mag Pouch Placement
As for the placement of mag pouches on one's plate carrier, there aren't many options besides the very front. Depending on your specific vest and the plate carrier accessories you've already mounted to it, you may be able to mount mag pouches slightly higher or lower or place an extra individual pouch or two on the side of the cummerbund, but generally speaking, rifle mags are mounted as low as possible across the front of the vest.
Covered-Top Pouches
The most basic style of mag pouch is this closed-top design. While they are the slowest to access, they also provide some of the best security and protection against the elements.
Blackhawk S.T.R.I.K.E. Triple Mag Pouches
Open-Top Pouches
This type of pouch is quicker to access than the closed-top kind but is generally less expensive than the "taco-style". They provide decent security for magazines during movement, but the elastic bands that hold them in place can get in the way during reloads if not being careful.
TRYBE Tactical Triple Mag Pouches
"Taco-Style" Pouches
The style was pioneered by HSGI who still make the original under the name "TACO". Other companies have imitated the design, however, giving birth to what is typically just known as "taco-style" pouches. Regardless of which manufacturer you go with, this kind uses the tension of an elastic shock cord to squeeze the shell together and hold a magazine in place. This retains the mag securely enough that it won't go flying while you run, jump or fight, but loosely enough that they can be easily retrieved when needed. This is definitely the fastest style of mag pouch for reloading, but it also leaves mags exposed to the elements.
HSGI LT Rifle TACO Pouch
Medical
There is quite a lot of variation when it comes to IFAKs (Individual First Aid Kit) as well. There are small and large models, styles designed to be retrieved and used by the wearer themselves and others designed for use by a team medic. Your personal level of medical knowledge and skill should be what determines what you put in your IFAK if you plan on ever using it to treat yourself, whereas if you have teammates you plan on surviving the apocalypse with you should coordinate your IFAK's contents with the person most trained in combat medicine. This same stipulation will affect your IFAK's placement on your vest as well.
There are also medical items that are often stored outside of an IFAK like tourniquets which can have their own special carriers for attaching directly to a vest, and presuming you know how to apply one yourself this should definitely be placed within your reach.
Raptor Tactical IFAK
This style uses a base pad with MOLLE to attach to a plate carrier, which in turn secures the IFAK using Velcro. This allows for the IFAK to be quickly removed and accessed if needed.

S.O. Tech Viper Flat IFAK
This style is smaller and more compact but obviously can hold fewer supplies as a result. It also slides out of the base that holds it rather than attaching via Velcro.

Comms
The style of pouch you need is highly dependent on the communication system you have configured. Because comms are already a highly technical and personal aspect of a gear setup, it would be a waste of time to discuss all the different radio pouch options available. If you own a good radio that you plan on using in conjunction with your plate carrier, how you attach it, where you attach it and how you wire it all up to your head will vary greatly, so that's up to you to figure out. For those just starting to consider a communication system as an addition to their kit, just know that there are plenty of decent plate carrier accessories to help you do it. Here's just one basic example to serve as a reference.
5.11 Tactical Radio Pouch
Other Plate Carrier Accessories
There are plenty of other plate carrier accessories out there with varying levels of usefulness depending on how and where you plan on using your body armor. Here are just a few examples of different items you could add to your kit to expand its versatility.
Admin Pouch
Despite the serious-sounding name, admin pouches are just pouches for general utility items that may need to be accessed somewhat frequently. They can keep things like a GPS, maps or a notebook separate, protected and easy to get to. These are typically mounted on the upper-most section of the front of a plate carrier.
Blue Force Gear Admin Pouch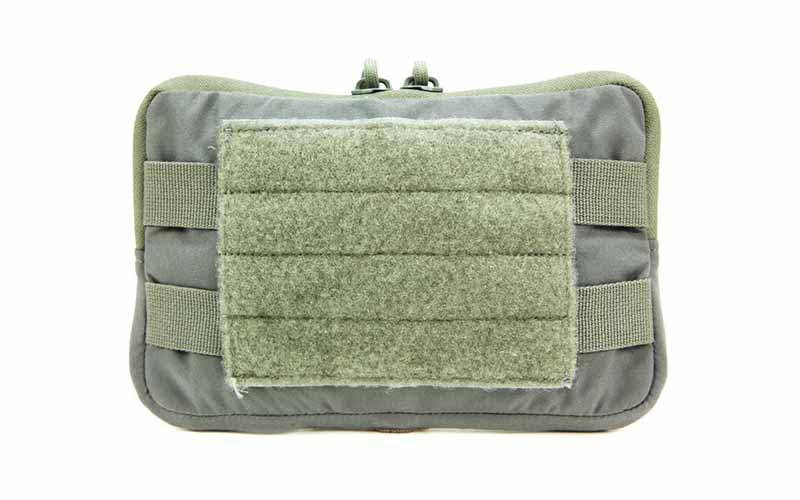 Lower Accessory Pouch
This is similar in concept to an admin pouch, but rather than being mounted near the top of the carrier these were designed to hang off the bottom over the wearer's groin. Sometimes called dangler pouches, these have more volume than admin pouches and can be used to store whatever you believe you may need quick access to in the field—whether that be more medical supplies or a just bag of beef jerky.
Tactical Tailor Lower Accessory Pouch
Knife
Knives are another common plate carrier accessory, although one that isn't as concrete in its implementation as most other items. There are a lot of good ways to rig a sheath to a vest without buying anything special, and that's what many guys end up doing, but here's one that was purpose-built for mounting to a carrier. MSRP for the knife dangler is $40 at parashootergear.com.
Parashooter Gear Nairobi Knife Dangler
---
More Tactical Gear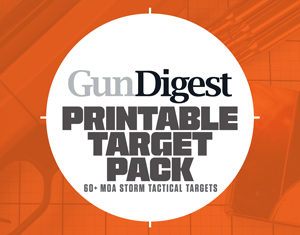 Next Step: Get your FREE Printable Target Pack
Enhance your shooting precision with our 62 MOA Targets, perfect for rifles and handguns. Crafted in collaboration with Storm Tactical for accuracy and versatility.
Subscribe to the Gun Digest email newsletter and get your downloadable target pack sent straight to your inbox. Stay updated with the latest firearms info in the industry.