A look at some of the different available plate carrier backpack styles and the pros and cons of each.
Already having discussed body armor, plate carriers and battle belts, those following along should be well on their way to assembling a full "kit" by now. Whatever scenario you anticipate needing this equipment for is for you to decide, but you have the right to be prepared for whatever it may be.
Body armor, plate carriers and even battle belts to some extent can all be used to bolster one's home defense set up for those whose lifestyles warrant it, but backpacks are a separate issue. While a basic home defense plate carrier setup will look very different from one intended for an SHTF situation, only the setup of the latter has any need for a backpack. If you do intend on "bugging out" if the world goes south, the ability to carry extra gear will be paramount to your survival. If you also intend on wearing a plate carrier while rucking, this otherwise simple task of wearing a backpack is suddenly made more difficult. With one's shoulders preoccupied with suspending the weight of their body armor, traditional packs can be quite uncomfortable to wear, but thankfully there are now several good plate carrier backpack options that can help to improve the experience.
Plate Carrier Backpack Considerations
The development of backpacks specifically designed for use with plate carriers became necessary as soon as the use of body armor became widespread in military circles. Traditional backpacks' shoulder straps can present many issues in the field when worn over a plate carrier, and it doesn't just have to do with the user's comfort. When backpack shoulder straps are worn over a plate carrier, it can negatively affect the wearer's ability to shoulder their rifle, draw their pistol or simply move unencumbered by the bulk of two layers of straps.
This led to the development of packs that can be directly attached to a plate carrier, eliminating the need for the pack to have shoulder straps. This of course leads to other issues, however. Plate carrier backpacks that directly attach to the back panel of the wearer's armor are difficult to remove and access the contents of. Because these were developed for use by members of the armed forces, the need for a team member to access the contents of another's pack wasn't considered to be a problem. For those who plan on surviving the apocalypse solo, this obviously presents an issue.
Something else to consider when building one's bug-out kit is the size of the backpack. All the styles designed to be attached to plate carriers are considered more of "assault packs" and were only intended to hold enough gear to sustain their user either through a single "mission" or up to 24 hours. A larger pack will still be needed to survive for an extended amount of time.
There exists a slew of different styles of plate carrier backpack available today, and while many are very similar there are also many small, unique features implemented by their various manufacturers. With too many variations to comprehensively compare, this list is not what we consider to be the best plate carrier backpacks, but is simply a spread of examples representing the major different styles (and a couple more unique options too).
Plate Carrier Backpack Options
Strap Claws + Traditional Pack
Before we dive into the proprietary plate carrier backpack designs, let's look at an innovative little gadget that may be an even better solution for many individuals. These backpack strap claws from Matbock attach via MOLLE to the front of one's plate carrier, then hold the straps of one's pack away from their neck and securely to their body. Besides the obvious advantage of not needing to buy a special backpack to be able to use these, they also make it much easier to dawn and remove a backpack. This means that as a solo survivalist, you'd have a much easier time accessing your gear and could ditch the pack much quicker if the situation required it.
On the other hand, while the Matbock Strap Claws will certainly make wearing a backpack with a plate carrier more comfortable, it will not completely remedy the issues that stem from having two layers of straps on one's shoulders. (MSRP for the Matbock Strap Claws is $35.)
Zip-On-Only Style
Here we have the Crye Precision Pack Zip-On Panel 2.0 to represent the more typical plate carrier backpacks of today. This zip-on-only style of assault pack is what is primarily seen in use by military and police members who need the ability to carry extra gear, typically for short periods of time. These zip-on plate carrier packs usually hold things like breaching tools, spare flash or smoke grenades, extra medical equipment and other items that could be retrieved by a team member. This style of plate carrier backpack has its uses, but it may not be as practical as you think for your own needs. If you're browsing pieces of kit like this while prepping for your own solo survival expedition, consider that these can't fit a huge amount of gear and are slow to access. That being said, some people's situations may warrant using packs of this style.
Another disadvantage of this kind of pack is that they often require some amount of proprietary hardware to attach the pack to the plate carrier. For example, this model from Crye is only officially compatible with a handful of Crye-brand plate carriers. More generic models also exist, but compatibility is something to keep in mind while browsing the zip-on style. (The Crye Precision Pack Zip-On Panel 2.0 has an MSRP of $221.70.)
Zip-On/Strap Combo Style
Most of what was said about the zip-on-only style of plate carrier backpack is also true of this combination style. The exception is that the combo styles like this Grey Ghost Gear SMC 1 To 3 Assault Pack also include removable traditional shoulder straps. This adds an extra level of versatility to the plate carrier backpack since it allows it to be converted into a traditional assault pack as well. An extra feature of this Grey Ghost Gear model is that the inner compartment can also be expanded for use on longer excursions. While this model also requires an adaptor for attaching it to plate carriers, it is less picky about the models it can be attached to. (MSRP for the GGG SMC 1 To 3 Assault Pack is $185.)
First Spear VEP
The final example is in a class of its own as far as I can tell, and it offers the most unique and innovative design of plate carrier backpack that I'm aware of. First Spear's Vertical Envelopment Pack, or VEP, was also specifically designed for use with plate carriers but has several features that set it apart from the more common zip-on panel styles.
Rather than attaching via a MOLLE panel with a zipper like most other models, the VEP utilizes four straps to secure the pack to the plate carrier. The thickness and position of the straps mean that they aren't cumbersome like traditional backpack straps are, and they make it much simpler and faster to remove the pack and access its contents. The bottom two straps attach to the plate carrier using tubes, which are a secure method that also allows for them to be quickly released and reattached. After disconnecting the bottom straps, the VEP can be swung over the user's head and draped over the front of their carrier. This allows them to comfortably and easily retrieve whatever gear they may need before swinging the pack back over their head and reattaching the two bottom straps. This feature enables its wearers to have a much easier time managing their gear on their own while still providing the benefits of a zip-on plate carrier backpack. The VEP seems like a very useful system, but the innovative feature set comes at a price. (MSRP for the First Spear VEP is $359.81.)
---
More Tactical Gear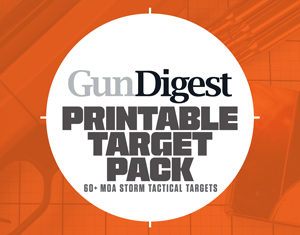 Next Step: Get your FREE Printable Target Pack
Enhance your shooting precision with our 62 MOA Targets, perfect for rifles and handguns. Crafted in collaboration with Storm Tactical for accuracy and versatility.
Subscribe to the Gun Digest email newsletter and get your downloadable target pack sent straight to your inbox. Stay updated with the latest firearms info in the industry.