Looking to trick out your Ruger 10/22 or build one from scratch? An aftermarket 10/22 receiver is a great place to start.
Factory-configured Ruger 10/22s are great firearms with a well-deserved reputation for being rugged and reliable. However, 10/22 shooters today can enjoy the ability to employ aftermarket components, including receivers, to customize their rifle and tailor it to their specific wants and needs.
Many aftermarket 10/22 receiver models feature integral scope mounts, often utilizing Picatinny rails that make mounting a variety of optics much easier. This also eliminates the need to install a conventional optic mount on top of a drilled and tapped receiver.
If desired, one could easily cobble together a lightweight 10/22 using aftermarket options like a Volquartsen Superlite receiver. Swapping receivers can also yield other benefits such as better resistance to the elements or innovative features such as easier internal access for cleaning.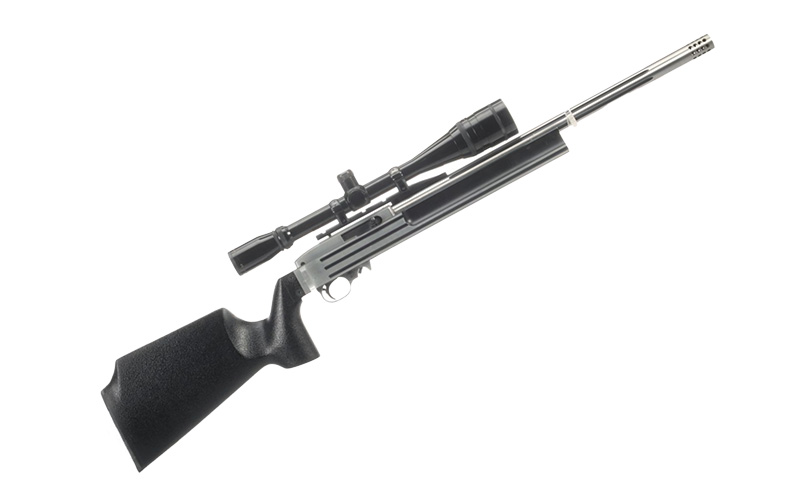 There is such an abundance of aftermarket components on the market that it is possible to build a 10/22 without using a single Ruger factory part. While starting with a factory 10/22 certainly helps, as you will have the other major parts to work with once you get a new receiver, it is not a prerequisite.
If you were to buy just a 10/22 receiver, you could complete the firearm only using components that best fit your needs and desires. This method also allows one to get what they want from the get-go rather than ending up with a heap of useless spare parts.
Again, there is nothing wrong with the original 10/22 receivers made by Ruger. The company has been producing this model since 1964 and certainly knows what it is doing.
The 10/22 in standard configuration already had what it took to establish itself as the premier semi-auto .22 rifle in the U.S., but the considerable aftermarket that followed only helped to solidify its eminence. An already versatile design when introduced, today's ability to replace every component with a non-Ruger one allows the rifle to be made even more so.
As shooters' tastes and needs constantly evolve, so too do the options for aftermarket 10/22 receivers and parts. Regardless of what you need your rifle to do for you, there's a possible 10/22 build out there that can do it.
Replacing A 10/22 Receiver:
Swapping out a factory 10/22 receiver for an aftermarket one is a straightforward process that can be accomplished at home using common tools. No trips to the gunsmith or specialized instruments are required.
After verifying that the firearm is unloaded and safe, the barreled action must be removed from the stock or chassis. This is achieved by loosening and removing the screw forward of the magazine well on the underside of the rifle. Next, the safety must be pushed into a neutral and centered position that will allow the barreled action to be lifted from the stock or chassis.
Once the barreled action has been freed from its bonds, the trigger pack can be removed easily by pushing the trigger pins out with a punch or similar tool. Then, push out the recoil buffer at the rear of the receiver and pull the bolt rearward. The charging handle can be removed while the bolt is at its rearmost position by tilting the charging handle down from the front of the receiver. Once the charging handle is removed, the bolt assembly can be taken out of the receiver.
Next, the barrel must be removed. The barrel removal process on a 10/22 is simple and only requires the removal of two screws from the V-Block on the underside of the receiver where it meets the barrel. Once the barrel has been removed, the receiver is now fully stripped, and you can begin installing everything on the new aftermarket 10/22 receiver. This is achieved by reversing the process described above.
The takedown process may also require an extra step or two depending on the 10/22 model you are working with. For example, the carbine models feature a barrel band that must be removed before separating the barreled action from the stock. However, with some specific exceptions aside, the takedown process is generally the same across all 10/22-based designs.
Best 10/22 Receiver Buyer's Guide
This is by no means an exhaustive list of aftermarket 10/22 receivers, but these selections represent a variety of designs from multiple manufacturers. There are also more specialized aftermarket receivers that were excluded from this list, such as those for 10/22 Takedown models, so just be aware that options are plentiful. Since most 10/22 models on the market are the common non-takedown variant, these options were chosen to be compatible with a majority of 10/22s out there.
If you're looking to upgrade an existing 10/22 or build a rifle or pistol from scratch, these options have you covered. Some receivers on the market come with little to no extra components while others include more parts. Most receivers will include a V-Block assembly, eliminating the need to reuse the one that came with your original 10/22. Other options include the entire bolt carrier assembly and V-Block as well, providing an additional upgrade and making it easier to complete your build. Now let's look at some receivers.
Tactical Innovations ELITE22 Receiver
This 10/22 receiver features a billet aluminum construction and an integral Picatinny rail. The extended rail provides ample space for mounting whatever optic you wish. Tactical Innovations also offers a variety of add-on options if you purchase the receiver from them. Options include bolt assemblies, hardware packages and trigger assemblies. The receiver is also available in a variety of Cerakote colors such as black, red, blue and olive drab. Tactical Innovations also runs frequent sales on their parts and components, allowing you to keep more money in your pocket. This receiver is a good choice for those who want a lightweight 10/22 receiver that won't break the bank. MSRP: $194.49 // Weight: 8.3oz // Site: tacticalinc.com
Fletcher Rifle Works OpenTop 11/22 Receiver
Fletcher Rifle Works' OpenTop 11/22 is a unique receiver design. Most of the top of the receiver is covered by a removable lid that allows one to remove key components such as the bolt, extractor and firing pin without fully disassembling the rifle. The process of cleaning is also improved thanks to the removable lid, as the internals of the receiver can be accessed more easily. A Picatinny rail is present forward of the lid and provides an integral and versatile optics mounting solution. All in all, the OpenTop 11/22 demonstrates the kind of innovative features that can be incorporated into the 10/22 design when using aftermarket components. MSRP: $250.00 //Weight: 16oz // Site: fletcherrw.com
F.J. Fedderson 10/22 Nickel Alloy Receiver
This receiver features a nickel-bronze alloy construction that provides increased resistance to the elements. Particularly, rust and corrosion are staved off by the properties of nickel. An extended Picatinny rail hangs over the barrel, providing ample real estate for a variety of optics. While this nickel-bronze alloy receiver weighs a few ounces more than aluminum models (including those of original Rugers), the increased ruggedness and integral optics rail are worth the slight increase in weight. This receiver is a great option for those who wish to give their 10/22 the all-weather treatment and enhance their optic-mounting potential. MSRP: $300.00 // Weight: 22.6oz // Site: fjfeddersen.com
Volquartsen Superlite Receiver
This model yields two major upgrades that can be achieved through the use of an aftermarket 10/22 receiver. Firstly, the Superlite receiver from Volquartsen is exceptionally light and is CNC-machined from aluminum. The lightweight nature of the receiver makes it a welcome addition on any 10/22 build that may need to be carried. Ditching the more commonly used Picatinny rail, Volquartsen instead utilizes their Universal Red Dot Mount.
Thirteen pistol red dots are advertised as being compatible with the Universal Red Dot Mount system, including options from prominent brands such as Trijicon and Leupold. The matrix of optic mounting holes reduces bulk and weight, as there is no rail protruding from the top of the receiver. The red dots simply screw directly into the receiver via the appropriate holes. This receiver is a lightweight option that provides its user with an innovative way to mount popular red dot sights. MSRP: $365.00 // Weight: 6oz // Site: volquartsen.com
Tactical Solutions X-RING VR Receiver
This offering from Tactical Solutions represents a premium aftermarket receiver package. A bolt is included that utilizes a dual guide-rod system and features a charging handle that can be configured for left or right-handed use. The proprietary dual-guide rod system in the bolt assembly promotes reliable and smooth cycling, and the rear of the receiver also features a cleaning port that allows it to be cleaned without extensive disassembly. This offering from Tactical Solutions is a good choice for those who wish to assemble a premium 10/22, as it combines a lightweight receiver with other upgraded components and features. MSRP: $552.00 // Weight: 20.8oz (Including bolt assembly) // Site: tacticalsol.com
---
More On The Ruger 10/22: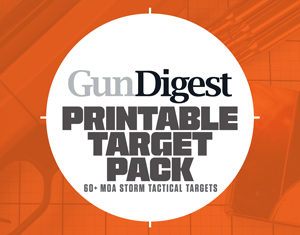 Next Step: Get your FREE Printable Target Pack
Enhance your shooting precision with our 62 MOA Targets, perfect for rifles and handguns. Crafted in collaboration with Storm Tactical for accuracy and versatility.
Subscribe to the Gun Digest email newsletter and get your downloadable target pack sent straight to your inbox. Stay updated with the latest firearms info in the industry.