Sig Sauer has just announced the M400-DH3 rifle, a new competition AR-15 designed in collaboration with competitive shooter Daniel Horner.
Designs are often refined by people who are skilled at using the item in question. Just as a high-performance vehicle can be improved by an expert driver's input, so too can the designs of firearms with the help of professional shooters. Daniel Horner is one such individual, and after years of shooting competitively for Team SIG, he and the company collaborated to create the M400-DH3 rifle.
The M400-DH3 has been configured to exactly match what Horner has been competing with for the past two years, and he's already used it to rack up several more titles in that time. The rifle features an aluminum frame and utilizes the SIG Direct Impingement (SDI) gas system. It features a .223 Wylde chamber and the stainless steel barrel is 16 inches, fluted and has a 1:8 twist. Each gun also includes an adjustable DH3 competition buttstock, a 2-stage adjustable Timney trigger and a 3-chamber compensator. Other notable features of the M400-DH3 are its ambidextrous bolt release, low-profile M-LOK handguard and its light weight of only 7 pounds.
Horner said this on the M400-DH3:
For the past two years I have been shooting in competition with the M400-DH3 rifle and what you get right out of the box is my set-up. We took our time to release this gun because I wanted all the elements to be my competition set-up from my trigger to the stock…I've won multiple titles with this exact build and even if you're not taking it into competition, you are sure to enjoy the custom features that we have put into the M400-DH3.
The official MSRP is not yet listed, but expect it to be at least $1,600.
For more information, please visit sigsauer.com.
---
More AR Options To Consider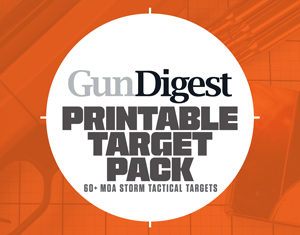 Next Step: Get your FREE Printable Target Pack
Enhance your shooting precision with our 62 MOA Targets, perfect for rifles and handguns. Crafted in collaboration with Storm Tactical for accuracy and versatility.
Subscribe to the Gun Digest email newsletter and get your downloadable target pack sent straight to your inbox. Stay updated with the latest firearms info in the industry.