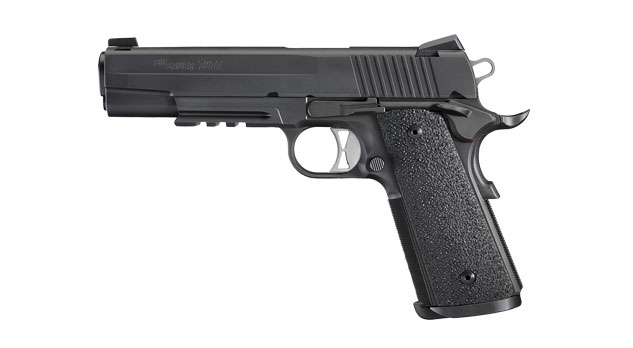 The august 1911 design has been with us for more than 100 years. But in recent times, the legendary semi-automatic pistol has undergone all sorts of tweaks.
Perhaps the most pervasive modification of John M. Browning's brainchild is caliber. In a bid to cash in on the popularity and near ubiquity of the 9mm, many manufacturers have begun to offer the pistol bored for the round.
SIG Sauer is among the companies that have veered the 1911 away from its traditional .45 ACP chambering. And while it has models available in 9mm, .40 S&W and even .38 Super, a different round appears to be gaining some traction in its catalog.
SIG is now offering a second model of the 1911 chambered in .357 SIG. Joining the Fastback Nightmare, which also utilizes the .357 SIG cartridge, is the company's new 1911 Tactical Operator.
The 1911 TACOPS has been a popular choice among law enforcement agencies, such as the Texas Department of Public Safety. And it's outfitted with a number of features most shooters have come to expect on a defensive sidearm.
Along these lines, the most notable might be the integral rail that allows for the quick and easy addition of an accessory. Also, the TACOPS has updated the 1911 design by including an ambidextrous safety and magazine release.
The single-action-only pistol boasts a 5-inch barrel and measures in at 1.5 inches in width. At 41.6 ounces, the steel-framed pistol might be a bit heftier than some would care to carry on a regular basis, but it is far from being out of bounds for this sort of duty.
The 1911 TACOPS in .357 SIG has the same capacity as it does in .45 ACP: 8+1. And it has the same features as the original model including: Ergo XT grips, skeletonized hammer and trigger, night sights, black Nitron finish and checkered front strap. A threaded-barreled option, ready for a suppressor, is also available.
A 1911 in .357 SIG also has some intriguing potential. First off, the round is designed to mimic the ballistics of what many consider the best personal defense round — the .357 Magnum. And secondly, the smooth feeding bottleneck design of the cartridge has the prospect of making the 1911 less finicky in the ammunition it eats.
Presently, SIG Sauer lists the new 1911 TACOPS MSRP at $1,213.
---
NEXT STEP: Download Your Free Storm Tactical Printable Target Pack
62 Printable MOA Targets with DOT Drills - Rifle Range in YARDS
This impressive target pack from our friends at Storm Tactical contains
62 printable targets
for rifle and handgun range use. Target grids and bullseye sizes are in MOA. Ideal for long-range shooting!
Subscribe to the Gun Digest email newsletter and we'll send your print-at-home target pack right away.
Just enter your email address below.
---