SIG Sauer's P229 has planted some impressive milestones in its time. In addition to being widely utilized by federal, state and municipal law enforcement agencies, it is also the handgun that has significance in the history of the company itself.
In particular, the P229 was the first pistol SIG manufactured in America, when the company opened its plant in New Hampshire. Until then, the German/Swiss gun maker imported all its firearm to the American market.
Now, for a limited time, Lew Horton Distributing is offering a version of the double/single-action pistol as unique as its background. The Massachusetts wholesaler is selling its final order of Special Edition SIG P229 Blue Piranha.
The Horton exclusive features a striking slide, finished in a bright blue PVD finish. And while this process gives the P229 a glossy and classic look, the finish does more than just add glitz. PVD (Physical Vapor Deposition) is able to deliver a harder and more corrosion-resistant coating than most other processes used today.
In addition to the eye-catching finish, the Blue Piranha version of the SIG P229 also features G-10 Piranha Grips. From there, the pistol shares features common to this model of SIG. These include: front and rear cocking serrations, 3.9-inch barrel, SIGLITE night sights and an accessory rail.
The Horton exclusive is available only in 9mm, though SIG does offer the P229 in two other calibers — .40S&W and .357SIG. Production of the Blue Piranha was limited to 500 units. The pistols ship with two 15-round magazines and have an MSRP of $1,299.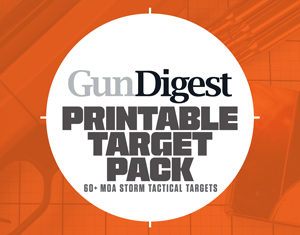 🎯 Exclusive Offer: Get Your FREE Printable Target Pack!
Dive into precision shooting with our 62 Exclusive MOA Targets featuring DOT Drills. Perfect for both rifle and handgun enthusiasts, these targets are designed for accuracy, especially for long-range shots.
Why You'll Love This Pack:
🎯 Expertly Crafted: Brought to you in partnership with the renowned Storm Tactical.
🎯 Versatile Use: Suitable for both rifle and handgun range sessions.
🎯 Precision Design: Target grids and bullseyes meticulously measured in MOA for the best shooting experience.
Bonus: By grabbing this offer, you'll also be subscribing to the Gun Digest email newsletter, keeping you updated with the latest in the world of firearms.
Don't miss out!
Simply enter your email below, and we'll send your downloadable target pack straight to your inbox.