Kalashnikov USA's AK-103 clone, the KR-103, is now available with a side-folding stock making it more true to the original design. New guns and ammo teased as well.
Kalashnikov USA is what many consider to be the leading U.S. manufacturer of AK-type rifles. Based out of Florida, they've been working to create high-quality semi-auto clones of modern Russian small arms since the release of their KS-12 shotgun in 2017. The company prides itself on having superior quality control over its competitors, and they've sacrificed being the first to bring certain products to market in favor of only releasing them once they've ensured they're ready for customer hands.
The first rifle caliber weapon KUSA released was the KR-103, a semi-auto clone of the Russian AK-103. Clone is a strong word, however, and many sticklers for detail had complained that the original KR-103 featured a fixed-stock rear trunnion rather than the unique side-folder mechanism present on genuine 100 Series AK rifles. The standard KR-103 has been on the market long enough to garner a good reputation, and now KUSA has just released the updated KR-103 SFS side-folder model. Suddenly listed for sale on their website without warning on Friday the 29th, they were sold out before the news had finished spreading. While KUSA is not known for having a very high production volume, they have remained consistent and those interested in one of their AK-103 clones can expect them to be restocked soon enough.
Clone-Accurate

For those not overly familiar with the expansive world of Kalashnikov variants, the AK-100 Series of rifles and carbines was developed in 1994 as a further modernization of the already modernized AK-74M. The series took features from the AK-74M such as side-folding stocks and added them to rifles and carbines chambered for cartridges besides 5.45×39, namely 7.62×39 and 5.56 NATO. The AK-103 that the KR-103 is inspired by is the rifle-length variant chambered for 7.62×39. Some other clone-accurate features included on KUSA's AK-103 are the side optic rail and 74-style muzzle device. The folding stock also uses the correct 5.5mm pin, allowing for the installation of other stocks designed for side-folder trunnions such as classic metal triangle stocks or the ZenitCo PT-1. The KR-103 barrel is chrome-lined and cold hammer forged, and the trunnion is forged as well.
More To Come

Shortly after the KR-103 SFS's release, KUSA teased even more upcoming AK goodness on their social media. In the video, an employee can be seen patriotically spraying a select-fire sample of one of their new 103s, but it's what's behind him that caught most peoples' eye. Sitting on the bench was a box of KUSA-branded 7.62×39 ammo as well as a short-barreled AK-104 clone. This aligns with promises made by KUSA at the 2020 SHOT Show where they announced their intentions to release clones of every AK in the 100 series, including guns chambered in 5.56 and 5.45. It's not known when the new guns or ammo will hit the market, but it's nice to see these projects are still in the works.
This new rifle is as close to a genuine Russian AK-103 that you can currently get in the States, and the addition of a side-folding stock is sure to please those seeking attention to detail or just raw functionality. Each KR-103 SFS includes a cleaning rod and one KUSA-made magazine and has an MSRP of $1,399.
For more on Kalashnikov USA, please visit kalashnikov-usa.com.
---
More AK Stuff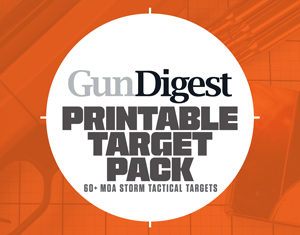 Next Step: Get your FREE Printable Target Pack
Enhance your shooting precision with our 62 MOA Targets, perfect for rifles and handguns. Crafted in collaboration with Storm Tactical for accuracy and versatility.
Subscribe to the Gun Digest email newsletter and get your downloadable target pack sent straight to your inbox. Stay updated with the latest firearms info in the industry.