Zastava has undoubtedly dominated the American AK market this past year, but is that because of their superior quality? Or was it simply because their ZPAP rifles were the most consistently available?
ZPAP Quick Facts:
7.62x39mm Semi-Automatic AK Style Rifle
Based On Yugoslavian M70
Made In Serbia By Zastava
Yugo Pattern Furniture
Yugo Pattern Scope Rail
Blued Metal Finish
Chrome Lined Barrel
Available With Wood Or Synthetic Furniture
The ZPAP M70
The Yugoslavian pattern AK, or M70, has gone through a series of developments both as a military service rifle and civilian sporting rifle to become what it is today. Our previous article on Zastava explains these improvements more in-depth if you want to dig deeper. But the pertinent information is that the current generation of Zastava AKs, the ZPAP, are the best the company has produced.
Made with a bulged RPK-style front trunnion, a 1.5mm thick stamped steel receiver, and a chrome-lined barrel, the ZPAP eliminates any past issues of the PAP rifles. With the availability of new production imported AKs reduced to Cugir, WBP Fox, and Zastava, the Serbian arms plant seems to have found a good balance of price and features for the American consumer. Zastava's AKs have a nicer fit and finish than their Cugir counterparts and are cheaper and more abundant than the Polish Fox rifles to boot. For those looking for an AK that's as pretty as it is functional, ZPAPs are an excellent choice.
ZPAP Customization
Something worth keeping in mind is the fact that the ZPAP's only compatible furniture component with AKM pattern guns is the pistol grip. While some people may have no problem leaving the rifle in a stock configuration or customizing it with surplus Yugoslavian accessories, those who wish to customize their gun beyond that may experience some difficulty doing so.
As a result of the ZPAP's growing popularity, the aftermarket options have also been expanded. Despite this, AK parts for Yugo pattern guns simply aren't as common or available as those for AKM pattern ones. A WASR or WBP Fox can accept a far wider variety of furniture—both surplus and aftermarket—than the ZPAPs. If you intend to trick out your AK into a tactical abomination of rails and gadgets, an AKM pattern gun will give you a much easier time.
Considering that the wood furniture model is made from appealing and durable dark walnut, and the polymer version is reportedly very ergonomic and comfortable, it's possible that the ZPAP can fill all your needs right out of the box.
The polymer model's furniture includes several modern features that may make upgrades unnecessary. The handguard and stock should be very durable considering they are constructed using materials like rubber-coated fiberglass, carbon fiber, and glass-reinforced polymer. Other polymer furniture sets like Magpul's Zhukov line have been reported to not always survive being mortared on the ground, especially in cold temperatures. While I have not tested the new polymer Zastava furniture, it seems better constructed than most other options on the market, especially for a Yugo pattern gun.
Additionally, the polymer ZPAP's handguard has three optional segments of Picatinny rail that can be attached for mounting accessories. The stock is adjustable for both length of pull and for the height of the cheek riser. The stock also has four QD sling swivel inserts built into it and comes with a removable recoil mitigating butt pad.
Mounting Glass
Another proprietary feature of the ZPAP is its Yugoslavian pattern scope rail mounted on the left side of the receiver. Like the furniture options, optics and mounts with a Yugo-style rail are less common than their Russian equivalent. While Russian and Belarussian-made military optics can still be purchased for AKs with a standard-spec rail, compatible Yugoslavian optics like the M76 ZRAK scope are rare and expensive. If you want a more functional optic, however, companies like RS Regulate make Yugo-pattern mounts with a Picatinny rail that facilitate the mounting of more modern options.
The Zastava ZPAP may have some eccentricities due to its Yugoslavian origin, but that doesn't mean it's any less of a Kalashnikov. If the non-standard furniture and scope rail don't bother you, ZPAPs are currently one of the nicest new AKs money can buy. Currently priced in between Cugir WASRs and WBP Foxes, ZPAPs have seen quite a lot of recent success in America. They're undeniably high-quality rifles, but if the price of WASRs continues to drop to more normal levels, ZPAPs may see a dip in sales unless they follow suit. Until then, ZPAPs continue to be a great option for AK buyers.
For more information on Zastava Arms, please visit zastavaarmsusa.com.
---
More On AKs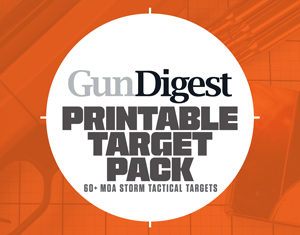 Next Step: Get your FREE Printable Target Pack
Enhance your shooting precision with our 62 MOA Targets, perfect for rifles and handguns. Crafted in collaboration with Storm Tactical for accuracy and versatility.
Subscribe to the Gun Digest email newsletter and get your downloadable target pack sent straight to your inbox. Stay updated with the latest firearms info in the industry.