B&T has just released the APC45 PRO-G, a new variant that can accept Glock 21 magazines making it much more accessible to the average shooter.


B&T's pistol caliber carbines have a lot of attractive features. From the guns' hydraulic buffer systems that reduce recoil to the wide array of compatible accessory options, many felt that the only drawback of the platform was its use of proprietary magazines. At over $100 a pop for 25-round models, most simply couldn't afford to stack mags for the APC45 as deep as they would like, but that's changing with the release of the APC45 PRO-G.
The APC45 PRO-G has all the same qualities as existing B&T PCC models, with the only difference being its new lower receiver. Now capable of feeding from much more common and less expensive Glock 21 magazines, APC45 PRO-G owners will be able to hoard mags much more affordably. The new lower is compatible with both OEM Glock 21 mags and aftermarket variants in a variety of different capacities, giving users more choices than what the three B&T .45 ACP magazines previously provided.
Jon Scott, Vice President of Sales for B&T USA, had this to say on the new APC45 PRO-G:
Our customers have been requesting a Glock lower receiver group option for this big-bore variant of our proven APC family of weapon systems…The time has come for us to provide this option to those seeking the option of the heavier weight 45ACP projectile with its increased terminal performance, intermediate barrier penetration and sheer energy on target, all in a size optimized for discrete deployment.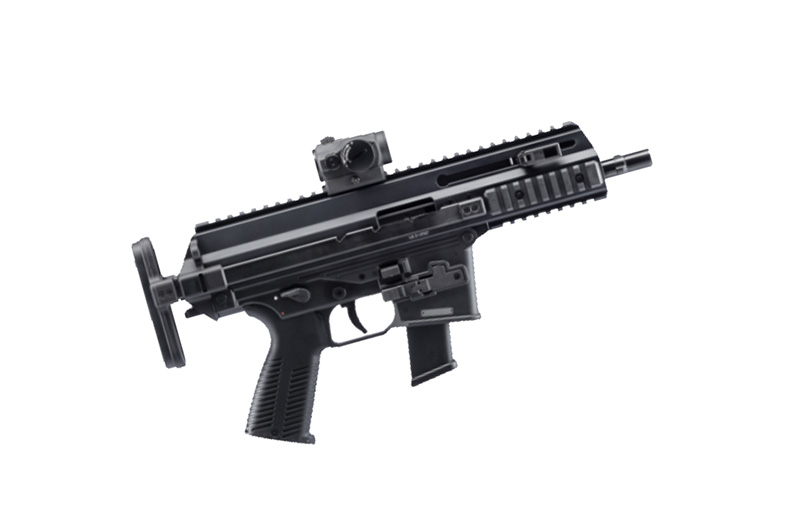 This is great news for those who were interested in a .45 ACP B&T PCC but were dissuaded by the cost and availability of their magazines.
For more information, please visit bt-usa.com.
---
More On Pistol Caliber Carbines:
---
NEXT STEP: Download Your Free Storm Tactical Printable Target Pack
62 Printable MOA Targets with DOT Drills - Rifle Range in YARDS
This impressive target pack from our friends at Storm Tactical contains
62 printable targets
for rifle and handgun range use. Target grids and bullseye sizes are in MOA. Ideal for long-range shooting!
Subscribe to the Gun Digest email newsletter and we'll send your print-at-home target pack right away.
Just enter your email address below.
---