Kimber came out of left field with the release of the R7 Mako CCW pistol, but can the company's baby shark take a bite out of the competition?


With that earworm firmly planted in your swede, let's take a look at a handgun …
Whereas stagger-stack nines are nothing new, this pistol is a rarity from Kimber. It's a departure from their normal catalog of 1911s and hunting rifles, and while they have dabbled in the CCW world with the Solo and Evo, this is aimed squarely at the most popular market segment in the U.S. right now, namely the micro subcompact genre kicked off by the SIG P365.
Kimber's previous attempts at a striker-fired, micro 9 were, shall we say, eventful. Last decade, the Solo was introduced as a premium carry gun, and visually it was a delight, with melted edges, a two-tone or silver finish, contoured night sights and, for the time, a decent trigger. Accurate, too. Unfortunately, it needed +P ammo to run reliably, but standard pressure rounds to avoid beating itself to death. We experienced this firsthand during a reliability test for a Solo accessory; after a case of Gold Dots, the gun's locking lugs were so badly peened it had to be retired—pretty disappointing performance from what was supposed to be a premium product. Replaced in the lineup by the Evo SP, the new gun seemed to address the previous model's shortcomings but with its predecessor's bad rap hanging like a sword of Damocles, it's not exactly lighting up the sales charts.
The R7 Mako is a clean-sheet design. If you sense a certain Teutonic aesthetic to its lines, it's probably due to the influence of Willi Bubits whose creations can be found in the catalogs of Caracal, Steyr and Walther, and who brought the Mako's initial concept to Kimber. So much for history, does it fill the intended role?
Hands On

For anyone familiar with the flashy Solo, the Mako looks like its homely sister. Sure, there's been an attempt to mold in some contours to the glass-filled polymer frame, but it's only slightly less ugly than a Hi-Point, albeit without the latter's bulk and heft. The R7 Mako's barrel locks up using an odd-looking square nub at the rear of the chamber, rather than the usual SIG/Petter shelf, making the slide a little taller than you'd expect and adding to the somewhat top-heavy appearance. Looks aside, the frame does a creditable job of handling the human/gun interface, with texturing across all gripping surfaces, a noticeable palm swell and that Wather-esque hump on the backstrap. While it may not have the world's lowest bore axis, an undercut trigger guard gets your hand high enough to make recoil control manageable, and the pinky extension on its 13-round magazine allows for a full, three-finger grip, even with large hands. An 11-round, flush-fit mag is available for anyone requiring a minimum of grip length for concealment purposes, but it's a pretty safe bet that most users will opt for more capacity.
The magazine release is flush with the frame's surface rather than being fenced, and to allow the thumb to reach it, there's a relieved area in the frame making inadvertent mag drops unlikely. Lefties are catered to with identical controls on both sides of the pistol. The slide release is let into a raised plastic ridge in the frame's upper surface, so accidentally locking the slide to the rear is about as likely as dropping the mag when you didn't mean to.
The R7 Mako's slide has another interesting quirk, aside from its unusual lockup—there's a separate breech face pinned into the area rear of the undersized ejection port, which makes manufacture easier. Should .40 S&W make a comeback return to its former glory, rather than just being an annoying way to screw up a progressive reloading press (thanks, XD shooters for mixing .40 and 9mm brass), then you could potentially swap in a new breech face and barrel and be on your merry way. But that scenario's as likely as Biden's second term. Those wanting to add a weapon-mounted light to their carry piece will be disappointed, at least until the aftermarket catches up, as there's no Picatinny rail out front. Choosing a proprietary rail will always ruffle feathers, but the alternative of having a tiny, svelte handgun with a mini cheese grater sticking out past the slide profile will piss off just as many potential customers.
Initially, we suspected the Kimber's slide was a MIM part, as tool marks were almost completely absent. But after receiving assurances from the manufacturer that it starts out as bar stock, we'll chalk it up to some of the best machining we've seen in a while. Kudos to the engineers and production guys for that one. Up top, there's a cut for an RMSc pattern mini red dot, and our test gun came equipped with a Crimson Trace unit. It is, however, protected from gas, oil and unburnt powder residue by the Mako's undersized ejection port.
Iron sights are just what the market ordered, with a big, red dot up front and a U-notch rear, both of which are tritium-illuminated and supplied by TruGlo. The rear sight features a slightly undercut front face to aid with one-handed manipulations, and it's set as far back on the slide as possible in order to maximize sight radius. If you don't like the sights it ships with, then finding replacements shouldn't be too difficult, as the manufacturer made the smart choice of not going with a proprietary footprint, instead using the same slide cuts as the world's most often replaced, useless plastic sight-like protuberances. Looking at you, Glock.
The Mako's trigger is one of the gun's best features and leaves the groundbreaking P365 in the dust. Breaking at 5.5 pounds with a short, tactile reset, it's one of the few triggers on a polymer handgun that isn't made from the same material as the frame, instead being carved from aluminum. A nice touch is that the gas pedal safety in the trigger's face sets perfectly flush when depressed, increasing the amount of surface area in contact with your digit, reducing the perceived pull and making solid hits at extended ranges much easier. Teamed with a red dot, the combination of sights and trigger allows the user to really stretch the gun's capabilities way past what would normally be considered CCW distances.
Rounds Downrange

Wrangling up a few of the Kimber's competitors, we loaded up steel, paper, shot timer, and a slack handful of ammo brands and types before heading to the range. First impressions were uniformly good, with the R7 Mako's extra couple of ounces in comparison to the P365, Hellcat and Max 9 soaking up a bit more recoil. Sure, it's a Micro 9 so it's going to be snappy, but there was a slight but noticeable difference between its siblings which could just as easily be attributed to the nicely contoured and grippy frame. Whether this would ever be perceived by the shooter in a situation where the gun gets used for real is definitely an angels/pin argument, but it's there nonetheless.
Accuracy was in line with the rest of the pack, and we had no trouble hitting two-third size IPSC torsos beyond 50 yards and keeping shots within the head box at 25. Every type of factory ammo we put through the gun functioned flawlessly, whether it was NATO-spec 124-grain ball, old Remington 115-grain range fodder or different flavors of hollow-points. It wasn't until we got into handloads that the R7 choked. Loads that were put together to barely make minor power factor for local matches refused to go into battery, despite running well in the other guns. It seems that in this test sample at least, the Kimber product has a chamber with a short throat, so if you want to load rounds slightly longer than usual to reduce pressure. Be aware that the R7 is even tighter than CZ in this respect.
The Mako's entry into a market segment that's quickly filling up with worthy carry guns is welcomed, as competition drives innovation. Kimber has learned from the mistakes of others and has delivered a handgun that checks every box in terms of feature set, at a price comparable to the models it'll share counter space with. Great sights, trigger, capacity and optics-ready right out of the box—what's not to like? And don't worry, the holster will cover up the homely aesthetics. Everyone's a 10 with the lights out…
Editor's Note: This article originally appeared in the CCW 2022 special issue of Gun Digest the Magazine.
For more information, please visit kimberamerica.com.
---
More Micro-Compact 9mm Pistols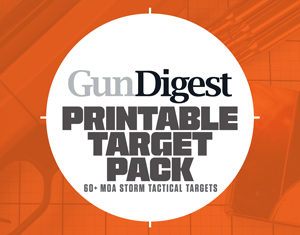 Next Step: Get your FREE Printable Target Pack
Enhance your shooting precision with our 62 MOA Targets, perfect for rifles and handguns. Crafted in collaboration with Storm Tactical for accuracy and versatility.
Subscribe to the Gun Digest email newsletter and get your downloadable target pack sent straight to your inbox. Stay updated with the latest firearms info in the industry.