Pistol-caliber carbines have been growing in popularity and have some very unique designs to choose from.
What are some cool pistol-caliber carbines?
In the ebb and flow of the gun world, pistol-caliber carbines have been on the rise in recent years. But the concept of a long-gun that grazes on handgun ammo is almost as old as America's love affair with firearms.
As those familiar with this class of firearms know, short rifles chambered for handgun ammo were a staple on the American frontier. Back then it made sense, given you never knew if the next wagonload of ammunition might get bushwhacked. The redundancy of owning, say, a Colt Frontier and a Winchester 1873 not only delivered peace of mind, it probably saved lives.
Nowadays, the viability of pistol-caliber carbines is a topic of fierce debate. Honestly, few subjects in the gun world, short of the best caliber for self-defense, are more heated. To some, the long guns are perfect for penny-pinching at the range, manageable home-defense options, and prepping for TEOTWAWKI. To others, they're akin to slapping a four-cylinder engine in a three-quarter-ton truck.
No matter where you fall on this spectrum concerning PCCs, there are likely a couple that have caught your eye at one time or another. Admit it. So we're going to take a gander at six of the coolest pistol-caliber carbines available today. Even if you don't buy into the pistol-caliber carbine concept, you'll have to admit these are still some pretty dandy guns.
CZ Scorpion Evo 3 S1
The original Skorpion had a dark mystique about it, fostered by the full-auto's birth behind the Iron Curtain during the height of the Cold War. This intrigue most certainly added to the clamor when its namesake reentered the market a few years back. And while it might not be a bullet hose like its predecessors, the carbine variation — the Scorpion Evo 3 S1 — still has plenty of sting.
Combined with lightweight, yet durable polymer receivers and stock, the Scorpion provides plenty of firepower from a highly manageable platform. And chambered in 9mm, CZ's carbine is simple to feed and has more than enough power to handle most situations. It's an ideal home defense gun, and given its folding stock, can also hit the road with ease.
The 6-pound blowback semi-automatic also comes with all the features shooters look for in modern carbines as well: M-LOK slotted handguard, ambidextrous controls and capacity to spare (20- and 30-round magazines available).
Kel-Tec SUB-2000
Kel-Tec might not have set out to create the ideal backpack gun, but that's exactly what it did with the SUB-2000. The spindly pistol-caliber carbine wins top marks for its compactness, due in large-part to its unique design. Unlike anything else on the market presently, the gun folds in on itself through a hinge at the fore of the receiver into a neat 16-inch package. And it deploys in seconds through the push of a button.
At around 4 pounds, the SUB-2000 — now in its second generation — is light to boot. This is thanks to the extensive use of polymers (fiberglass-filled nylon) of which the blowback semi-automatic is composed. Available in 9mm and .40 S&W, the carbine is also easily paired with a pistol, given Kel-Tec offers magazine compatibility with Smith & Wesson, SIG Sauer, Beretta and Glock.
Despite its Spartan appearance, the pistol-caliber carbine isn't short on features: fully adjustable aperture rear sight, plenty of rail real estate, adjustable buttstock and sling mounts.
Aero Survival Rifle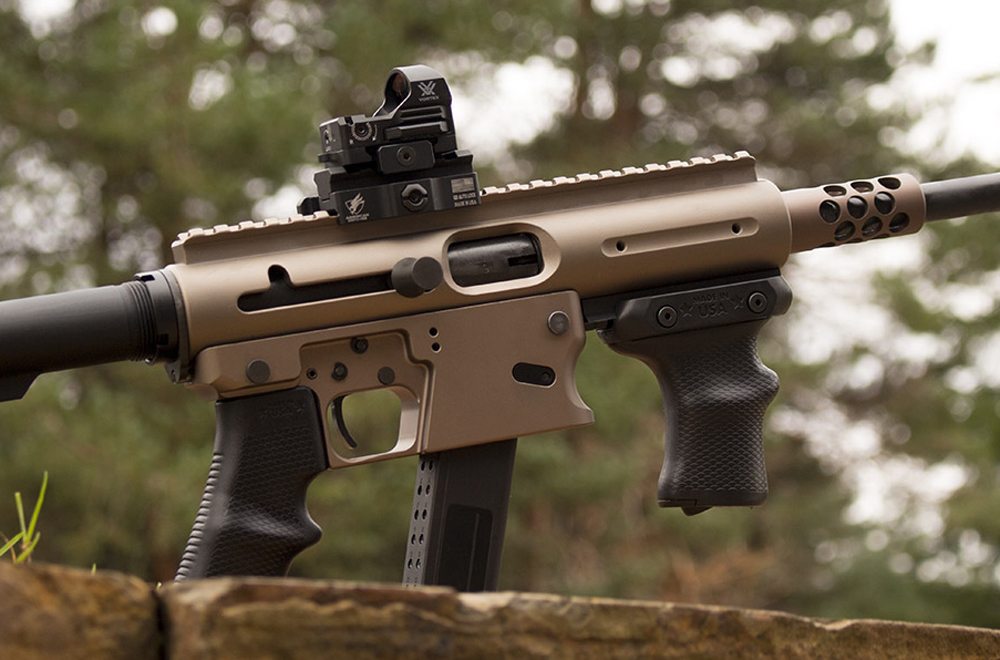 Surviving is about adapting to circumstances and TNW Firearms has come up with the perfect tool for the job. The Aero Survival Rifle is among the most flexible pistol-caliber carbines on the market today, and not only in configuration.
Its quick-change barrels open a host of caliber options, including many that are rare in the carbine world: .22LR, 9mm, .45 ACP, .40 S&W, 10mm and .357 SIG. And the Oregon gunmaker has .22 WMR and .17 HMR conversion kits on the way for the blowback semi-automatic.
Adding to the Aero's versatility is the fact it is a takedown rifle, which makes it a perfect insurance policy in a truck, boat or backcountry. This is especially true if mated with the specially designed case TNW cooked up to stow the carbine and a couple different barrels, to match caliber to application.
The 5.5-pound survival rifles — centerfire models at least — are compatible with Glock magazines, a good thing given their availability and capacity options. Ruggedly built, the carbine boasts milled aircraft-grade aluminum receivers.
Kriss Vector
The pistol-caliber carbine world brims with oddballs. The Kriss Vector definitely falls in this category, but there is method in this engineering madness. The carbine's one-of-a-kind designed allows it to jump between calibers with ease and provides a more manageable firearm.
To the former point, the rather pronounced fore contains the action and the barrel and does not require tools for removal. In turn, the assembly is quickly removed and replaced with another fore in one of five calibers: 9mm, .45 ACP, 10mm, .40 S&W and .357 SIG.
To the latter point, the low bore axis and the carbine's unique toggle action work in concert to mitigate recoil by re-vectoring the energy down and away from the shoulder. This makes it a particularly fast and accurate shooter, in an already very manageable class of firearms.
Rossi Circuit Judge
Taurus made waves a number of years ago with its .45 Colt/.410 Gauge Judge. But Rossi's take on the revolver moves the concept to a whole new level, perhaps one that is more useful.
The Italian gunmaker's Circuit Judge offers the same ammunition flexibility as the revolver, but with an 18.5-inch barrel delivers the bore to make the rounds count. Honestly, small to medium game and fowl should be on the alert if the Circuit Judge holds court. Perhaps only a drillings gun would be more versatile afield. The five-shot cylinder is also a nice touch, endowing the carbine, not only with uniqueness in the modern era, but with the reliability and simplicity of a revolver.
Really, the sky could be the limit with the 5-pound carbine's applications. Field gun, training firearm for youths or survival firearm are all well within its wheelhouse.
MechTech Conversion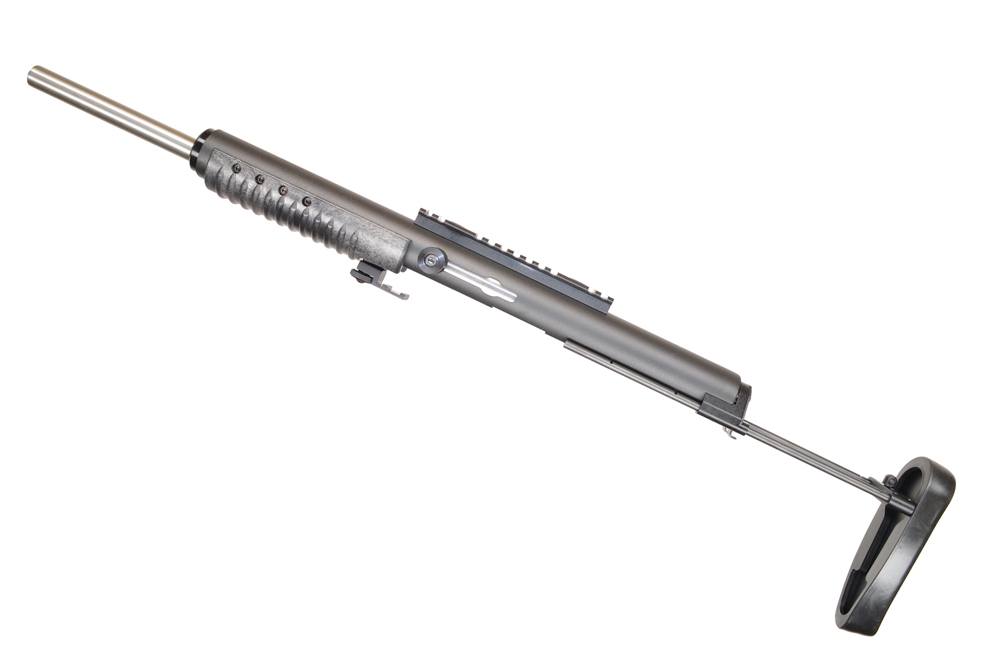 The allure of the pistol-caliber carbine for many is matching their long-gun's ammo to their pistol's. But what if that concept could be carried a step further? It can and MechTech has done it, practically marrying pistol and carbine in one platform in what it calls a conversion unit.
The unit is basically an upper receiver, barrel and stock that mates with a pistol's frame. The switch over is simple, does not require tools and adds a lot of flexibility to a single firearm. A sub-compact "Baby Glock" can be configured into a 16-inch barreled blowback carbine in a matter of minutes.
Additionally, MechTech's conversion unit is available for a wide spectrum of calibers — 9mm, .40 S&W, .45 ACP, 10mm — and makes — Glock, Springfield XD and 1911s. MechTech also offers some interesting configurations in their units — including one that is somewhat reminiscent of the M3 Grease Gun.
Maybe best of all, the unit is completely paperwork free because it consists of an upper receiver and barrel and is not considered a firearm in and of itself. And yes, it's all legal — even the all-mighty BATF has said so in extensive legalese.
---
NEXT STEP: Download Your Free Storm Tactical Printable Target Pack
62 Printable MOA Targets with DOT Drills - Rifle Range in YARDS
This impressive target pack from our friends at Storm Tactical contains
62 printable targets
for rifle and handgun range use. Target grids and bullseye sizes are in MOA. Ideal for long-range shooting!
Subscribe to the Gun Digest email newsletter and we'll send your print-at-home target pack right away.
Just enter your email address below.
---