The top 9 youth rimfire rifles for teaching the next generation of American shooters.


During the past 2 years, the industry has picked up somewhere in the ballpark of 16 to 20 million new gun owners, based on NICS checks. To put it in perspective, it's as if the entire populations of Michigan (about 10 million) and Indiana (7 million) all became first-time gun owners. In total, there were about 45 million guns sold in 2020 and 2021 (at least that went through a dealer). Private sales aren't accounted for here.
What can be said for certain is that guns are now a part of the lives of a majority of Americans, and for many of these freshman shooters, there's the desire to begin introducing their children to the wide world of guns. In my opinion, the first and best place to start is with a youth-sized rimfire rifle.
What Makes A Youth Rifle?

There are no real specific criteria for a youth gun; some are very simple single shots, while others are just short-stocked versions of standard products. I don't believe there's one single answer. This really depends on the type of training, hunting or another end use a young person has for a rifle. What works for one kid may be unsuitable for another.
As a baseline, a good youth gun will use iron sights. I've engaged in debate with this for some time with my contemporaries, and some think this is a waste of time due to how commonplace optics are in today's world.
A friend recently said to me that making people learn iron sights was about as useful today as making every driver learn to drive stick before driving automatic. The reason I like iron sights on a youth rifle isn't to make things harder for kids—it's just the opposite. They teach children to take their time and be deliberate. They also naturally limit the distances kids are going to attempt shots, thus building confidence at close distances. I think 50 yards is a perfect place to start with a youth rimfire and accomplishing the basics of marksmanship here will ultimately bring new shooters to better respect and understand the skill.
I also like youth guns to be bolt actions for the merit that they're slower to load and less prone for clumsy hands to make mistakes with. I'm not against semiauto rimfires here; I'm merely aware of the habits of children and their attention spans in a training setting. In my experience, bolt actions are easier to empty and show clear, and there's a reduced risk of an accidental chambering or discharge.
Feeling Like A Kid Again

It may come as a surprise that one of my favorite rifles—and certainly one of my most lethal in terms of game bagged—is a CZ 457 Scout. This is a youth-sized gun with a very short stock and stubby 16-inch barrel. It has iron sights and a threaded muzzle—two features I like for the barnyard. It takes suppressors readily and, when shooting a .22 Short, it's quite noiseless. This gun ends up going with me into the woods as well, so I installed a set of sling studs on it. The rifle doesn't come with them.
I'm not exactly a small guy, but I'm not a bear either. This stock for me is the prefect length in that I can always get up on it when wearing thick clothing or in dense cover. I find that it's hard to go "too short" with a rifle; the CZ Scout's stock is still longer than a fully collapsed AR carbine stock, and plenty of guys bigger than me shoot their carbines fully collapsed regularly. Length of pull really matters more on shotguns than rifles, and most of my rifles have a shorter than normal LOP as a result. I'd say that most of my precision rifles set at about 12 inches. My supposedly ideal LOP as measured for my arms is 14 inches. I just find a longer LOP to be a hinderance in most settings, which is why I prefer using "youth" models in the field myself.
The CZ Scout is probably my number-one recommendation for a youth-size rimfire rifle; it has everything you need on it aside from the aforementioned sling swivels. The gun ships with a zero-round flush-fit magazine that encourages single-shot feeding. I like this feature for single-loading .22 Shorts. Five-round repeater magazines are available, and I prefer these to the 10-round variety because they're compact and allow a one-handed carry by grasping the receiver when walking. If the CZ isn't your fancy, I've rounded up my recommendations for some of today's best youth-sized rimfires that cover everything from starter guns to high-level competition.
The Top 9 Youth Rimfire Rifles:

01. Savage Rascal Single-Shot
This may very well be one of the quintessential youth bolt guns out there. The Rascal is available in a myriad of colors, as well as target versions and "tactical" variants. These are safe, easy-to-use guns that have introduced countless kids to the shooting sports. For their tiny size, they offer great value and utility. They're also popular with adults, and a few trappers I know take these super-light, brightly colored rifles with them when they check their lines. MSRP: $199
02. Savage MKII FVT Repeater
Savage again makes an appearance on this list because of just how good of a training tool this model is. The heavy-profile barrel adds stability for offhand, and the highly adjustable sights allow a shooter to precisely zero for competitions. These guns are common at Project Appleseed events and may, for the dollar, be one of the most accurate .22LR rifles out there today. MSRP: $509
03. KSA Mosin Nagant M91/30 Single-Shot
What fun, little comrade! I first set eyes on the comically small single-shot Mosin copy at SHOT Show a couple years back. I think it's a brilliant idea, especially if your child has in interest in historical guns. At a young age I was fascinated with World War II history, and I would've begged for one of these under the Christmas tree. MSRP: $419

04. Mossberg International 802 Plinkster Repeater
A classic bolt action, the Mossberg isn't exactly flashy, but it has all the features you need to get started. The least assuming gun on this list, the Plinkster is rugged and durable and should give your young shooter decades of hard use. At a cost point alone, it's a bargain. MSRP: $204
05. Henry Lever Action Youth Repeater
This rifle was the first .22 I had as a kid. My dad bought it because he loved Westerns, and I naturally followed suit. That rifle sadly got sold, but I may yet get another (I realized how much I missed it in writing this article). The action is smooth, and it's very accurate, easily as good as the bolt actions of similar cost and size. I highly recommend this rifle; it's a good bridge between capacity, accuracy, and fast follow-up shots. MSRP: $397
06. Browning T-Bolt Target Repeater
The T-Bolt is a classic design and is both fast and accurate. For an older kid, this makes a fine first small game rifle that has the accuracy to get past 100 yards. This rifle is best with a scope, and a compact Leupold in the 3-9x range will make your son or daughter deadly on rabbits up to coyotes. MSRP: $719
07. Anschutz 1710 XLR HB Repeater
Climbing up in price and features is the Anschutz 1710 XLR HB. This is a precision rifle, not just a "precision trainer." As a stand-alone, it's accurate for long range in the growing NRL sports and offers a stock that is adjustable to fit adults and children who may want to compete. I think these long-range rimfire sports out to 500 yards and beyond to be just plain fun, and I would love to get started in it. MSRP: $2,695
08. Walther KK500-M Expert 690mm Single-Shot
I remember seeing these guns for the first time at Camp Perry when I was a kid myself. I thought, they want THAT much for a single-shot .22!? I couldn't understand at the time, but these are utter accuracy machines that are adjustable for virtually any shooter in any position. For an older child or teenager, this may seem like a chunk of change, but compared to beauty pageants, football and 4H, I'd rather bite the bullet once and get my kids the best Olympic-style rifle available. Or, buy it for yourself! MSRP: $6,000 (approximate)
09. Ruger Precision Rimfire Repeater
At a fraction of the price of the Anschutz on this list, the Ruger Precision Rimfire offers a great deal of features to the young long-range shooter. I've shot these guns extensively and really enjoy what Ruger did with them for the price. While not as accurate as some other dedicate precision rimfires, this one is plenty good to train on, and if your young shooter graduates to centerfire rifles, the ergonomics are almost identical to Ruger's full-size Ruger Precision Rifle. MSRP: $579
Editor's Note: This article originally appeared in the January 2022 issue of Gun Digest the Magazine.
---
More On-Target Rimfire Info: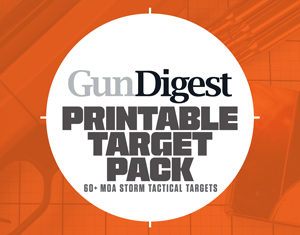 Next Step: Get your FREE Printable Target Pack
Enhance your shooting precision with our 62 MOA Targets, perfect for rifles and handguns. Crafted in collaboration with Storm Tactical for accuracy and versatility.
Subscribe to the Gun Digest email newsletter and get your downloadable target pack sent straight to your inbox. Stay updated with the latest firearms info in the industry.