Test the waters with these economical 9mm carbine options.
What are best 9mm carbines that won't break the bank:
Bonus 9mm Carbines:
Updated 3/02/23
Gun trends come and they go, but among the most enduring has been one of the most controversial – pistol-caliber long guns. The concept of a carbine or rifle that grazes on handgun ammunition is nearly the same vintage as America's love affair with firearms.
As those familiar with this style of gun know, long-guns that pitch handgun ammo were a staple in the American West. In those days, the system made a world of sense. Minor catastrophes, be it blizzard or bushwacker, could leave a pioneer high and dry in the ammunition department. You never knew when the next wagonload would mosey down the trail, after all. In turn, the piece of mind of, say, a Colt Frontier and Winchester 1873 feeding from the same trough likely saved lives.
Today, the practicality of pistol-caliber carbines is hotly debated. Truly, few subjects outside of politics and religion ignite passions as quickly. To some, such carbines are analogous to outfitting a Formula One racer with a moped engine. To others, they're the ideal economical plinker, wieldy home-defense option and perfect survival tool. Each has valid points, and maybe you've thought you'd like to investigate the matter first-hand to make up your mind.
---
More 9mm Information:
Is The 9mm Luger The Best All-Around Defensive Cartridge?
How To Choose The Best 9mm Ammo For Self-Defense
7 Best 9mm Pistol Designs Of All Time
---
Problem is, with a recent upswing in popularity, the market is filled with options that make experimentation somewhat cost-prohibitive. In most cases. There are still deals if you know where to look. And we've dug up 11 of them, all less than $1,000 and solid in performance.
While many of these are available in other calibers, we've opted to concentrate on 9mm carbines. In general, the cartridge performs well out of long guns and gives shooters a good taste of this style of firearm's potential. Out of a carbine, the 9mm gains modest velocity, is highly suppressible, generates little recoil and is offered in more models. Moreover, it's the cheapest of all handgun ammunition, so you won't break the bank giving the style of gun a run.
Who knows, given a chance, you might find the 9mm carbine is what you've been after all these years.
Kel-Tec Sub 2000

Compact as they come, Kel-Tec may have cooked up the ultimate backpack gun in the SUB-2000. It certainly created among the most unique 9mm carbines (also available in .40 S&W) at the end of the market already known for being idiosyncratic.
What makes the SUB-2000 so intriguing is its unique folding design. Hinged at the fore of the receiver, the carbine folds into a neat 16-inch package, ideal to keep it handy in a rucksack, sports bag or vehicle. Furthermore, it deploys in seconds, simply at the push of a button. Now in its second generation, the SUB-2000 is light as well — a mere 4 pounds. This is thanks to extensive use of fiberglass-filled nylon that makes up a majority of the gun. Additionally, Kel-Tec designed flexibility into the system, given your choice of magazine compatibility: Smith & Wesson, SIG Sauer, Beretta and Glock. Likely this has you covered, no matter what pistol you carry.
Adding to its appeal, easy and intuitive controls, such as the under-the-buttstock charging handle. Not to mention plenty of extras – ample rail space, fiber optic front sight, sling mounts and a wealth of aftermarket upgrades. MSRP: $578; www.keltecweapons.com
Ruger PC Carbine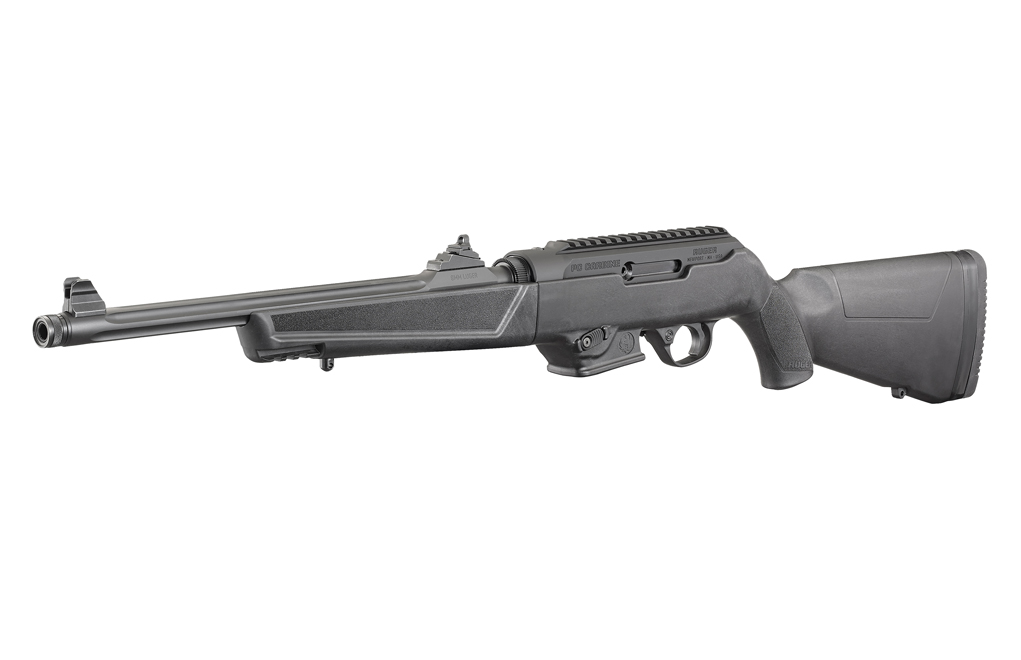 Dusting off an old concept, Ruger cooked up a real one of its most popular new(ish) firearms with this 9mm carbine. Evolving the old Police Carbine concept, the PC Carbine arms shooters with a familiar configuration that has some handy tricks up its sleeve. First and foremost, it's a takedown rifle.
Given many like to employ pistol-caliber carbines as utility or truck guns, this single feature vastly enhances the Ruger rifle. Splitting in two just before the receiver, the 34-inch long-gun nearly shrinks by half. And at around 7-pounds it's absolutely portable, say in a backpack or the like. Furthermore, Ruger has shot to make the carbine as flexible as possible with Security 9 and Glock magazine compatibility.
Paying attention to some finer points, Ruger has outfitted the PC Carbine with some nice extras. The barrel is fluted, the Dead-Blow action runs like clockwork and the muzzle is threaded, just in case you wanted to take advantage of the caliber's eminent suppressibility. The stock — fiberglass-filled nylon — is also on target, upping the gun's accuracy potential by providing a rigid platform. MSRP: $779; www.ruger.com
TNW Aero Survival Rifle

Prepping is one of the areas where the pistol-caliber carbine concept thrives. Given its potential to eliminate ammunition concerns between a long-gun and pistol, it's a robust strategy. And TNW has contrived among the best tools for the job.
Flexible beyond belief, the Aero Survival Rifle isn't bound purely as a 9mm carbine. Quick-change barrels open the blowback semi-auto to a host of chamberings, including .22LR, .45 ACP, .40 S&W, 10mm and .357 SIG. Since its task is to tackle the unexpected, this sort of flexibility has the potential to pay dividends.
Adding to the Survival Rifle's usefulness, it's a takedown. At 16 inches taken down, it's a perfect insurance policy in a truck, boat or, what it was originally designed for, airplane. This is particularly true if it's paired with a case TNW cooked up for the rifle that stows it and a couple of spare barrels, so you can match the rifle to the ammunition on hand.
Furthermore, the 5.5-pound carbine is compatible with Glock magazines and has receivers constructed out of aircraft-grade aluminum. MSRP: $919; www.tnwfirearms.com

PSA Gen 4 AR-9

Swimming decidedly against the tide, Palmetto State Armory's AR-9 doesn't aim to send your heart, and wallet, into palpitations. Crafting everything in-house, the company controls costs, at the same tick turns out an honest-to-God value in its 9mm carbine. In fact, for its price, the 16-inch rifle is among the best deals going in a category of pistol-caliber long gun that seems to get more expensive every year.
Accuracy is where the blow-back really earns high marks, getting everything out of the Parabellum and a bit more. Adept enough to consistently drill steel at 100-yard, longer if you want to push it, it's definitely a precision shooter. An elusive trait in pistol-caliber carbines. Furthermore, like a good date, it isn't picky about what it eats.
As desired with an AR-style rifle, the controls are where they're supposed to be, even if PSA had to put the mag release on a lever to accommodate the modified lower. And it comes with a fairly slick handguard, rife with M-LOK slots and excessively milled to make it featherweight. Best of all, the AR-9 is compatible with Glock magazines, which gives you plenty of aftermarket choices. The nits to pick, it's a bit of a thumper for 9mm and it doesn't have a last-round hold-open — what else is new with blowbacks? MSRP: $859.99;

Beretta Cx4 Storm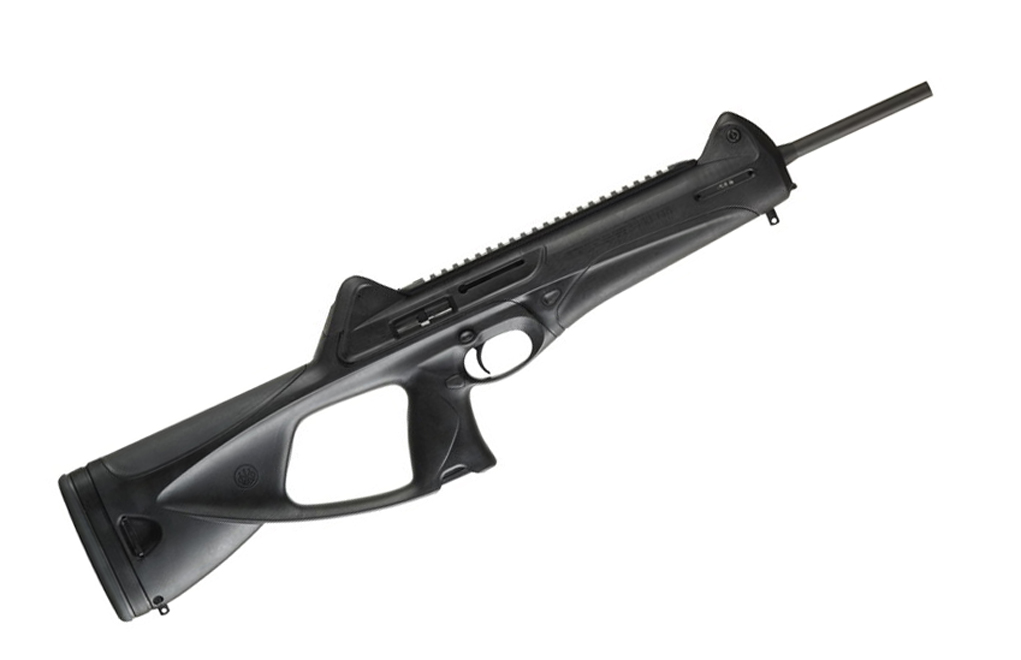 On the surface, the Storm has the external appeal of a bad Buck Rogers' remake. But if you can get past its futuristic styling and a ton of polymer, you're left with a smashing carbine. The Storm is simple and advanced at the same tick, and is more than up to the most demoing task of a 9mm carbine — home defense.
Lightweight (5.6 pounds) and slight size (29.5-inch length), really up its potential in CQB. It's nimble, on top of that accurate. Once the relatively heavy 7-pound trigger is mastered, the Storm can create a tempest downrange. A forward-looking gun, even though it's more than a decade old, Beretta engineered a lot of flexibility into the 9mm (.40 S&W and .45 ACP also available). This is especially apparent in its ambidextrous nature that extends well beyond the magazine release. Boasting a symmetrical bolt design, the Storm jumps from right- to left-handed configuration simply by reversing the ejector, extractor and operating handle. Nice touch, if you are a lefty that happens not to like hot brass flying across your face.
Beretta also designed the carbine for magazine flexibility. Compatible with both PX4 and 90 Series mags, it has quite a bit of latitude. There's no shortage of 92 magazines available and, for the most part, they're reliable and fairly cheap. MSRP: $899; www.beretta.com

JRC Takedown Marine

Honestly, you don't need to own a boat to be intrigued with Just Right Carbine's Takedown Marine. Nickel plated and a stainless steel (barrel), the 9mm carbine (also available in .40 S&W and .45 ACP) is about as flashy as they come. Glitz, however, is beside the point.
At its heart, the Takedown Marine is a survival/utility carbine, meant to weather abuse. Corrosion-resistant, the gun is impervious to the severe damage that saltwater and moisture in general wreaks on unprotected steel. You needn't have a high-seas adventure planned to reap the Marine's benefits either. The nickel plate also does a heck of a job ensuring you have a fully functional gun at the ready if you happened to live in the wetter corners of the country or if you needed an option stowed away that didn't require constant maintenance.
As expected, the Marine is a blowback-operated carbine, which endows it with an admirable trait as a utility gun — it chews through nearly any ammo. Given it accepts Glock magazines, keeping it fed shouldn't prove a problem either. In addition to this, JRC has included some other intriguing features to make it handy no matter the circumstances: reversible ejection, a very manageable 6.5-pound weight, top rail for the addition of an optic and, as its name implies, a takedown feature. Retained by a screw-on forestock, the gun is a snap takedown into a tidy package about 16-inches in length. MSRP: Starts At $599; www.justrightcarbines.com

Hi-Point 995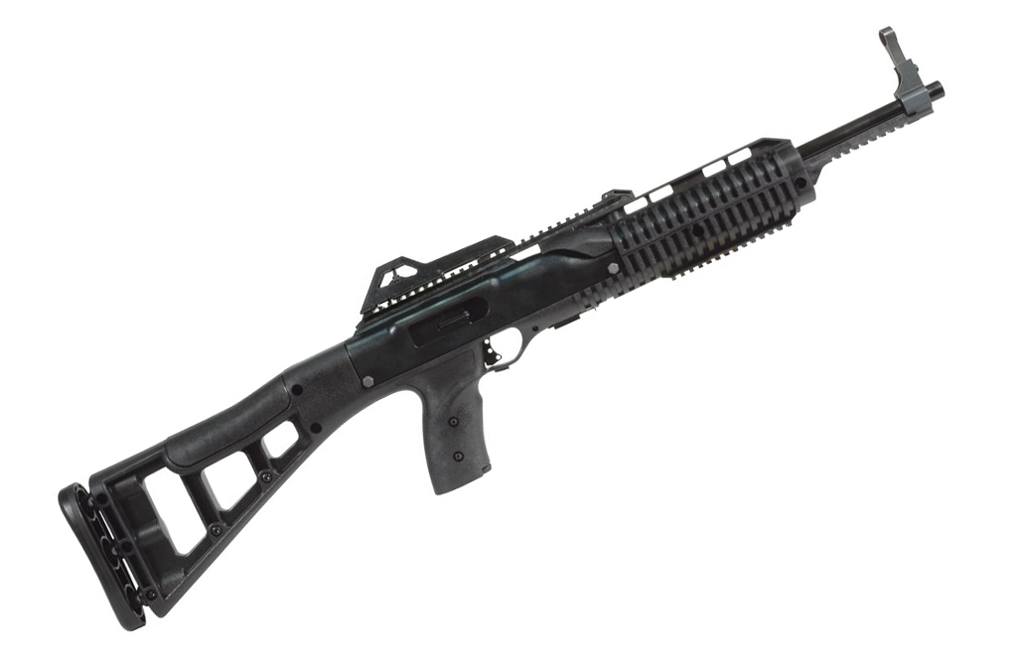 Who hasn't sauntered into a gun show and caught one of these beauties winking at you? Safe bet, you at least jingled your pocket change to see if you had enough to take one home?
Despite its blue-light special price tag, the 995 performs respectably for a utility long-gun that appears designed especially for this role. Rudimentary as they come, the carbine's simple blowback operation gives it the chops to chew through any ammo. Additionally, 9mm coming out of a 6.25-pound gun is a kitten in the recoil department.
No one would describe the 995 as a tack driver. With that said, it's capable of hitting center mass at 100 yards, when you're familiar with it. The downside to the carbine, you get what you pay for in looks. Furthermore, designed to skirt the 1990s "assault weapons ban," it comes with a 10-round magazine (20-round magazines are available). MSRP: $315; www.hi-pointfirearms.com

Freedom Ordnance FX-9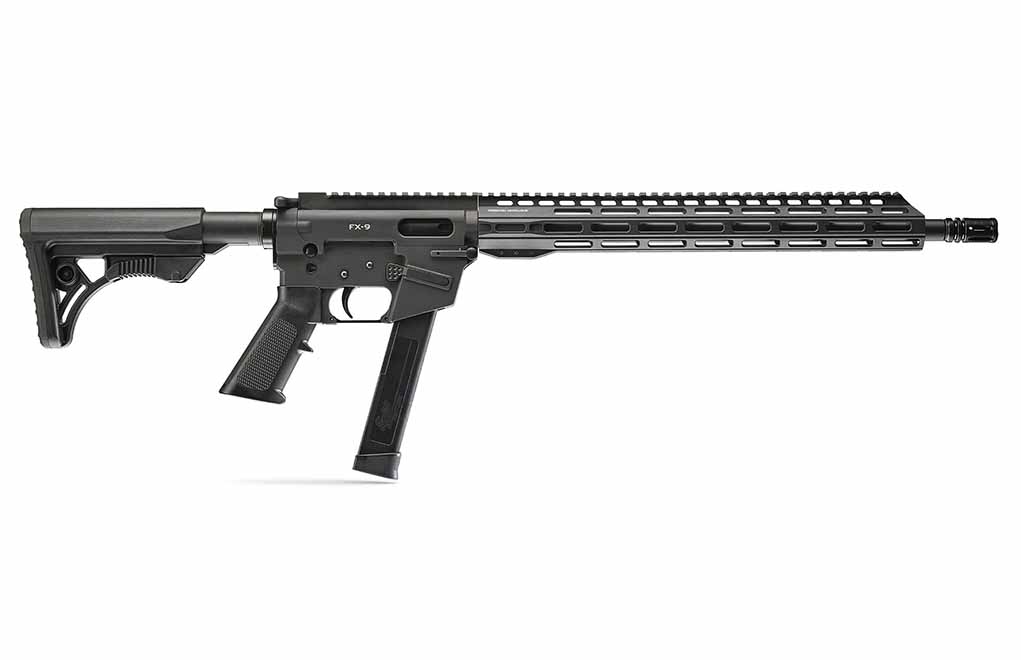 Freedom Ordnance generally doesn't come to the fore when talking 9mm carbines. A shame, given its AR-style FX-9 is a regular jackhammer. The simple blowback outfit proves reliable with most ammunition and is configured such that if you know how to run Eugene Stoner's brainchild, you know how to run the carbine.
That said, where the 16-inch barreled 9mm really earns high marks is its accuracy. The FX-9 is most certainly a 100-yard gun and makes hits on closer targets seem like cheating. It's a nimble bugger to boot. Weighing in at right around 6 pounds, it isn't the lightest option on the market. Yet it's wispy enough to engage multiple targets as fast as you can pull the trigger.
Quality made for an entry-level carbine, the FX-9 receivers are milled billet aluminum, while the steel components are nitride and nickel-boron nitride coated. The gun has last-round hold open – always nice – and the system is completely modular, making it a snap to go shorter, which there is ample opportunity to do. The one sticky point, if you happen to be left-handed, is the magazine release is configured for right-handed shooters and is not ambidextrous. MSRP: $829.99; www.freedomordnance.com
Thureon Defense Standard Carbine
Admittedly, Thureon Defense's 9mm carbine almost doesn't qualify for this list. Bumping its head on this article's price ceiling, it starts to stretch the definition of "affordable". Yet, quality-made and reliable as a faithful dog, the Standard Carbine proves an excellent value, one most will agree is worth every penny.
While it has some AR trappings, the long-gun is more a hybrid of it and more traditional pistol-caliber carbines. Mimicking America's favorite rifle, the 16-inch barreled gun boasts an M4-style telescoping buttstock, AR-style pistol grip and a trigger that uses components bases on those used in ARs.
However, its receivers—particularly the upper—is much more blocky and taller than those on an AR. Plus, as you might suspect, it's a simple blow-back operation—so that's not a true buffer tube on the back.
Of its endearing qualities, the Standard Carbine is a tack-driver relative to most other pistol-caliber carbines. The 9mm grazes off Glock magazines, so keeping it fed is of little issue. It's also reliable as all get out, no matter what you run through it ball, hollow point or otherwise—always a plus if you put it in a defensive role. Finally, it's outfitted with a side (left) charging handle, which has the potential to really pick up the carbine's pace. MSRP: $949; www.thureondefense.com
PSA AK-V MOE Rifle
Based on the legendary Vityaz-SN Russian submachine gun, Palmetto State Armory gives AK shooters a 9mm carbine option that should prove very familiar. From lever safety to paddle mag release and side charging handle, the PSA AK-V MOE Rifle is easy to slip into if you run an AK variant. While it holds a unique place in the pantheon of 9mm carbines, the rifle isn't Kalashnikov through in through.
Similar to most pistol-caliber carbines, it's simple blow-back operated meaning some of its features common to the Vityaz are just there for looks. Namely, the front sight block is non-functioning, given it doesn't use gas and piston to cycle.
The 7-pound rifle is heavy on Magpul furniture, with Magpul AK Polymer Grip, Black Magpul Polymer Upper/Lower Handguard, Black Magpul Zhukov (folding) Stock. The AK-V MOE Rifle comes with a 35-round PSA U9 pattern magazine, also compatible with the CZ Scorpion. There's good and bad in this, given the mags are well made and usually easily had, but they aren't as plentiful as Glock. The carbine itself is rated for +P+ 9mm ammunition, so you can run it hot if you so wish. MSRP: $949.99; www.palmettostatearmory.com

Smith & Wesson M&P FPC
A new addition to this list, released in early 2023, the S&W M&P FPC is not yet proven but it does look very promising.
It's a straight blowback, semi-auto PCC that feeds from double-stack 9mm M&P magazines, has storage for two spare mags in the buttstock and the whole thing can be folded in half where the barrel meets the receiver. Because the folding mechanism is horizontal, it can be folded without interfering with one's optics like on Kel-Tec's folding PCC.
Speaking of optics, on the M&P FPC they're mounted on the M-LOK handguard that also has Picatinny rail on its top. The barrel is also threaded and the grips are compatible with M&P pistol palmwswell grip adaptors. To top it off, the whole package ships with three magazines and a carrying case that fits the rifle while folded. MSRP: $659; www.smith-wesson.com
On The Cusp
The idea of this article is affordable 9mm carbines that you aren't throwing your money away on. Trust us, there are other entry-level PCC that economical as they might be, we can't recommend, even to the people we don't like. However, there are a couple of options that break the $1,000 ceiling we set for this buyer's guide (not by much) that are worth mention. If you're sold on the idea of a 9mm carbine and are willing to pony up a bit more cash, these guns by all definitions qualify as values.
Faxon Firearms Bantam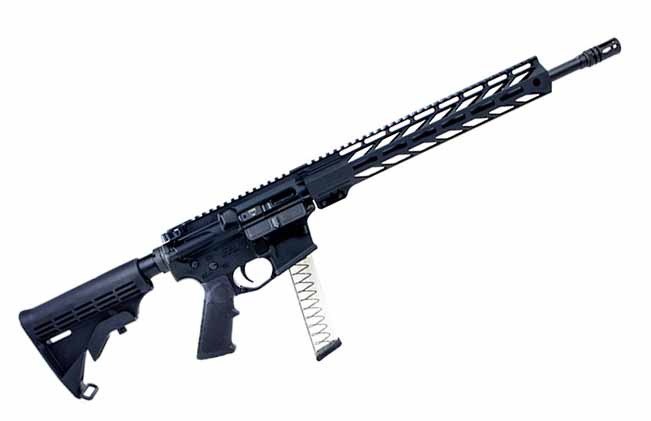 Faxon Firearms is no stranger to PCCs. Luckily for shooters, the Ohio based gunmaker has leaped from PCC components to complete builds this year with the affordable and feature-rich (for its price) Bantam. Honestly, the 9mm carbine has plenty of room to grow, but if you're looking for a solid gun off the shelf it more than ticks off the boxes.
To start, the 16-inch barreled, blow-back Bantam has several features you'd expect on a more expensive AR-style PCC, including a lightweight 13-inch M-Lok aluminum free-floated handguard and last-round hold open. In addition to this, it boasts foraged receivers with a tensioning screw to ensure the tightest possible mate-up between upper and lower. The latter is a bit of an OCD tamer, but if you can't live with a bit of rattle it's a godsend. Finally, it's Glock magazine compatible, which is nearly a must nowadays given Glock calls the tune for 9mm mags.
The M4 stock, A2 pistol grip and flash hider are noting to get too geeked up about, but if you can live with standard fair, they're fine. MSRP: $1,049;
Colt AR-15 9mm
Despite all the turmoil the company has endured—including jettisoning rifles at one point—Colt still makes a solid long gun. That goes for the ones that graze on pistol fodder, such as its 9mm Carbine. A true-to-form—and function—AR-15 from the company that knows the rifle better than anyone else, the pistol-caliber carbine is a delight. One likely to last a lifetime.
Colt has been turning these out for some time, essentially just modifying existing 5.56 AR-15s to fill the role. Where this is obvious are the mag-well blocks, pinned into place on a standard lower, making it compatible with the slimmer pistol caliber magazines. The upper is slightly modified with an abbreviated port and large puck-style brass deflector, which also pushes lingering gas away from the shooter. And while not dead-nuts to the original Colt 9mm carbine, the throwback A4 style removable carrying handle with Magpul A2 adjustable rear sight. (Adjustable A2 front sight too, by the way.)
A very nimble 6.35 pounds unloaded, the 16-inch barreled rifle is generally quick target to target and as manageable as you'd expect a pistol-caliber long gun to be. The blowback's two-stage trigger isn't much to write home about, but better than a gritty mil-spec. And the furniture, M4-style handguard and 6-position stock, appear rudimentary, compared to modern-day options. Also, magazines are a touchy issue. They're Colt pattern, which is essentially an Uzi mag with a slightly different locking cut. But with 32 rounds they keep a lot of fun on tap. MSRP: $1,099; colt.com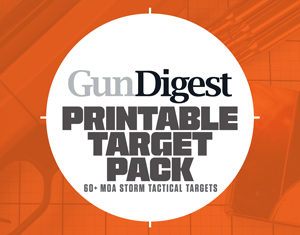 Next Step: Get your FREE Printable Target Pack
Enhance your shooting precision with our 62 MOA Targets, perfect for rifles and handguns. Crafted in collaboration with Storm Tactical for accuracy and versatility.
Subscribe to the Gun Digest email newsletter and get your downloadable target pack sent straight to your inbox. Stay updated with the latest firearms info in the industry.