Capable of precision shots right out of the box, Bergara's new Premier Competition Rifle was designed with shooters' needs in mind. Loaded with features more typically only found on custom built rifles, the Bergara aims to make precision rifle competitions as accessible as any other shooting sport.
Standard Features Of The Bergara Premier Competition Rifle:
Arca-Swiss Rail
MPA BA Competition Chassis
TriggerTech Trigger
Heavy Profile Stainless Steel Barrel
The Rifle
Available now chambered in 6.5 Creedmoor as well as 6mm Creedmoor sometime later this year, the Bergara Premier Competition Rifle is only an optic away from being a very capable long-range rifle. The MPA BA Competition Chassis that the rifle is housed in provides for a very solid base, capable of maintaining extreme accuracy even while suffering from abuse in the field.
Several points of adjustment on the stock ensure that the shooter can get behind his scope as comfortably as possible. The Arca-Swiss rail on the front end of the handguard allows for three different mounting options. The special screw hole on the bottom is designed to accept standard camera tripods, and picatinny rail on the lower and upper halves can mount a bipod and night vision respectively. The rifle's #7 profile stainless steel barrel is 26 inches long and features a 1:8 twist rate for the 6.5 Creedmoor chambering. Manufactured in-house by Bergara, the barrel was designed to stay cooler longer and to have minimal impact on accuracy when it finally does heat up. The rifle feeds from 10-round detachable box magazines.
Guns From Spain, Si Or No?
When I think of Spanish guns, I admittedly think of Stars, Llamas and CETMEs before I think of precision competition rifles. That being said, Spain has one of the longest histories of firearms development in the world and I have full faith in their ability to manufacture quality products.
Spanish firearms have sometimes had a less than stellar reputation in the United States, but this is mostly due to Spain's unique copyright laws that allowed them to legally manufacture many clone weapons of other country's designs. Rumors were once spread that these Spanish copies used subpar materials in their construction, but this has been proven false and the once-cheaply-imported Spanish surplus has gone up in value as more people recognize their quality. Bergara Rifles are quite a different beast than the Spanish imports of yesteryear, but they are certainly still holding themselves to the very high standard that is necessary for precision rifle manufacturers.
The Bergara Premier Competition Rifle is guaranteed to be capable of producing at least 1 MOA groups at 100 yards using match-grade ammo. Its MSRP is set at $2499.
For more information on the Bergara Premier Competition Rifle, please visit bergara.online.
More From Bergara: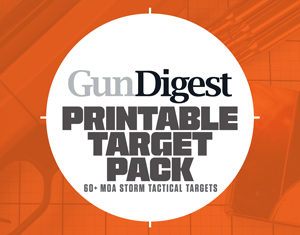 Next Step: Get your FREE Printable Target Pack
Enhance your shooting precision with our 62 MOA Targets, perfect for rifles and handguns. Crafted in collaboration with Storm Tactical for accuracy and versatility.
Subscribe to the Gun Digest email newsletter and get your downloadable target pack sent straight to your inbox. Stay updated with the latest firearms info in the industry.