SKS upgrades? It almost sounds like an oxymoron. But here's what can be accomplished by a truly determined fan of the rugged Cold War relic.
When I last visited Bob Cogan, he was in St. Petersburg, Fla., right near where my grandmother used to live. When he set up shop there (and when I was visiting Grams on vacation), St. Pete was not so big. It grew to the point that there were too many retirees and yuppies willing to spend inordinate amounts of money for crappy little condos, and Bob packed up and left.
He's now in rural Alabama, with no neighbor hassles, lower taxes and a bigger shop. He sent me a raft of SKS rifles he'd worked on, to show just what you can do with a basic rifle.
Now, be aware that the full-out efforts to make an SKS rifle into something interesting can result in spending several times the amount of dollars on custom work that you spent on the rifle, though nothing like a 1911, where you can buy a $500 pistol and spend $3,000 getting custom work done on it.
He sent a camo-painted synthetic stock SKS that had been brought in with the AK mag modification. Up front he'd added his own muzzle brake to make the already cushy SKS a softer shooter. To make it as soft as possible, he'd installed a recoil pad on the buttstock.
The pistol grip had been sculpted to provide finger grooves. A lot of people like finger grooves, but my hands must be abnormal. I've never found a grip yet with finger grooves where the grooves fell correctly for my hands. But if it works for you, it's golden.
Shooting this one was about as soft an experience as you can get, launching 123-grain bullets at 2,300 fps. If you rustled up some 5-shot magazines for it, you could have a super-soft hunting gun for kids or the little lady. Or, you manly types who are recoil-sensitive.
He sent another SKS rifle that had the rear sight replaced with a base for red-dot scopes, to which he had bolted on an early model Aimpoint. To get someone hooked on shooting, there's nothing better than a red-dot scope. The ease of aiming with a red-dot makes hitting a cinch, and once new shooters start hitting, they really start liking shooting.
Another rifle had a different muzzle brake on it, and fiber-optic sights front and rear. Again, soft in recoil, and for those who are going to use iron sights, fiber optics create a glowing set of dots that you can't fail to see.
You can have your SKS hard-chromed, as Bob has done to several of those he sent me. Or you can apply paint in whatever scheme appeals to you. Another option is to send your SKS off to Bob for the heavy-duty work that requires metalwork and the like, and once it returns, do the extra modifications that appeal to you and can be done on your workbench.
One aspect of the SKS that has never enthused me is the sights. Open sights are just not that great. Yes, you can hit what you're aiming at, but it is a lot easier and faster to do so with aperture sights.
One company that is offering aperture sights for the SKS and AK is Tech-Sights. This aperture sight attaches to the rear of the top cover, where it offers several benefits.
First, it increases the sight radius. Here, more is definitely better. Second, it's the proper distance from the eye. Third, it can be installed and removed, depending on if you find it useful or not. There are a lot of shooters who don't like aperture sights, and they can be removed.
Despite the limitations on the mechanism, the appeal of the SKS is multiple: It's so incredibly cheap, both to buy and feed, that it's hard to resist. If you break something on it, you can buy a new part, or a new rifle. And as long as it is running, and ammo is cheap, shooting it is fun and won't break the bank.
This is an excerpt from the Gun Digest Book of the AK & SKS, Volume 2.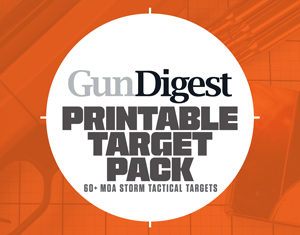 Next Step: Get your FREE Printable Target Pack
Enhance your shooting precision with our 62 MOA Targets, perfect for rifles and handguns. Crafted in collaboration with Storm Tactical for accuracy and versatility.
Subscribe to the Gun Digest email newsletter and get your downloadable target pack sent straight to your inbox. Stay updated with the latest firearms info in the industry.