Early FBI sniper rifles were surprisingly basic. Today's FBI HRT (Hostage Rescue Team) models are the tip of the spear in long-range shooting accuracy and features.
Advancements in FBI sniper rifles:
Early FBI sniper rifles were crude tools, but still performed when called upon.
The Bureau modified many Model 700s and Model 70s at the USMC Armorer at Quantico.
Today's FBI H-S Precision .308 rifle is state-of-the-art. And it's available for civilian purchase.
On Friday, July 23, 1971, Special Agent Ken Lovin of the FBI's New York Field Office found himself at Kennedy Airport, carrying a Remington Model 760 rifle in .308 caliber. About 125 to 150 yards away was Richard Oberfall, who had hijacked an airliner out of La Guardia and then allowed it to return after the pilot advised he couldn't fly that aircraft to Italy.
After landing at La Guardia, Oberfall forced an airline mechanic to drive him to Kennedy with a stewardess as a hostage. There he threatened her life, keeping a revolver pointed at her head as he stood next to a plane bound for Italy. With a reputation of being "one hell of a shot," Agent Lovin was given the "green light" to take down the hijacker.
When Oberfell, clearly agitated, shifted his gun away from his hostage, Agent Lovin took the shot, hitting the gunman center chest. Lovin shifted his position slightly and took a second shot, not knowing Oberfell was already dead or dying from the full metal jacketed round.
The striking thing about this sniper incident is that Special Agent Lovin was not a Bureau sniper (the FBI had no SWAT teams in 1971). Nor was he an FBI firearms instructor at that time. And the rifle he used was a basic pump-action hunting rifle, fitted with a Bausch and Lomb 4x scope that he had never fired before! There was no legitimate sniper rifle in the Bureau's inventory. That was the status of the FBI's sniper program in 1971. But things would soon change.
Colonel Walter R. Walsh, USMC Retired, was in the first FBI new agent class to be officially armed after Federal legislation, in 1934. "We had Winchester Model 07s in .351 caliber and a few, beautiful Springfield sporters with micrometer sights, he said. "None of these rifles had scopes."
In 1965, Special Agent Terry Anderson was killed in a shootout with two "mountain men" near Shade Gap, Pennsylvania. In the manhunt that followed, Special Agent Jack Kirsch, then the Pittsburg Division's Training Coordinator, issued four scoped Winchesters from inventory.
As Kirsch relates, "They were pre-war Model 70s, in .30-06 with wood stocks and standard barrels. All four had four-digit serial numbers. Two were scoped with 2 ½ power Lyman Alaskans and two with 4-power Weavers. I also borrowed four similar rifles from agencies in the area and a couple agents used their personal hunting rifles."
After being transferred to the FBI Academy at Quantico, Kirsch found the Bureau had adopted Remington Model 760s in .308 caliber. The reason given was that they had a similar action as the 870 pump-action shotguns then in use.
The original order was for 800 carbines with "iron sights" but the order was changed to include 400 of the rifles with Baush and Lomb 4x scopes with external adjustments. Unfortunately, it was found the rifles' accuracy was no better than the carbines.
These carbines and rifles were issued to the field but they were, by no means, adequate sniper rifles. Many were kept at Quantico for training purposes. Special Agent John Cox, assigned to the Firearms Training Unit at the academy, used the 760s in training and demonstrations but in 1971 at the standoff at Wounded Knee he and other agents there used M16s borrowed from the military.
These 760s saw very little use in the field. Instead, they were used at the Academy for new agent and initial sniper training when that started. A two story "sniper tower" was erected at the range complex, with a steel fronted target area about 50 yards out with reactive military bobber targets in the windows. Ammunition used was .308 plastic short range training rounds by Dynamit Nobel. This ammunition was also used by new agents on the standard 50-yard ranges for familiarization firing.
About this time, the FBI purchased its first precision rifle, the Remington Model 700 with heavy barrels in .223 caliber. The rifles were extremely accurate in spite of not being tuned or glass bedded. They had standard Redfield 3-9x hunting scopes. Ultimately it was learned that the scopes and light caliber would be limiting factors in a sniper application.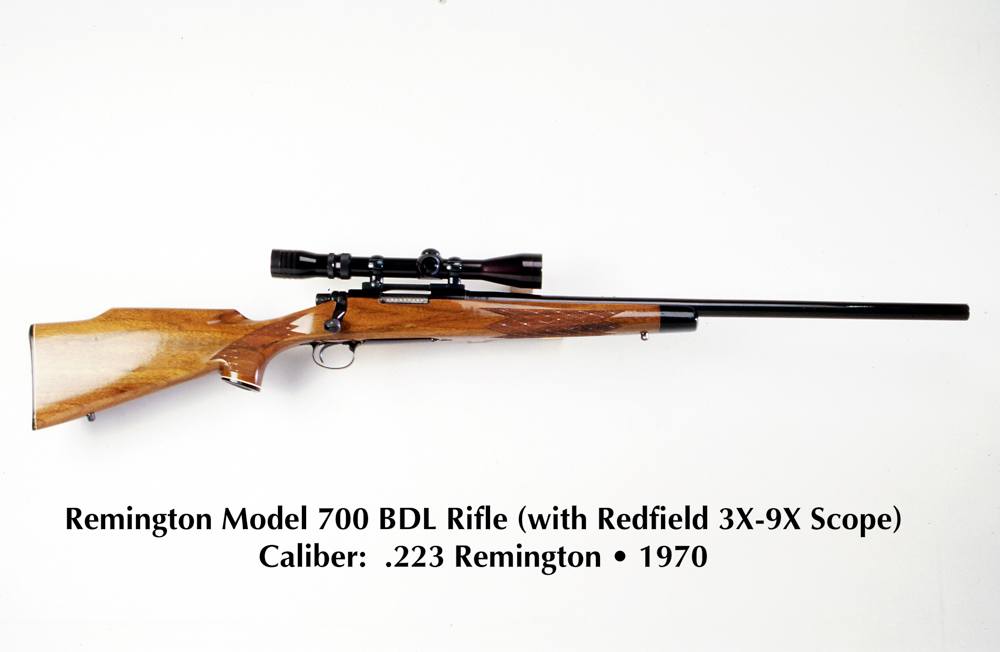 However, it is known that a number were used for sniper practice in the Western U.S. in populated prairie dog town areas. I personally know of one Special Agent in Charge who kept one in his Bucar [Special vehicle for FBI agents – Ed.] in case he was attacked by the rodents while traveling throughout his territory.
Although issued to the field, some were kept at Quantico for the initial SWAT training then being conducted for police officers. Agents Cal Ford, Ken Lovin, Tase Bailey and others ran these one-week classes even before the FBI had its own official snipers.
In the early 1970s, attempts were made to acquire adequate rifles from other sources. Lou Padula, Principal Firearms Instructor at the Washington Field Office acquired several pre-64 Winchester Model 70s in .30-06 from the Bureau of Prisons.
In addition, he obtained a number of Springfield 03A3s from the military. These rifles were in almost new condition and were scoped with either the Lyman Alaskan 2½-power or the Weaver in 4x. Many were shipped to the field as stop gap weapons and some were used at Quantico for training. In addition, Special Agent Padula acquired some match-grade M14s with ART (Automatic Ranging and Trajectory) scopes that were distributed to the field offices.
I entered the FBI in 1973. My second assignment was at the Washington Field Office where I became a firearms instructor in addition to duties on the fugitive squad. In December, 1978, I attended a three-week police sniper school at Fort Meade, Maryland, taught by the Army's Advanced Marksmanship Unit there. Shortly thereafter, I was assigned as a sniper on one of our field office's SWAT teams.
My issue rifle was an old Winchester Model 70, pre-64, in .30-06 with a Redfield 3-9x hunting scope. The rifle had a wood stock, standard barrel and was not glass bedded. The only match-grade ammunition available for it was military M72 in full metal jacket.
Concerned with using FMJ rounds, I converted a batch of M72 to "Mexican Match" by replacing the original projectiles with Sierra 168-grain MatchKings. It was unofficial but effective.
In early 1979, I went to Larry Schmidle, then the FTU Unit Chief, and told him that I believed the FBI's sniper rifle program was seriously lacking. I mentioned that the Bureau-issued Remington Model 700 heavy barrels in .223 and 760s in .308 were inadequate. "What's your point?" he asked. I then asked his permission to buy a personal 700 heavy barrel in .308 for official use as a sniper. He thought a few moments and then said, "Do it." No paperwork was required then, just Larry's OK.
I bought the rifle and mounted one of those wonderful Weaver T10s on it, then used on the Secret Service's rifles. FBI gunsmith Joe Kiesel glass bedded it for me and added a rubber butt pad. I scrounged Federal .308 Match ammunition from the Marines and was in business. That rifle shot to less than a half minute and I kept it for years, finally letting it go to a local police sniper who had to supply his own. I was transferred to the FTU late in 1979 and never had to use that rifle in a SWAT operation.
In the meantime, it was finally recognized that the FBI needed better rifles. Tase Bailey, Lon Lacey and others had to go no farther than next door to find out what they needed. The Marine's Weapons Training Battalion and Scout Sniper School's gunsmiths and instructors lent their expertise.
One was a Gunnery Sergeant named Carlos Hathcock. They examined the FBI rifles then in use and advised "take them to Lunga (the reservoir near the academy) as anchors." Their minimum requirements included a heavy, match-grade barrel, glass bedding and better scopes. The Marines also recommended fiberglass stocks but that would have to wait.
FBI gunsmiths Joe Kiesel and former Marine Corps armorer Ray Sweet built prototypes, using pre-64 Model 70 actions and stocks and Douglas heavy barrels. The first couple of rifles utilized Redfield scopes. The Marines used the Unertl fixed 10-power but the Bureau wanted a variable scope for the much shorter ranges anticipated in domestic law enforcement.
They settled on the Leupold 3.5-10x with a matte finish, the first with this finish the now infamous optics company ever built. These rifles were chambered in .308 caliber and the ammunition of choice was Federal .308 Match, using the Sierra 168-grain hollowpoint boat-tail bullet. It remained the primary sniper round for the Bureau until recently.
Early in 1980, I was part of a committee establishing the specifications for the new sniper rifles. Selected was the Winchester Model 70, pre-64 action (the FBI had a large inventory of these), heavy Douglas barrels in .308 caliber, and the 3.5-10x Leupold scope.
The committee also wanted McMillan fiberglass stocks but were overruled, at least at that time, and the original wood stocks with glass bedding were used. Rifle building commenced and the guns were instant hits, quickly accepted in the field. As the pre-64 actions were used up, a switch was made to post-64 Model 70s but shortly thereafter the FBI started buying Remington Model 700 actions.
Actually, they purchased barreled actions as Remington would not sell the actions without barrels, even to the FBI, until recently. There were a lot of standard-weight Remington .308 barrels stacked around the Gun Vault. Douglas barrels were used for field SWAT use, but Hart stainless steel barrels were installed on the rifles used by the Hostage Rescue Team.
Later, all rifles were fitted with Hart barrels. The fiberglass McMillan stocks were finally adopted and used on all FBI-built rifles from then on. The field SWAT teams continued to use the 3.5-10x Leupold but HRT started using the same Unertl 10x as fielded by the Marines.
The rifles were found to be extremely accurate and very reliable. The "Quarter Inch Club" was founded and any Bureau sniper who shot a three round, quarter-inch group at 200 yards was eligible. With minor variations, this rifle was in use throughout the 1980s and 90s.
Manufacture and maintenance was handled by a group of FBI gunsmiths and former USMC armorers then working at the FBI Gun Vault, including Ted Hollabaugh, who helped with some of the design work and set up the original Quarter Inch Club. Many of these rifles were still in use until recently.
Originally, the Firearms Training Unit was tasked with teaching rifle marksmanship and sniper tactics. (FBIHQ prefers to call us countersnipers, a less harsh nomenclature.) Course outlines were prepared and modified and sniper courses were taught at Quantico and around the United States. Classes were also taught overseas.
Supervisory Special Agent Urey Patrick, later to become Assistant Unit Chief at FTU, wrote a manual entitled, Advanced Rifle Training for the Observer/Sniper. In addition to sniper tactics, the excellent manual included ballistics tables based on the Federal Gold Medal .308 Match, using the Sierra 168-grain match hollowpoint, our sole sniper round at that time.
Improvements were constantly being made to the rifles assembled at Quantico. The original McMillan black stocks were replaced with the three color urban variation and these were then replaced with the A3 with adjustable length of pull and cheek piece.
A limited number of rifles were issued with Aquila (Litton) P/N MWS2500 night sights in 4-power but this required a separate rifle dedicated to this scope.
In 2002, the FBI announced a procurement for a new sniper rifle.
Strick specifications were set for accuracy, reliability and use. Thousands of dollars and man hours were spent to wring out the offerings and when the smoke cleared, a dual award was made to H-S Precision and FN. Virtually all the rifles purchased have been H-S Precision and there are no FN rifles in the field. The rifles are a complete package, including case, cleaning gear and required tools.
More important, all repairs were to be made by the manufacturer, releasing the Gun Vault from this requirement. Deliveries have been made and, to date, show outstanding performance. These rifles are scoped with the Leupold Mark 4, 3.5-10x Long Range with the 30mm tube and side focus. The scopes are mounted on McCann rails. Now a decade has passed and the H-S guns have proved to give excellent performance.
Also issued with these rifles is the Universal Night Sight by Optical Systems Technology of Freeport, Pennsylvania. These devices can be mounted in front of the existing scope, allowing the same rifle to be used day and night. The sale of these night vision devices is limited to law enforcement and military.
By the way, the H-S package as selected by the FBI can be purchased by other agencies and even civilians. You just can't get the "FBI" serial number prefix.
This package has also been adopted by the Bureau of Alcohol, Tobacco and Firearms (ATF) and the Israel Defense Forces, among others. Indeed, when it comes to sniper rifles, the Federal Bureau of Investigation has come a long way from the days of old wood-stocked .351s and pump-action 760s.
This excerpt is from Guns of the FBI, A History of the Bureau's Firearms and Training.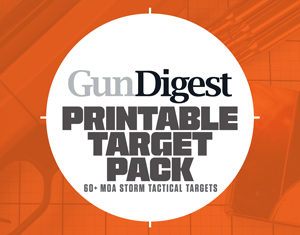 Next Step: Get your FREE Printable Target Pack
Enhance your shooting precision with our 62 MOA Targets, perfect for rifles and handguns. Crafted in collaboration with Storm Tactical for accuracy and versatility.
Subscribe to the Gun Digest email newsletter and get your downloadable target pack sent straight to your inbox. Stay updated with the latest firearms info in the industry.