It took a bit of last-minute heroics and a single shot from the H-S Precision PLR to seal the deal on an unforgettable elk season.
"Oh my God, dude, you almost got him! You're so close! Come up five clicks and right four more!" Adrenaline surged through my veins as Josh Cluff, the nearly-always-animated director of sales and marketing at H-S Precision rifles, called adjustments from behind the spotting scope as we honed in on a prairie dog some 800 yards distant on the South Dakota prairie. The wind rose and fell like the tide as I cranked the windage and elevation adjustments into Swarovski's new X5 5-25×56 long-range scope.
The summer sun baking and the chiggers biting, I took a steadying breath, put the crosshairs on that tiny black spec of a prairie dog, applied pressure to the trigger and felt the concussion of that H-S rifle chambered in 6.5 Creedmoor. Hornady's V-MAX bullet sent the dog into the customary triple back flip with a full twist, while Josh erupted in a raucous dance around our encampment of shooting benches and Suburbans, high-fiving and shouting as he went. It's not every day you nail a prairie dog at 803 yards.
A shot like that is probably out of the question with a middle-of-the-road rifle and low power scope, but for an H-S built VAR chambered in 6.5 Creedmoor and topped with Swarovski's uber-impressive X5 long-range scope, it was a semi-regular occurrence that made the typical 400-yard shot seem like child's play.
While H-S builds custom-style rifles off a number of platforms, the VAR features a heavy fluted barrel that dissipates heat, provides additional stability and reduces muzzle jump for consistent follow-up shots. The barrel features H-S Precision's signature 10X cut rifling, which makes for some of the most accurate, reliable barrels in the industry. According to Josh, each barrel takes about an hour and a half to produce, something the company proudly does in house. In fact, every part on the Pro-Series 2000 rifle is made by H-S, including actions, triggers (2.5-5 pounds, adjustable) and stocks. Even the parts used to make rifle parts are made by H-S; that's how dedicated the company is to quality production.
As a result of its ability to manufacture top quality barrels, H-S is also a leading supplier of ballistic test barrels worldwide, including applications for the U.S. Marine Corps and major manufacturers like Remington and C.Z. U.S.A. The company has also forged a reputation for producing excellent synthetic stocks for hunting and tactical applications. While it produces about 600 custom rifles a year, H-S makes roughly 30,000 stocks—a testament to the quality behind its design. Each rifle is tested for accuracy at 100 yards in H-S Precision's world-class underground range and guaranteed to shoot ½-inch groups at that distance.
Optical Superiority
The other equally important part of the equation is Swarovski's new X5 scope (also available in an illuminated version). The scope I used in South Dakota was the 5-25x56mm with ¼ MOA adjustments and Swaro's 4WX reticle (windage and elevation hash marks). The X5 comes with four different reticle options, and for a fall elk hunt in Colorado I went with the 4W because it utilizes thin, sharp crosshairs that don't obstruct the target and a simple hunting-style reticle with windage hash marks along the horizontal axis. As always, Swaro's Austrian glass is among the very best in the world: unmatched clarity, superb light transmission in low-light settings, crisp reticles and superior engineering. The main problem with Swarovski? It's hard to use anything else after experiencing that kind of optical superiority.
The 4W reticle allows the shooter to adjust for elevation utilizing the Ballistic Turret (BT) and compensate for windage either with the BT or more rapidly via the reticle. The elevation turret allows for 20 MOA per full turn, with a maximum of four turns (80 MOA adjustment overall). For windage, the turret rotates 2.5 full turns, 20 MOA per turn and 50 MOA total.
To simplify the process for calculating MOA adjustments, Swarovski has a customizable online Ballistic Program and an app in the App Store that works with iPhone and iPad. While the online program has already been updated for the X5, the new iPhone app should see an upgrade by the end of 2015 that includes ballistic data for the new scope.
Once you've entered your scope configuration, ammunition and atmospheric conditions, the app produces a chart with proper MOA adjustments at different ranges based on your zero. Superior glass on a superior rifle, along with a proven long-range cartridge—those Dakota prairie dogs didn't stand a chance.
Switching Gears
After an impressive showing with prairie dogs, I decided to put an H-S Precision PLR and X5 scope up against an animal on the opposite end of the body-size spectrum: I'd be hunting for a bull elk during first rifle season in Colorado with a PLR chambered in 6.5-284 Norma. A one-time wildcat turned Norma-standardized cartridge, the 6.5-284 is a favorite among long-range shooters and is capable of pushing a 140-grain Nosler AccuBond bullet at 2,750 feet per second (fps) from the muzzle.
At 300 yards, the 140-grain projectile drops roughly 7½ inches and holds about 1,560 ft.-lbs. of energy. By way of contrast, the venerable .270 Winchester in 140-grain AccuBond leaves the muzzle at 2,950 fps with 2,700 ft.-lbs. of energy, retaining 2,162 fps at 450 yards and 1,453 ft.-lbs. of energy. By 400 yards, the Nosler factory-loaded, 140-grain AccuBond has dropped to 2,082 fps and 1,347 ft.-lbs. of energy. With handloads, the 6.5-284 becomes roughly equivalent to the .270 Win. in terms of ballistic performance.
One of the most heated firearms-related discussions you'll probably ever have is about what qualifies as a viable elk cartridge. Interestingly enough, the elk capital of the world—the State of Colorado—lists in it's big game guide the minimum requirements for centerfire rifles on elk as: 6mm (or .24 caliber); a 16-inch barrel; expanding bullets no smaller than 85 grains; and at least 1,000 ft.-lbs. of energy at 100 yards. Those are some pretty anemic numbers, for sure, but it does put the conversation in perspective. While you probably can kill an elk with a cartridge like that, it doesn't mean it's a great idea. It does mean, however, that the 6.5-284 is more than capable of putting down an elk at reasonable ranges, especially when a quality bullet like Nosler's AccuBond is used.
When considering the performance of the 6.5-284, I decided before I'd set foot in the woods that 300 yards and closer was ethically viable for me—with a good rest and the animal facing broadside—and that 350 yards would be pushing it. The drop in performance with the 140-grain bullet between 300 and 400 yards is significant enough—dropping roughly 22 inches over those 100 yards and losing about 200 ft.-lbs. of energy—that I opted to stay within the bounds of my own personal maximum effective range. If I saw anything past 350 yards, I'd utilize calls and get closer.
Last-Minute Heroics
I spent four days of the five-day season in the wilderness chasing elk with my dad and brother, without any success. We shifted locations for the final two days of the hunt and picked up the expertise of my friend, Toby, a modern day elk whisperer. We spotted several bulls at over 1,200 yards from a ridgeline with Swarovski's 30-70x95mm ATX spotting scope and strategized with Toby about how to get in position for the last day of the hunt. As Toby, who's looked through his fair share of glass as a guide and obsessive hunter, put it, "This scope is ridiculous. To say it's good is the understatement of the century. I feel like it's ruined me."
We spent the entire day in the field, and about an hour before last shooting light we located the herd and a big 6×6 bull bugling at least 1,000 yards off. I grabbed my rifle, began cutting through the suffocating oak brush, and found a clear cut around a fence line running along the mountainside. My brother and I ran flat out, packs and rifles in tow, until we'd reached what we thought was the vicinity of the bugling.
"Stop!" my brother whispered frantically. "There's a bull staring right at us!" About 200 yards behind us a bull stood frozen as daylight began to fail. We'd overrun our mark and stumbled right into the midst of the herd. The bull spooked, but reacting quickly, my brother blew his cow call and stopped that bull and three others—two spikes and a 2×2—at least for the moment giving us another chance. We'd made it to the "X" within the last 15 minutes of the season, and I could hardly believe it.
I worked to a seated position just around the corner of some oak brush and located the 5×5, which was almost directly facing me. I realized it was now or never, and while it wasn't the ideal shot, it was acceptable given the distance. I touched off a round and watched as the bull crumbled to the ground.
I sat for a moment, the pulse pounding in my temple so hard I thought the sound was coming from something outside of me, trying to fathom the weight of the moment. It was the equivalent of a last-second Hail Mary, a shot and a prayer that connected for a game-winning moment we would remember forever. By the end of the day, which came in the early hours of the next morning after we'd packed just part of that sucker out, I'd walked over 25 miles, every one of which was earned.
Later, when I was butchering the meat around the hindquarter, I found the AccuBond bullet. Most impressively, the jacket and lead core were still intact and the bullet, now weighing 90 grains, had kept about 65 percent of its mass. The shot had struck the bull just to the inside of its right shoulder—almost center chest—had passed through the vitals and ended up in its rump. That's a lot of penetration from a quality bullet that held together for the entire ride.
Yet another DIY, public-land elk season confirmed what I've always found to be true in all my years of hunting: There's no easy bull. There are, however, custom rifles, world-class optics and unbreakable bullets that make the job a whole heck of a lot easier.
This rifle review appeared in the December 2015 issue of Gun Digest the Magazine. Click here to download the full issue.
Related Video: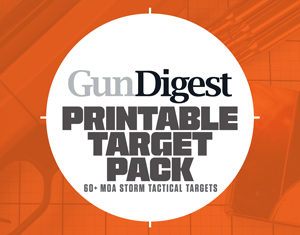 Next Step: Get your FREE Printable Target Pack
Enhance your shooting precision with our 62 MOA Targets, perfect for rifles and handguns. Crafted in collaboration with Storm Tactical for accuracy and versatility.
Subscribe to the Gun Digest email newsletter and get your downloadable target pack sent straight to your inbox. Stay updated with the latest firearms info in the industry.