New chambering options and a new stock on the Weatherby Mark V Hunter help to keep this already established bolt action line at the top of its class.
If you like bolt action rifles, you're already familiar with Weatherby, and you've probably even looked at the company's Mark V line before. Several Mark V variants have been produced since the first model launched in 1957, so let's not waste any time and dive into exactly what's new on the Weatherby Mark V Hunter.
New Chamberings

The Mark V line was originally produced to safely contain the high pressures of Weatherby's performance cartridges, something that is still a selling point of Weatherby rifles today. The new Mark V Hunter is no different, but it is also available in several non-Weatherby chamberings as well.
The Weatherby Magnum chamberings include 240 WBY MAG, 257 WBY MAG, 6.5 WBY RPM, 270 WBY MAG, 7MM WBY MAG and 300 WBY MAG. The standard chamberings available in the Mark V Hunter are 243 WIN, 25-06 REM, 6.5 CREEDMOOR, 270 WIN, 7MM-08 REM, 280 ACKLEY IMPROVED, 7MM REM MAG, 308 WIN, 30-06 SPRINGFIELD and 300 WIN MAG. With such a range of options, the Mark V Hunter is suited to take just about any medium to large-sized game you can think of.
New Stock And Finish

Inspired by the new stocks featured on the Mark V Backcountry 2.0 rifles that came out earlier this year, the Mark V Hunter has also received some ergonomic upgrades. The stock is made of polymer and has been slimmed down wherever material wasn't necessary in order to save weight. Palm swells were added to both sides of the flat-bottomed handguard in the interest of ergonomics, and the stock is finished in Granite Speckle. The barreled action is also protected by a coating of Cobalt Cerakote.
The package is topped off with a 1/2×28 threaded barrel, fluted bolt and a TriggerTech trigger. It has an MSRP of $1,499 and is available now to serious hunters everywhere.
For more on the Weatherby Mark V Hunter, please visit weatherby.com.
---
More Weatherby Rifles: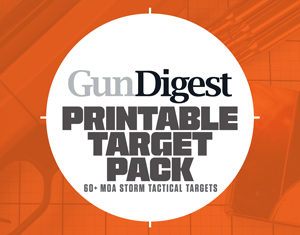 Next Step: Get your FREE Printable Target Pack
Enhance your shooting precision with our 62 MOA Targets, perfect for rifles and handguns. Crafted in collaboration with Storm Tactical for accuracy and versatility.
Subscribe to the Gun Digest email newsletter and get your downloadable target pack sent straight to your inbox. Stay updated with the latest firearms info in the industry.