B&T USA has just announced the 16-inch SPC9 Carbine, a new variant of their 9mm SPC9 PCC.


SPC9 stands for "Special Purpose Carbine 9", and it's a new line of 9mm firearms released by B&T earlier this year. When originally shown, the SPC9 series only consisted of short-barrel PCC-style models, but B&T has just announced the release of a new 16-inch SPC9 Carbine variant.
Like the other models in the SPC9 series, the new SPC9 Carbine combines the best features of the B&T APC9, H&K MP5 and AR-15 weapons systems. The result is a 9mm carbine that B&T claims to be supremely light, reliable, safe and modular.
A primary reason for the SPC9's handling qualities stems from B&T's hydraulic buffer system. The system not only reduces recoil, but also increases accuracy and allows for faster follow-up shots. It also puts less wear on the internals of the firearm and any optics mounted on it, making the SPC9 a great choice for competition shooters or anyone who puts a high round count through their PCCs.
Jon Scott, Vice President of Sales at B&T USA, said this about the SPC9 Carbine:
The new 16-inch barreled SPC9 is a PCC competitors dream — the carbine is incredibly flat shooting, handles like a race car and has minimal recoil thanks to B&T's effective hydraulic buffer system…We expect the SPC9 16-inch to dominate both at home and on the competitive field, thanks to an ideal formula of features. Those in search of a premium home defense solution would be well served by this very lightweight, well balanced and incredibly easy to shoot well platform — flatteringly so. Most importantly the SPC9 has a proven record of reliability, produced by a company who has built its reputation on being dependable in the most austere conditions imaginable.
For more on B&T USA, please visit bt-usa.com.
---
More On Pistol Caliber Carbines: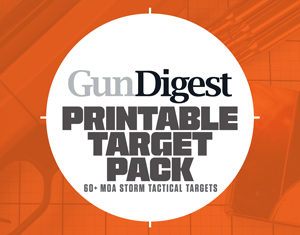 Next Step: Get your FREE Printable Target Pack
Enhance your shooting precision with our 62 MOA Targets, perfect for rifles and handguns. Crafted in collaboration with Storm Tactical for accuracy and versatility.
Subscribe to the Gun Digest email newsletter and get your downloadable target pack sent straight to your inbox. Stay updated with the latest firearms info in the industry.