When it comes to Ruger 10/22 mods, a little tweaking can go a long way.


In the more than 7 million copies produced, you'd be hard-pressed to find a serious gun owner who hasn't owned at least one Ruger 10/22 at some point in their shooting career. Even though the rifle is one of the most common in America, some shooters overlook the diamond in the rough due to the 10/22 carbine's unassuming hardwood stock and pencil barrel—the truth is, they don't look very exciting.
You see, that's the beauty of the Ruger 10/22. Its simple design is anything you can dream up; you can build it into a rifle that's truly yours. Sure, the 10/22 is a fine rifle in stock form, but where is the fun in that? Aftermarket companies have fully embraced the easy customizing of the design with enough options to make your head spin.
If your heart desires a rifle that looks fit to beat back alien invaders, you might want to look into some of the shells that accept a barreled 10/22 receiver to transform it into a bullpup. How about a rifle that looks like it belongs to a Special Forces operator in some far-off land? One of the tactical chassis that make a 10/22 look strikingly like an HK G36 or an AR-15 might be the ticket. Most opt for accuracy and build a rifle well-suited for use in Project Appleseed events or something with a high-quality bull barrel and a sweeping laminate wood stock so accurate that it makes shooting the tacks off your buddy's targets almost dull.
Even with all that flexibility, three of the four 10/22 rifles in my safe are nearly identical. After owning north of a dozen of these excellent rifles since I started shooting, I found that a rugged, lightweight rifle happily at home bouncing around in a pack or traipsing around the woods fits my needs quite well. That isn't to say I haven't had the laminate stocked hot rod or even an entirely stock rifle; this happens to be where I am in my 10/22 journey currently.
Ruger Factory Hot Rods

If modifying your rifle isn't your jam, Ruger offers several models that come off the production line looking very similar to a living room-built hot rod for pretty close to the same money. If you're after a cool-looking takedown, the 10/22 Takedown Lite sports an upgraded modular stock and a lightweight bull barrel with 1/2×28 threads ready for a suppressor.
If your tastes run toward the heavy barreled target rifles, Ruger's target or competition line of rifles will have something that gets the juices flowing. Surprisingly, even the high-end 10/22 Competition rifles top out at just a hair over a grand MSRP, which is a pretty solid value when you consider it comes out of their custom shop.
10/22 Clones

Since the Ruger 10/22 patent expired, a handful of companies introduced rifles that are the next evolution of the 10/22 design. Innovative rifles are readily available from Bergara, Thompson Center, Magnum Research, Volquartsen, Tactical Solutions and Winchester, which incorporate more modern features generally found on higher-end custom shop rifles.
Each variation brings its own special flavor to the venerable design, like the interesting slider approach to a magazine release Winchester took or Magnum Research's .22 Magnum variant of the 10/22 should you want more oomph.
The Volquartsen Summit is arguably one of the coolest variants of the 10/22 design. Even though it isn't semi-automatic and features a straight-pull bolt similar to biathlon rifles, it still accepts most 10/22 accessories. It'll be incredibly quiet once you throw a suppressor on the threaded carbon-fiber barrel.
Build A Receiver

Now, if you're a perpetual tinkerer like myself, starting with a bare receiver might be the most cost-effective solution. The best bang for your buck is the Brownells BRN-22 receivers that come either stripped or as a barreled receiver. The BRN-22 can be had in either a non-takedown or takedown variants with your choice between a more modern integrated optics rail or the traditional drilled and tapped style.
Volquartsen and Tactical Solutions offer very similar semi-auto receivers; you couldn't go wrong with either one. If a premium receiver is what you're after and you want something more understated, the Volquartsen is a good bet. Those who like more flash should look at the Tactical Solutions X-Ring.
While there are a ton of other receivers out there, most of them are pretty comparable to one another except for the unique Volquartsen Summit straight-pull bolt-action receiver I mentioned earlier. While pricey, nothing compares to the Summit action when paired with a suppressor and some subsonic ammo.
Magazines

Since most models of the Ruger 10/22 ship with a single 10-round magazine, adding some more to your mag stash is a good idea to get the most out of your range time. Shooting 10 rounds and reloading a singular magazine gets old fast; thankfully, there are a ton of really great options out there that range from a single-shot magazine up to big ol' drum mags.
If one of the Ruger-produced BX magazines isn't to your liking, look for one that uses metal feed lips. Cheaper magazines with plastic feed lips will wear over time and eventually experience feeding issues. The gold standard for non-Ruger mags has been the Butler Creek Steel Lips for as long as I can remember, but unless you have to have a 110-round drum, there isn't a great reason not to buy Ruger's excellent BX magazines.
10/22 Internal Upgrades

If you buy a stock rifle, some minor internal tweaks will improve reliability and accuracy with a minimal cash investment. Some of the more common upgrades are replacing the extractor with one designed to handle cheap bulk pack ammo more reliably or installing an aftermarket firing pin for more reliable primer ignition.
Adding a bolt buffer to slow the bolt down a bit makes suppressed shooting quieter and can improve reliability with hot ammo. While you have the bolt out, it might be worth replacing the charging handle with one that's easier to use with a magnified optic mounted.
Once you've done all of that, some 10/22s benefit from an aftermarket V-block to get a tighter barrel-to-receiver fit that squeezes the last little bit of accuracy out of your rifle.
Triggers

Pulling the trigger feels a whole lot like someone was eating Fritos while the trigger pack was assembled. Thankfully, you can take a couple of routes to address the less-than-stellar trigger—the easiest of which is to replace the OEM trigger pack with Ruger's upgraded BX-Trigger.
Some DIY solutions are out there, but they'll run you about the same money as a BX-Trigger, making it hard to justify. Kits like the Powers Custom result in a slightly better trigger pull than the BX-Trigger but require more work to install. If you're willing to spend a few more dollars, the absolute best option is an aftermarket drop-in trigger from Volquartsen, Timney or CMC Triggers.
Stocks

While triggers and internal upgrades are nice, a new stock truly transforms a rifle. As is always the case, the kind of stock you choose is entirely dependent on what you want out of your rifle. For rifles often in the woods where exposure to rain or other moisture is a concern, a synthetic stock is a great idea, since the wood will swell when wet and can affect your zero.
The Magpul line of stocks for the 10/22 is very functional while looking cool. Specifically, the Backpacker takedown stock is something special, thanks to a place to store some ammo on the rifle and the frond that mates to the stock keeping the rifle together when stowed.
Target shooters might want to consider a sweeping laminate stock from Boyds Gunstocks or Tactical Solutions. The sky is the limit with a laminate stock; you can get something that resembles grandpa's hunting rifle or go for the racy thumbhole stock in neon pink. Look for a stock that has a sling stud if you plan on using a bipod. It's a lot harder to mess up a stud install when it's done at the factory.
Neither one of those styles excite you? Look at some unconventional stocks on the market. Pro-Mag's Archangel Quick Takedown Stock is a cool option that turns a standard 10/22 into a takedown rifle for about the same cost as an aftermarket sock.
Barrels

Most stocks are set up for either a .920-inch bull barrel or the skinnier, shorter profile. Thicker bull barrels are generally stiffer and more accurate; the thinner profile, shorter barrel weighs a lot less typically than the thick bull barrel. The exception to that rule are barrels made from aluminum or carbon fiber, where a thin barrel liner is tensioned between the breech face and muzzle of the barrel. As a result, these tensioned barrels only weigh a fraction of a full-on steel barrel.
If you intend on shooting the rifle suppressed, take a look at Tactical Solutions' shrouded SBX barrel line. To keep the ATF goons happy, Tactical Solutions came up with a shroud they can add to the end of a short 10/22 barrel, bringing it to a 16.5-inch overall length. When you install your suppressor, you get the benefits of an SBR Ruger 10/22 without the hassle of a second tax stamp.
Optics

Fitting your 10/22 with an optic is entirely dependent on what you intend on doing with the rifle. Common sense applies; a high magnification scope is probably best if you want tiny little groups. If you're going to be hunting with the rifle, look into a lightweight scope or red dot. Don't get too cheap because it's "just a .22;" good glass is always a wise investment.
Just One More

There's a world of possibilities out there when it comes to modifying the 10/22. The only hard part is deciding what direction to go with your build. If you can't make up your mind and decide to build three, four or a dozen rifles, no one is going to judge you. In fact, the Gun Digest social media pages are kind of a support group for those of us who give in to the temptation; the only problem is we might encourage you to build "just one more."
Editor's Note: This article originally appeared in the December 2021 issue of Gun Digest the Magazine.
---
More 10/22 Upgrades: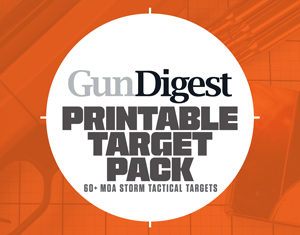 Next Step: Get your FREE Printable Target Pack
Enhance your shooting precision with our 62 MOA Targets, perfect for rifles and handguns. Crafted in collaboration with Storm Tactical for accuracy and versatility.
Subscribe to the Gun Digest email newsletter and get your downloadable target pack sent straight to your inbox. Stay updated with the latest firearms info in the industry.