No longer is the .22 rifle a simple plinker with which to while away the time. The long gun has become a hair-splittingly precise instrument, fit for competition.
What Are The Top Precision .22 Rifle Options:
Updated 4/07/2022
It's almost law at this point that if you're into guns you have a .22 rifle in your gun safe. Cheap, accurate and as fun as an unchaperoned Saturday evening, the tried-and-true long gun has shot itself into the collective hearts of American shooters. And it's changed dramatically in recent years.
As long as there have been folks that tinkered with guns, there have always been specimens of souped-up, hyper-precise .22 rifles. However, these hair-splitting gems were labors of love and some mechanical prowess, pieced together in the accuracy-obsessed basements. With the rise of NRL22 (National Rifle League .22-caliber competitions)and precision shooting in general, the availability of factory-made rimfire tack-drivers have become all the more common. We gathered together five of them here, the best precision .22 rifles you can currently find.
But you might have some questions about the style of rifle before you jump in.
The What And Why Of Precision .22 Rifles
Since we've thrown the term "Precision .22 Rifle" out there, we should clarify exactly what qualifies as one. In general, these long-guns share many of the same qualities of their precisoin centerfire cousins—performance stock (usually adjustable), precision bedding system, heavy barrels and plenty of overall heft. Threaded muzzles for recoil-eating suppressors, over-sized bolt handles and top-notch triggers (usually the adjustable type) are also common fair. There are no hard-and-fast rules to what goes into a precision .22 rifle, but it's fairly easy to recognize one from its average, everyday tin-can popping brethren.
By and large, these upgrades demand a premium. Not all, but many precision .22 rifles cost enough as to pie even the most frivolous spender's eyes, sometimes running up into four figures. For a caliber with a legion of sub-$200 options—respectable ones at that—the configurations might seem garish. In turn, who would want one in the first place?
Competitors for one. Rimfire NRL22 is a serious business and requires serious tools. Additionally, PRS shooters find them useful as cost-effective training options. Many precision .22 rifles mimic popular match centerfires—particularly the Remington 700 and its clones. Then there's the accuracy obsessed. Similar to their competitive counterparts, the upfront cost of a precision .22 rifle pays off in a reduced ammunition tab over the long run. Not to mention, the guns can prove a lifesaver in some regions where 500-plus-yard ranges are few and far between.
---
More Rimfire Info:
---
Best Precision .22 Rifle Options
CZ 457 Varmint Precision Chassis
The 457 is one of the most popular rifles in open-class NRL22. One thing many shooters do is drop it in a chassis. Now, CZ will do that for you. This wildly popular precision .22 rifle comes in a solid-aluminum-billet chassis, full of QD sling sockets, M-Lok slots and all the other adjustable bells and whistles that competitors want. It's available in two different barrel lengths—a suppressor-ready 16.5 inches and a full-length 24 inches.
MSRP: $1,149; cz-usa.com
Bergara B-14 R .22 LR
One of three new rimfires that debuted in 2020 and are built on a Remington 700 footprint, this precision .22 rifle from Bergara is compatible with the wide universe of aftermarket Remington triggers, bases and stocks. Not that you'd want to switch out the stock: The B-14 R comes with Bergara's excellent, fully adjustable HMR stock with an integral aluminum bedding rail overmolded with polymer. It perfectly replicates Bergara's centerfire HMR line.
MSRP: Starts at $1,150; bergara.online/us
Ruger American Rimfire LRT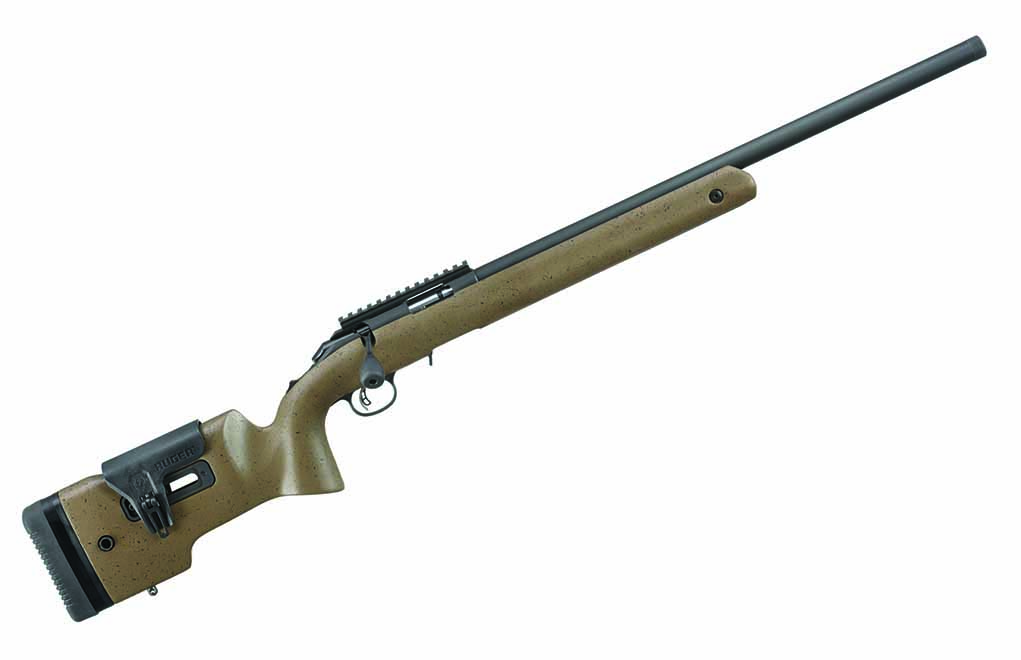 My old man's Ruger American Rimfire will shoot cloverleaf groups with CCI Mini-Mags at 50 yards. It's an inexpensive gun. He paid less than $200 for it new. And, after a little DIY home gunsmithing—man, does it shoot! This year, Ruger has taken that same action, beefed up the barrel and sat it in an adjustable synthetic stock with integral bedding rail that calls to mind the famous USMC A4.
MSRP: $719; ruger.com
T/C Performance Center T/CR22 Carbon
Two years ago, Thompson/Center took the basic Ruger 10/22 design and built a new precision .22 rifle around it. It's more than a mere clone, because T/C incorporated the best of the vibrant 10/22's aftermarket-like integral Picatinny rail, last-shot hold-open, extended charging handle, improved trigger and a nice aftermarket stock. This year, T/C has extended the lineup with several carbon-fiber-barreled models sitting in laminated-thumbhole Altamont stocks. They're sweet, fast, handy rifles—perfect for Rimfire Challenge … or just a helluva good time at the range.
MSRP: $642; tcarms.com
Savage B22 Precision Chassis
The result of a partnership between Savage Arms and MDT Chassis, the decked-out B22 is a direct response to the rise of NRL22. Already an impressive competition resume, the B22 is vastly enhanced with a rigid monolithic MDT aluminum chassis. Fully adjustable comb rise and length of pull, the rifle can be optimized to individual shooters. Savage for its part, includes its excellent adjustable AccuTrigger, which can be dialed down to as light a 1 pound. Crowing the rig is a heavy, 18-inch barrel, which does an excellent job in keeping barrel harmonics pristine even in long strings. Best of all, it's among the most affordable precision .22 rifle options out there.
MSRP: $659; savagearms.com
Vudoo Gun Works Ravage
This is arguably the most accurate .22 rifle on the list, and it better be considering the asking price. The Vudoo Gun Works Ravage was purpose-built for accuracy and designed to excel at PRS-style matches. Vudoo guarantees that each Ravage will be capable of sub-MOA accuracy thanks to their V-22 Rimfire repeater actions, and shooters have proved this by using them to place groups at ranges that would be considered ludicrous for most other rimfire rifles. The Vudoo Ravage is available with a choice of four different stocks and a number of different finish options.
MSRP: $2,795; vudoogunworks.com
Editor's Note: This article originally appeared in the 2020 Buyer's Guide special issue of Gun Digest the Magazine.
Elwood K. Shelton and Adam Borisenko contributed to the post.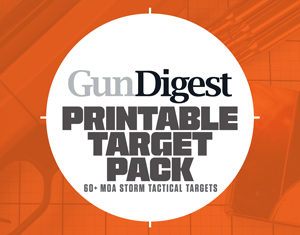 Next Step: Get your FREE Printable Target Pack
Enhance your shooting precision with our 62 MOA Targets, perfect for rifles and handguns. Crafted in collaboration with Storm Tactical for accuracy and versatility.
Subscribe to the Gun Digest email newsletter and get your downloadable target pack sent straight to your inbox. Stay updated with the latest firearms info in the industry.