You can build an AR, even one setup like a DMR, on a blue-collar budget. Today, we show you how.


As soon as an AR-15 enters a safe, those low light conditions result in a strange, but well-documented phenomenon; like an amoeba, the rifle buds and reproduces, spawning new versions of itself. At least that's what we tell our significant other, but we're not exactly sure she believes it.
The first AR anyone should purchase is probably the basic, 16-inch-barreled carbine; it can serve in just about any role, doing most things reasonably well, but not excelling anywhere. Once that's in the collection, you can turn to more specialized versions, like the one here. We decided to start down the DMR rabbit hole, as poking holes in things at longer ranges is fun, plus there's another niche this type of rifle fits—more of which later.
The AR was developed around a 20-inch barrel, equipped with what we now refer to as a rifle-length gas system. This combination produces the best combination of results in terms of both reliability and velocity from the 5.56x45mm cartridge, as gas port pressures are relatively low due to increased distance from the chamber. This means the various sub-assemblies don't get beaten up nearly as much as with shorter, higher-pressure gas systems—compared to say a 10.3-inch Mk18 with a carbine length gas tube, the 20-inch rifle operates with a more relaxed attitude. Think '78 Lincoln Continental versus '05 Subaru STI. Losing a couple of inches from the barrel while retaining the rifle length gas system results in a handier carbine with an even softer recoil impulse, as dwell time in front of the gas port is reduced, so this was the first component we sourced.
While a stainless blank from Bartlein or Kreiger would've been our first choice as a starting point if we had a limitless budget, this is a blue-collar build (we checked; it says so at the top of the page). Offering a good balance of longevity, accuracy and wallet-friendliness, we picked an 18-inch, government profile barrel from FN, which is chrome lined and button rifled. While it probably won't be seen on the line at any benchrest competition, we're happy to trade off a few tenths of an inch in group size for dollars in our bank account. Besides, if the first round misses a target, there's 29 more of its buddies to make up for it.
Closing off the chamber end, a Fail Zero bolt carrier group was chosen due to its slick, nickel-boron coating that reduces friction and makes cleaning way easier. A magnetic particle inspected, Carpenter 158 bolt (also NiB coated) is part of the package, which reassures us that the bolt will last as long as the barrel.
Wrapped around the barrel is an Expo Arms 15-inch free-float tube, giving plenty of real estate and M-lok slots for lights, sling mounts, and anything else we might think of. As this is a DMR-ish gun, one of those thoughts was a bipod, and as luck would have it, Caldwell offers an inexpensive Harris clone with an M-lok interface, so that was added to the list.
Although rifle-length gas systems traditionally found themselves paired with fixed, rifle stocks, we wanted the adjustability and convenience offered by a six-position carbine buffer tube. So we ordered up an MFT Minimalist setup with a QD endplate, which was screwed into a lower receiver from Orchid Defense Group. While we normally don't get too excited about standard lowers—after all, they're just an aluminum box to hold the fun bits together—this one is unusual in that it's a low shelf variant and has all the machining you'd typically find on an M16 receiver, minus the third hole. Good info to squirrel away, if you have aspirations of ever becoming a 07 FFL holder.
Human Interface

Once the basic components were in place, it was time to turn attention to the two pieces of kit that have the biggest effect in terms of human interface and getting hits on steel, namely the trigger and scope. Rise Armament's S140 trigger is exceptional value for the money. Carved from S7 tool steel and featuring a 3.5-pound, single-stage break with zero take up and a short reset, it's about as good as you're going to get at any price point, and the fact they sell it for $139 should grab anyone's attention. Building on the "bang for the buck" theme, we picked out Primary Arms' SLX 3-18×50 as the glass to adorn our rig.
Only a decade ago, finding glass built to this kind of specification would cost an arm and a leg, but somehow, Primary Arms manages to bring it to market for less than 500 bucks, placing it firmly within the blue-collar realm. One of the most useful aspects of its design is the ACSS reticle, which is calibrated for 5.56 projectiles and situated in the first focal plane, allowing the shooter to make use of its BDC hashmarks at any magnification.
Prefer to dial your corrections? No problem, just lift up the locking elevation turret and spin away to heart's content; we had no issues with tracking—every time we returned to zero, our point of impact remained true. An illuminated reticle makes hitting targets in low-light conditions easier and can be used at low magnification to make quick shots—just use the thick central horseshoe part of the reticle to frame the target and press the trigger. Image quality fell off a little at the top end of the magnification range when compared to high-end scopes, but then again, the glass we compared it to costs four times as much.
Where Bullets Meet Backstop

With all components assembled, it was time to put everything together. Life was made easier with a Tipton gun vise and Wheeler Engineering scope mounting kit that allowed us to complete the build in record time, without any buggered-up parts or dings in the receivers. For anyone who mounts a lot of scopes, this combo saves time and ammunition, as it's rare not to be on paper when it's finally time to show off your work.
At the range, we jammed 20-round mags with an assortment of ammo, and it was then we discovered the soft-shooting properties of our barrel might've been a little too gentle. The rifle refused to cycle the Wolf 55-grain steel case rounds we initially tried, ejecting spent cases, but failing to kick the BCG far enough to the rear to pick up a fresh cartridge.
Switching to spicier morsels solved the issue, and the gun had no difficulties with M193-spec loads, so a few mags were run through it in order to break it in. SIG 77-grain OTM ammo turned in several sub-MOA groups, and after verifying zero on paper we ran the rifle out to 600 yards on steel, verifying that it fills the DMR role pretty damn well.
About that other niche this build could fill? Throw on an offset red-dot and a muzzle brake, and you'd have no problem hanging with your buds at a three-gun match, though you'd be running in Open division … which means you'd need to build an optic-equipped pistol with a compensator.
Hold that thought: be right back …
Sources:
Primary Arms
Rise Armament
Tipton
Wheeler
Editor's Note: This article originally appeared in the November 2021 issue of Gun Digest the Magazine.
---
More AR-15s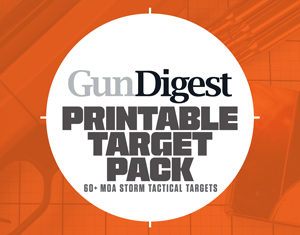 Next Step: Get your FREE Printable Target Pack
Enhance your shooting precision with our 62 MOA Targets, perfect for rifles and handguns. Crafted in collaboration with Storm Tactical for accuracy and versatility.
Subscribe to the Gun Digest email newsletter and get your downloadable target pack sent straight to your inbox. Stay updated with the latest firearms info in the industry.