There's no shortage of new rifles for 2019, with models designed for short- and long-distance. Here's a quick look.
What Are The Top New Rifles For 2019:
Another year, another crop of rifles. This season's long guns include a little bit of everything, from ultralight mountain rifles to dialed-in semi-auto precision irons. We take a look at 10 of the best to hit the scene. The only remaining question is, which is the right one for you?
Browning X-Bolt Max Long Range Hunter
Browning's new X-Bolt Max Long Range Hunter features a new composite Max stock with an adjustable comb. Three swivel studs, a fluted and threaded heavy sporter barrel and thread protector are standard. It's available in 6 and 6.5mm Creedmoor, .308 Winchester, .300 WSM, 26 and 28 Nosler, 7mm Remington. Magnum, .300 Winchester Magnum and .300 Remington Ultra Magnum—all with 26-inch barrels. MSRP starts at $1,269.99.
DPMS G-II 6.5 Creedmoor
The 6.5 Creedmoor continues to dominate, and the new 6.5 Creedmoor Hunter from DPMS is built on the G-II platform, has a 20-inch, Teflon-coated and -threaded barrel, free-floating, carbon-fiber handguard, two-stage match trigger, Magpul MOE stock and a Hogue overmolded grip. MSRP: $1,599.
Marlin 1895 .444 Marlin
After a long hiatus, the .444 Marlin is back. This reintroduced Marlin 1895 features a black walnut stock and forend, standard loop, four–round capacity, adjustable buckhorn sights and a 22-inch barrel, with a 1:20 twist. The .444 Marlin qualifies as a straight-wall cartridge for deer hunting in some mid-Western states. MSRP: $769.
Mossberg Patriot Predator TrueTimber Strata Camo
New in the Mossberg Patriot Predator line of rifles is a version with TrueTimber Strata camo synthetic stock and durable, Cerakote-finished components. These rifles are chambered for the 6.5 Creedmoor, .243 and .308 Winchester, and .22-250 Remington. MSRP: $524.
---
Get On Target With These Rifle Posts:
---
Mossberg Patriot .450 Bushmaster
Mossberg is also introducing four Patriots chambered for the .450 Bushmaster. They offer broader hunting opportunities in states such as Michigan, Ohio, Indiana and Iowa, include two 16.25-inch barreled Predators and a synthetic-and-wood stocked Patriot with a 20-inch barrel. MSRP: $410–$542.
Remington Seven Stainless Steel HS
Remington is finally giving some serious attention to a rifle that's been ignored way too long. New for 2019 is the Model Seven Stainless Steel HS, featuring a 20-inch barrel, matte stainless steel finish and an HS Precision stock. It will be chambered for the .243 and .308 Winchester, 7mm-08 Remington and 6.5 Creedmoor. MSRP: $1,149.
Savage 110 High Country
The Savage 110 High Country has a spiral-fluted barrel and bolt and lives in an AccuStock. It's covered in TrueTimber Strata camo, comes with an AccuTrigger and has a low-friction PVD coating on the barrel, receiver and other critical parts. The High Country is chambered for a wide selection of big-game cartridges. MSRP: $1,129.
Sig Sauer M400 Tread
The M400 Tread is a premium entry-level rifle from Sig Sauer accompanied by a full line of Tread-branded accessories, giving the consumer the freedom to grow. This is an optics-ready rifle with an aluminum frame that features a 16-inch stainless steel barrel, a free-floating M-Lok handguard, single-stage polished/hard-coat trigger, ambidextrous controls, a Magpul SL-K 6 position telescoping stock and mid-length gas system. MSRP: $951.
Steyr Monobloc
Steyr Arms has introduced the extremely unique Monobloc rifle. At its heart is the barreled action, which is cold hammer forged from a single piece of steel and then milled to form the chamber and action. The stock features accented leather inlays, and the rifle feeds from a detachable magazine. MSRP: $5,250.
Weatherby Subalpine
The Weatherby Subalpine is built on the Mark V action and is wrapped in Gore Optifade Subalpine camo. This is a feather-light rifle, tipping the scales at as little as 5.75 pounds. Chamberings include the 6.5 Creedmoor, .257, 6.5-300, .270 and .300 Weatherby Magnums. MSRP starts at $2,700.
Editor's Note: This article originally appeared in the 2019 Shooter's Guide issue of Gun Digest the Magazine.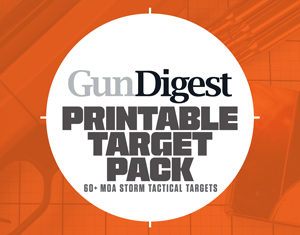 🎯 Exclusive Offer: Get Your FREE Printable Target Pack!
Dive into precision shooting with our 62 Exclusive MOA Targets featuring DOT Drills. Perfect for both rifle and handgun enthusiasts, these targets are designed for accuracy, especially for long-range shots.
Why You'll Love This Pack:
🎯 Expertly Crafted: Brought to you in partnership with the renowned Storm Tactical.
🎯 Versatile Use: Suitable for both rifle and handgun range sessions.
🎯 Precision Design: Target grids and bullseyes meticulously measured in MOA for the best shooting experience.
Bonus: By grabbing this offer, you'll also be subscribing to the Gun Digest email newsletter, keeping you updated with the latest in the world of firearms.
Don't miss out!
Simply enter your email below, and we'll send your downloadable target pack straight to your inbox.