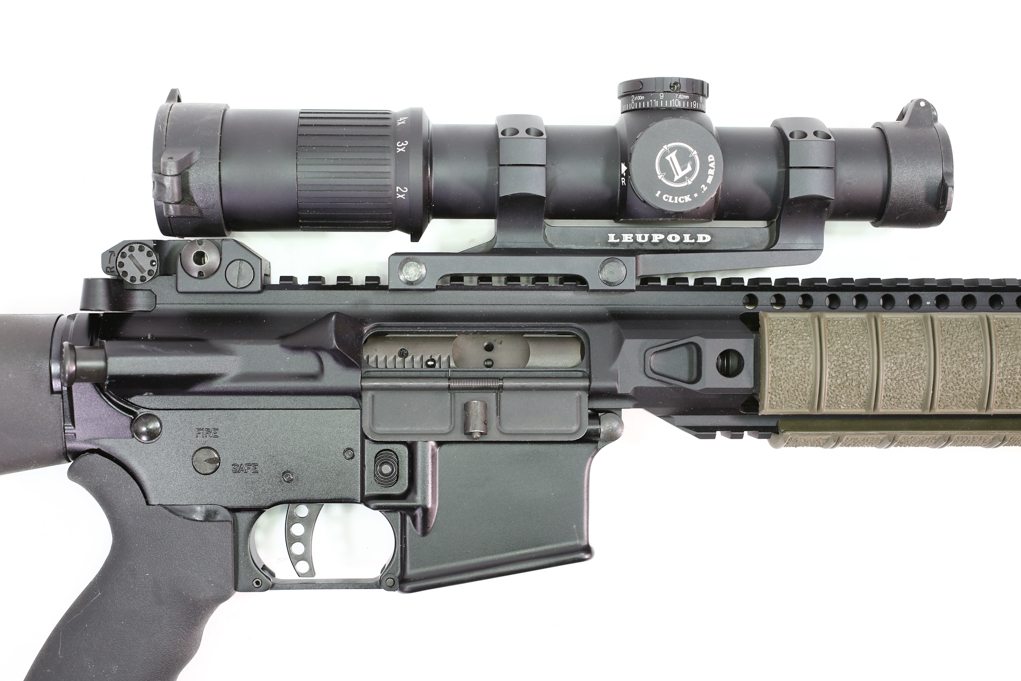 No need to settle for a stock carbine. We've got the AR-15 parts and accessories that will get you rifle humming.
Updated 4/11/2022
What Are The Top AR-15 Parts And Accessories
Accurate. Versatile. Reliable. Advocates of the AR-15 will most likely cite one of these vital attributes as the reason why they pledge allegiance to the gun. Spot on, but dig a little deeper another reason platform's popularity surfaces. Customization.
Modular in design, there isn't a creek or crevasse that can't be tinkered with to perfection. As Tom Wolf might have said, AR-15 is the regular Kandy-Kolored Tangerine-Flake Streamline Baby of the 21st Century. In short, every rifle is potentially a hunter, fighter, plinker, match gun, or what have you. Its fate lies in your hands. A veritable sea of performance AR-15 parts and accessories swamp the market, so a point in the right direction wouldn't hurt. That's what we're attempting here.
The working assumption for this piece is you have an off-the-shelf rifle of some repute in your possession. Now you're looking to kick it up a notch or two or even three. We're veering away from involved upgrades—no barrel swaps—and home in on drop-in enhancement (for the most part). Economy is also at a premium in this litany, this means there are some top-shelf AR-15 parts and accessories left off. That said, this is your first foray into upgrading your gun. Worry about five-star, gold-standard parts once you gear up your 3-Gun career.
AR-15 Triggers
Splitting the bullseye straight down the middle, no single AR-15 part plays a larger role in doing this consistently than the trigger. Most rifles are factory outfitted with a relatively sub-standard fire control, the Mil-Spec trigger. It gets your gun to go bang but does little to enhance its accuracy. Of all AR-15 upgrades you consider this should be among the first
This piece on AR-15 triggers is a good place to nail down the finer points before you buy.
Single-Stage AR-15 Triggers
Timney AR-15 Competition Trigger

Timney's Competition Trigger is a legitimate upgrade, giving you everything you want in a single-stage trigger: no pre-travel, terse reset and reliability pull after pull. Its drop-in design makes for no-brainer installation and you have three pull weights to pick from—2-2.5 pounds, 3-3.5 pounds and 4-4.5 pounds—and three bow styles—curved, straight and skeletonized. MSRP: $219 // timneytriggers.com
CMC Single-Stage

Spartan for sure, CMC Single-Stage triggers shine where it counts—performance. Especially nice, a very positive reset that picks up the pace once you master trigger control. It also ticks off all the other boxes you want in a single-stage trigger. You have the choice of a flat or curved bow and pull weights from 2.5 to 6.5 pounds. MSRP: $196 // cmctriggers.com
Geissele Single-Stage Precision

Predictable as the next minute and built to stand up to rough handling, Geissele's Single-Stage Precision has everything to improve your rifle. The knock on it, you're limited in pull-weight—3-3.5 pounds. Still, you have the option for a straight or curved bow. MSRP: $240 // geissele.com
Rise Armament RA-434 High-Performance Trigger

Don't be fooled by its mid-tier price, the RA-434 delivers top-shelf performance. It boasts a very smooth pull, thanks to a self-lubricating nickel-boron coating on the internal parts. The bow architecture is nice, facilitating intuitive finger placement. MSRP: $179 // risearmament.com
Hiperfire AR-15-EDT

Best known for high-end competition triggers, Hiperfire's Enhanced Duty Triggers cost a fraction of the price. Yet, they're on par with the rest of the company's catalog. Replaceable springs give you the option to tailor pull weight from 4.5 to 5.5 pounds. Powerful hammer spring ensures a solid strike each trigger pull. MSRP: $99 // hiperfire.com
Two-Stage AR-15 Triggers
LaRue Tactical MBT


MBT stands for Meticulously Built Trigger, and that's an accurate description. This two-stage, drop-in trigger from LaRue Tactical is made from S7 tool steel, and it brings a lot to the table for a very economical price. Each MBT comes with two trigger springs, one 4.5-pound and one 6-pound. Each purchase also comes with replacement hammer and trigger pins that do a better job of holding the trigger where it should be, just in case your lower isn't playing nice with the MBT right out of the box. MSRP: $99 // larue.com
CMC AR-15 Two-Stage Trigger

Another of CMC's drop-in marvels. A clear wall gives a good definition to the trigger, while its break is crisp and reset short. It's quick when you need it to be. Available with breaks from 3 to 5 pounds and straight or curved bows. MSRP: $240 // cmctriggers.com
Timney AR-15 Targa

A very affordable Timney option, the Targa defines what you want out of a two-stage trigger. Available with pull weights from 2 to 4 pounds, there's an option for nearly every shooter. And a more vertical curved bow facilitates proper finger placement. MSRP: $199 // timneytriggers.com
Geissele 2 Stage (G2S) Trigger

A cost-effective option, the G2S offers defined stages and overall performance improvement. Take up come in around 3 pounds, then breaks at a very terse 1.5 pounds. Short reset gets your next shot downrange fast. MSRP: $165 // geissele.com
AR-15 Handguard
Manufacturing costs decreasing over the years, a stock rifle is likely to have a better handguard or rail system then in the past. Even so, you might find the factory-install model isn't exactly bringing the best out of your AR-15. Particularly if it isn't free-floated or doesn't have accessory attachment points.
We'll touch on two versions of this vital AR-16 part: drop-in, which requires no gunsmithing, and free-float, which take a bit more know-how to install. The effort is worth it, free-float handguards are lightweight and, more importantly, maintain pristine barrel harmonics.
Check out Kevin Muramatsu's rundown on installing a free-float handguard for the finer points of the process.
---
Get On Target With The AR:
---
Drop-In Handguards
Magpul MOE

No frills, but the MOE gets the job done better than almost any other drop-in handguard on the market. It being Magpul there are M-Lok slots aplenty for accessory attachment. Reinforced and heat resistant, it's a top-notch polymer option. MSRP: Starting at $37 // magpul.com
Bravo Company BCMGUNFIGHTER PKMR

An austere option, but one with plenty of functionality. Slim as a second to boot. A bit of a twist, BCM opted for KeyMod attachment points. They're not quite as prevalent at M-Lok, but no less useful. Rugged, the polymer handguard is heat resistant and reinforced. MSRP: $40 // bravocompanyusa.com
Free-Float Handguard
Aero Precision AR15 Atlas R-One

Lightweight and relatively slim, Aero's Atlas R-One Handguard gives you a full-length top rail and plenty of attachment points. Both M-Lok and Keymod options are available, so you aren't confined. Available 7-, 9-, 12- and 15-inch lengths. MSRP: Starting at $150 // aeroprecisionusa.com
BCM MCMR


If you feel that you need a name-brand rail like what the real operators use, BCM is always a solid option, and their MCMR series has plenty of sizes to choose from. Made of 6061-T6 aluminum alloy, these free-float rails are light, strong and provide ample M-LOK real estate. There's an MCMR rail out there for just about every build too, since they're available in 7-, 8-, 9-, 10-, 13- and 15-inch varieties. MSRP: Starting at $171.95 // bravocompanyusa.com
Brownell's Wrenchmen Handguards

Brownell's in-house brand is up to snuff and easy on the pocketbook. Plus, it comes with the company's forever guarantee, which means they'll take it back no matter what. Full-length top rail and M-Lok compatible, the aluminum handguard is ready to get decked out. Available lengths include 10.5, 12.6 and 15 inches. MSRP: Starting at $124 // brownells.com
Bolt Carrier Group
The beating heart of your AR-15, the bolt carrier group (BCG) is among the your rifle's most critical components. There are three main BCG designs prevalent today:
AR-15 BCG: Deeper cut toward the rear of the bolt, lower overall mass.
M-16 BCG: Shallower cut toward the rear of the bolt, more mass. Note, this will not make your AR-15 full-auto.
Lightweight or Low-Mass BCG: Made of lightweight material, such as titanium, to increase the cycle-rate of an AR-15. Note, to function reliably it typically requires other upgrades.
Overall, the most commonly found BCGs are AR-15 and M-16. If well made, a gun will function reliably with either. However, shooters have tended toward M-16 BCGs in recent times, the argument being they are the more dependable of the two. Low-mass BCG are a bit out of a basic upgrades article—mainly favored by competitors. In turn, we'll focus on AR-15 and M-16 versions.
Patrick Sweeney gets your mind right about this AR-15 part and how even the economy BCGs are built for the long haul.
Aero Precision Bolt Carrier Group

Fully Mil-Spec and HPT tested/MPI marked, Aero's BCG is up to snuff. It comes complete with a phosphate coating and with or without Aero's logo. MSRP: $150 // aeroprecisionusa.com
Daniel Defense M16 Bolt Carrier Group

Great name and manufacturing history, Daniel Defense doesn't disappoint, delivering a rough-and-ready Mil-Spec BCG. You'll pay more, but likely it will last as long as your rifle. MSRP: $217 // danieldefense.com
Spikes Tactical M16 5.56 Nickel Boron Bolt Carrier Group

Has all the Mil-Spec goodness, along with a nickel-boron finish. This makes it easier to clean and smoother operating. Plus, shiny! MSRP: $225 // spikestactical.com
Muzzle Brakes, Flash Hiders And Compensators
Unless you reside in a draconian state where muzzle devices are verboten, these handy little AR-15 parts give your gun a notable edge, depending on your ends.
Muzzle Brake: Work by using expanding gas to reduce felt recoil, not necessarily muzzle rise.
Flash Hider: Reduces the muzzle flash caused by still-burning powder exiting the barrel behind the bullet.
Compensator: Uses expanding gases to reduce muzzle rise, not necessarily recoil.
Stock guns usually come with an A2 flash hider, lovingly known as a "birdcage". If all you want to do is cut down your rifle's visual signature or keep your line of sight clear this is a proven option. Improving shot-to-shot accuracy, that's the muzzle brake and compensators job. Forewarning, there's a tradeoff—both increase your rifle's report.
If you need to know the ins and outs of all three, here's a deep dive into muzzle devices.
Seekins Precision ATC Muzzle Brake

Front-facing ports do a good job of eating up recoil. Plus, utilizing a knurled nut instead of a crush washer, installation and timing don't get much easier than the ATC. MSRP: $89 // seekinsprecision.com
Strike Industries JCOMP

It's a riff on the Type 89 compensator used on the Japanese Howa Type 89 rifle. A double-chamber design cuts recoil and muzzle rise considerably. Slots at the fore also do a number on muzzle flash. MSRP: $44 // strikeindustries.com/
Faxon MuzzLok Ported Flash Hider


Faxon's Muzzlock makes it a snap to install and time. Once on, it cuts flash down considerably. Good price too. MSRP: $60 // faxonfirearms.com
AR-15 Charging Handle
One of the easiest AR-15 upgrades, the charging handle is also a fairly minor improvement. Though, there are certainly more rugged options than the factory-installed unit on your gun. And, if you're a lefty, there are options more in tune to your southpaw ways.
Strike Industries Extended Latch Charging Handle

More latch to snatch, making your AR easier to manipulate. Plus, plenty of colors to choose from. MSPR: $44 // strikeindustries.com
Radian Raptor Ambidextrous Charging Handle

Standby AR-15 upgrade at this point, making gun ambidextrous—nice for lefties. Additionally, about as rugged charging handle as there is. It's a quality AR-15 part. MSRP: $90 // radianweapons.com
BCM Gunfighter MOD 4

Simple design, the Gunfighter MOD 4 is intuitive and makes your rifle easier to manipulate. Available, if needed, with ambidextrous latches. MSRP: $54 // bravocompanymfg.com
AR-15 Slings
Divergent opinions aside—some love and others hate slinging AR-15s—it remains one of the most convenient ways to tote around your gun. We have an entire article dealing with AR-15 slings, how to attach them and use them to their utmost well worth reading. There are three main sling styles: one-point, two-point and three-point. Overall, two-point slings are the most popular presently given their simplicity and ability to facilitate quick movement, so we'll home in on those.
Magpul MS4 Dual QDM Sling

Outfitted with a quick detach system from the box, Magpul gives you a system you can configure to your preferences. Adaptable, the sling can also be used in a one-point configuration. Most importantly, boasts a rapid adjustment system, allowing for quick transitions to weak-side shots. MSRP: $65 // magpul.com
Blue Force Vickers Sling

Developed by industry legend Larry Vickers, the Vickers Sling still proves revolutionary. The two-point system is designed for rapid adaptations, particularly to weak-side shooting. At the same time, the rapid adjustment system can be cinched up for comfort and control when not engaged. MSRP: $55 // blueforcegear.com
---
Adam Borisenko contributed to this article.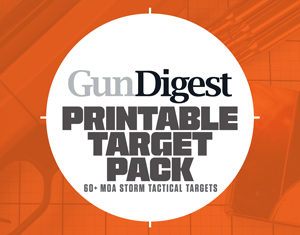 Next Step: Get your FREE Printable Target Pack
Enhance your shooting precision with our 62 MOA Targets, perfect for rifles and handguns. Crafted in collaboration with Storm Tactical for accuracy and versatility.
Subscribe to the Gun Digest email newsletter and get your downloadable target pack sent straight to your inbox. Stay updated with the latest firearms info in the industry.