Looking to trick out your Ruger 10/22? Here are 10 top Ruger 10/22 accessories that can bring your plinker to the next level.
If there are two things that American shooters love, it's Ruger 10/22s and accessorizing their guns. It's only natural then that there exists a veritable sea of aftermarket 10/22 accessories to choose from.
While looking at 10/22 stocks, 10/22 receivers and 10/22 triggers, we covered how this popular gun can be entirely built today without using a single Ruger factory component. The customization possibilities don't end there.
Today, we'll look at some of the smaller 10/22 accessories that bring your plinker to the next level.
Ruger 10/22 Accessories:
10/22 Magazines
Ruger 10/22 BX25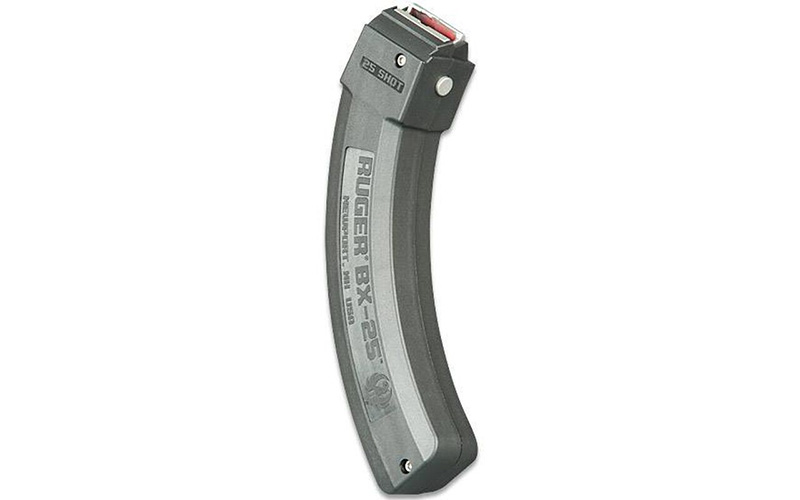 This is arguably the most important and practical of the 10/22 accessories on this list. If you own a 10/22 but don't have any BX25 mags, it's either because you live in a state that prohibits them or you've been asleep at the wheel. While .22-caliber plinkers don't necessarily need a higher capacity than what the standard 10-round mags provide, more ammo on tap is never a bad option.
Whether you want to reduce the frequency of reloading in the field during a varmint hunt or just want more trigger time between reloads at the bench, Ruger-branded 25-round BX25 mags are a reliable way to accomplish it. They're made of durable polymer and compatible with nearly every 10/22-based rifle and 22 Charger pistol on the market.
MSRP: $29.97 // Ruger.com
ProMag 10/22 55-Round Drum
If 25 rounds are good, then 55 rounds are double-plus-good. If shooting a high volume of cheap .22 LR is one of your pastimes, this ProMag 55-round drum should only add to your enjoyment.
Unfortunately, drum mags of all kinds are inherently less reliable than their stick-mag counterparts. Because of this, these drums are probably better reserved for recreation than any sort of serious use. That said, they make an excellent addition to any 10/22 setup if for no other reason than the cool factor. One would also pair very nicely with a binary trigger.
MSRP: $89.99 // promagindustries.com
10/22 Sights
10/22 Firesight Green Front Sight
For those who prefer irons over optics but still want an upgrade, a fiber optic front sight is a worthy addition. This model is made in America by the Williams Gunsight Company, but is sold through Ruger as a "Genuine Ruger Factory Accessory." It installs by simply replacing the original front sight via a dovetail.
If any of your 10/22 shooting relies on quick acquisition, then a fiber optic sight such as this helps pick up the pace without the complexity or expense of a red dot. Other models and colors are available as well.
MSRP: $19.95 // Ruger.com
TRUGLO Dot-Optic Mount
If you do want to mount a red dot on your 10/22, there are a few ways to accomplish it. The easiest and most common method is simply using the rail that comes standard with every 10/22 today, but this is best suited for rifle-size red dots and scopes. If you want something smaller, however, a new mounting solution is required.
The TRUGLO Dot-Optic mount installs directly to a 10/22's drilled and tapped receiver, but rather than providing a rail, it instead features a Trijicon RMR footprint for mounting compatible pistol micro red dots. Micro red dots have become popular on certain rifle setups, and using one on a 10/22 will help keep the already lightweight rifle stay trim.
MSRP: $49.99 // truglo.com
10/22 Mag Pouches
Ruger 10/22 Buttstock Pouch
When it comes to keeping your rifle fed, larger mags will only go so far. Retaining spare ammo directly on your gun is a good way to supplement that. This inexpensive solution made by Ruger slips directly over the buttstock and provides some extra storage space. It can fit at least six 10-round rotary mags, spare boxes of ammo or anything else you might want to keep handy in the field.
MSRP: $14.95 // Ruger.com
Adaptive Tactical Tac-Hammer Triple Mag Drop-Leg Pouch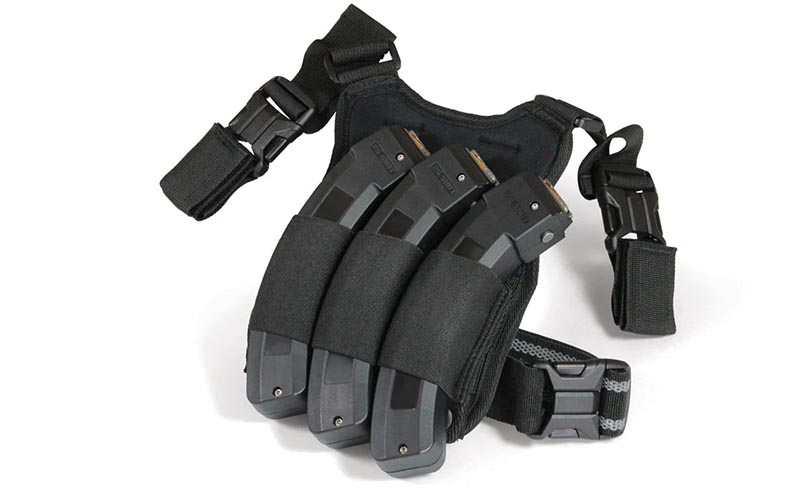 In the same theme as the buttstock pouch but with a bit more tactical flair, the Triple Mag Drop-Leg Pouch from Adaptive Tactical retains up to three BX25 magazines. It uses elastic to keep the mags in place, making them quick to retrieve, and the drop-leg platform feature allows them to be comfortably carried in the field or during competition.
MSRP: $49.99 // adaptivetactical.com
Other 10/22 Accessories
Samson Mfg. 10/22 Flash Hider
While there are compensators available for the 10/22, they're a bit superfluous on a .22 LR rifle. Mitigating flash is a much more logical reason to utilize a muzzle device. Ruger makes one as well, but it's designed for threaded barrel models. The beauty of the Samson Manufacturing flash hider is that it slips right over an unthreaded barrel and secures using a single set screw. Besides helping to reduce flash, this is a very simple way to customize the look of your gun. It's available with either a black or stainless finish.
MSRP: $25.70 // samson-mfg.com
Samson Mfg. B-TM QD Sling Barrel Band
Another product from Samson Manufacturing, the B-TM QD sling barrel band is an easy way to add quick-detach sling capabilities to your 10/22. It simply replaces the factory barrel band and can be installed with the QD point facing either left or right. Making this small change to your gun will open you to a much wider world of tactical rifle slings, no longer limiting you to only using traditional styles. Like the Samson flash hider, this barrel band is offered in two colors as well.
MSRP: $24.99 // samson-mfg.com
Midwest Industries 10/22 M-LOK Handguard
If making your 10/22 as tactical as possible is your aim, then it wouldn't be complete without a railed handguard. This model from Midwest Industries is machined from 6061 T6 aluminum, keeping it both strong and lightweight while providing 13 inches M-LOK slots for accessories as well as two QD sling mounting points. If mounting a flashlight or laser on your 10/22 is something that you'd like to do, a railed handguard like this would be one of the easiest and most versatile ways to accomplish it.
MSRP: $149.95 // midwestindustriesinc.com
Tandemkross Fireswitch Extended Magazine Release
All those extended magazines and tactical mag pouches won't do much good during a competition if you're slow on the reload, and the factory 10/22 mag release is on the small side. This easy-to-install solution from Tandemkross remedies that by providing a much larger magazine release lever. It sticks out a decent amount from the bottom of the gun, so it's not ideal for field use, but for competition or just plinking on the range it can make one's life much easier. It's available in both black and red.
MSRP: $49.99 // tandemkross.com
---
More On The 10/22:
---
NEXT STEP: Download Your Free Storm Tactical Printable Target Pack
62 Printable MOA Targets with DOT Drills - Rifle Range in YARDS
This impressive target pack from our friends at Storm Tactical contains
62 printable targets
for rifle and handgun range use. Target grids and bullseye sizes are in MOA. Ideal for long-range shooting!
Subscribe to the Gun Digest email newsletter and we'll send your print-at-home target pack right away.
Just enter your email address below.
---