Enanced with Luth-AR's Anti-Rattle set screw, the MBA-5 stock is better than ever.
Upgrading an AR, the stock usually ends up pretty low on the list. Most shooters are more than content to hobble along with the standard 6-position, telescoping unit their rifle came with, even if it does little to enhance the system. Unfortunate, given intuitive and consistent performance behind the trigger hinges on this overlooked aspect of a build.
Randy Luth more than understood this when he founded Luth-AR and began cobbling together the proverbial "better mousetrap". The founder of DPMS Arms (which he later sold), broke from the herd to build enhanced stocks that not only helped bring out the best in shooters and their rifles. He did so with products that far from break the bank. No surprise Luth and Luth-AR are still rolling with an update of the popular MBA-5 stock.
Like a tight rifle, the re-design should be music to your ears. Luth-AR has attempted to take any shimmy out of the system, incorporating its Anti-Rattle set-screw design found in the original MBA-3 and MBA-4 stocks. At the same tick, the company has maintained the ergonomic and functionality features that made the stock a favorite among shooters. These include a wide, flared cheek rest for an intuitive and comfortable weld, a convenient paddle-style adjustment lever for rapid positioning and an integrated Picatinny rail on the lower rear of the stock for the addition of a monopod. Furthermore, the stock features quick-release cup pockets on both sides, so QD sling systems are righty and lefty friendly.
Designed to fit Mil-Spec and commercial carbine buffer tubes, the MBA-5 is compatible with a wide array of AR-style rifles. It has 3-inches of length-of-pull adjustment, is outfitted with a rubber butt pad and keeps a rifle nimble, weighing in at a meager 8.95 ounces. The MSPR on the MBA-5 is $49.95 and it's available in black and flat dark earth.
For more information Luth-AR MBA-5 stock, please visit luth-ar.com.
---
Get On Target With The AR:
---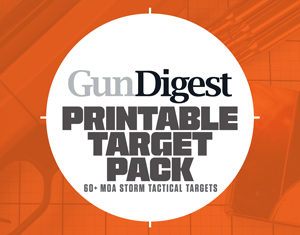 Next Step: Get your FREE Printable Target Pack
Enhance your shooting precision with our 62 MOA Targets, perfect for rifles and handguns. Crafted in collaboration with Storm Tactical for accuracy and versatility.
Subscribe to the Gun Digest email newsletter and get your downloadable target pack sent straight to your inbox. Stay updated with the latest firearms info in the industry.