Yeah, they're expensive, but ultrasonic gun cleaners make quick work of keeping firearms spotless.
When I was a full-time gunsmith, the majority of the work was simple: scrubbing guns. Yep, most gunsmiths who aren't doing mondo-expensive custom work are basically "dishwashers."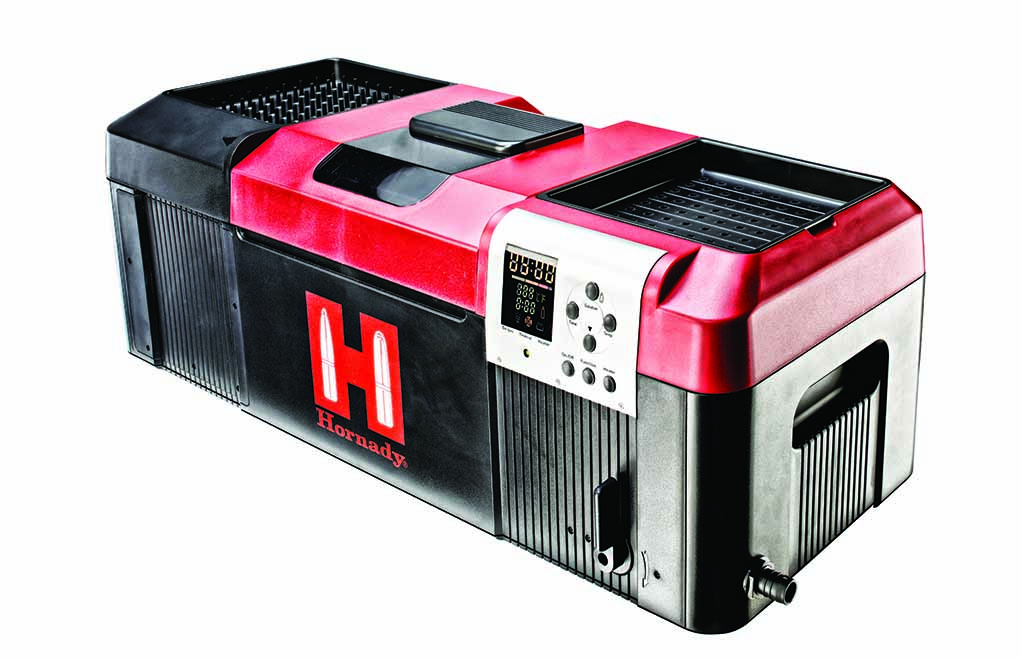 My method was via a parts washer using mineral spirits pumped through a filtration system; then, parts were blown dry with compressed air. It was messy, grubby, mindless work … and there was a lot of it. But, you need not go through that.
The Ultrasonic Way
Ultrasonic gun cleaners use ultra-high-frequency vibrations in a cleaning solution to electronically and chemically scrub the gunk off your firearms (and cartridge cases, should you want to do that as well).
The process is simple: Pour enough of the proper cleaning solution (there are formulations for steel and brass, among others) to cover the part or parts to be cleaned. Turn on the power, turn on the heat (if there's a heat option), and turn on the timer.
When it's done, if the parts are clean, scrape off the gunk that still clings, wipe the parts dry (make sure they're completely dry), and lubricate them. If there's a drawback to this system, that's it. Because the parts are immersed in a water-based cleaning solution, you have to get them dry and re-lube them once they're clean.
Most shooter-level systems are big enough for handguns or handgun parts, and some are large enough to hold an AR-15 carbine upper.
---
More Gun Gear:
---
A 'Minor' Detail to Remember
Some years ago, I happened to see a similar system at a National Guard base. The boxes were half-height refrigerator-sized and held half a dozen M4s each. They're the "industrial dishwasher" equivalent to the basic ultrasonic cleaning system.
Once I'd had a chance to look them over, I asked the sergeant who was present, "How many times does someone forget and leave a red-dot optic on the weapon?"
He rolled his eyes. "Only once each—the cost to replace it is enough to remember."
And that's something you have to keep in mind. There are items, such as optics—red-dot and otherwise—that shouldn't be immersed. In addition, any paint, markings, labels or graphics you've applied to your firearm might not survive the experience of being ultrasonically cleaned.
Cost Considerations Of Ultrasonic Gun Cleaners
The cost of an ultrasonic gun cleaner isn't inconsequential. Hornady makes its Lock-N-Load Hot Tub, which holds 9 liters of cleaning solution. It's big enough to hold an assembled AR upper. It'll also hold other items, such as an MP5-barreled receiver with an integral suppressor stack on it (hey, not everything is regular deer-hunting equipment!).
The cost of this tub is close to $600, but the time and mess it saves could make it a bargain. You can get solutions for cleaning brass or non-brass parts. The Lock-N-Load Hot Tub has heat, a timer and even extras—such as a smaller internal tank so you can run two different batches of parts and not get them mixed up.
Where ultrasonic gun cleaners really shine is if you happen to own a silencer. Scrubbing the gunk off the baffles of a rimfire or pistol suppressor is the definition of "awful." An ultrasonic cleaner makes the job so much easier, you'll actually look forward to cleaning your suppressor (OK, maybe not, but that isn't much of an exaggeration).
And, to clean brass—especially if you team up your ultrasonic cleaner with a brass dryer—you'll be "cooking with gas."
The only drawback, and it's really just a minor one, is the need for counter space (hey, if you were looking for a winter project, why not re-design and re-build your reloading room)?
It was cleaning guns that finally got me out of the gunsmithing business. I figured that in the time I'd been working, I'd scrubbed—and wire-wheeled the rust off—the gas systems of more than 1,000 Remington 742 rifles and probably something like 1,500 Remington Model 1100 shotguns. The thought of another three months of the pre-hunting season rush of doing that again was more than I could stand.
If there'd been gunsmithing-level ultrasonic gun cleaners available then, who knows what my future might have been?
Editor's Note: This article originally appeared in the August 2020 issue of Gun Digest the Magazine.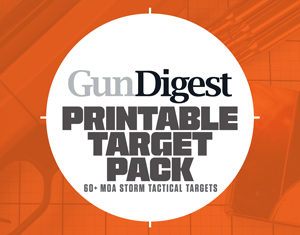 Next Step: Get your FREE Printable Target Pack
Enhance your shooting precision with our 62 MOA Targets, perfect for rifles and handguns. Crafted in collaboration with Storm Tactical for accuracy and versatility.
Subscribe to the Gun Digest email newsletter and get your downloadable target pack sent straight to your inbox. Stay updated with the latest firearms info in the industry.