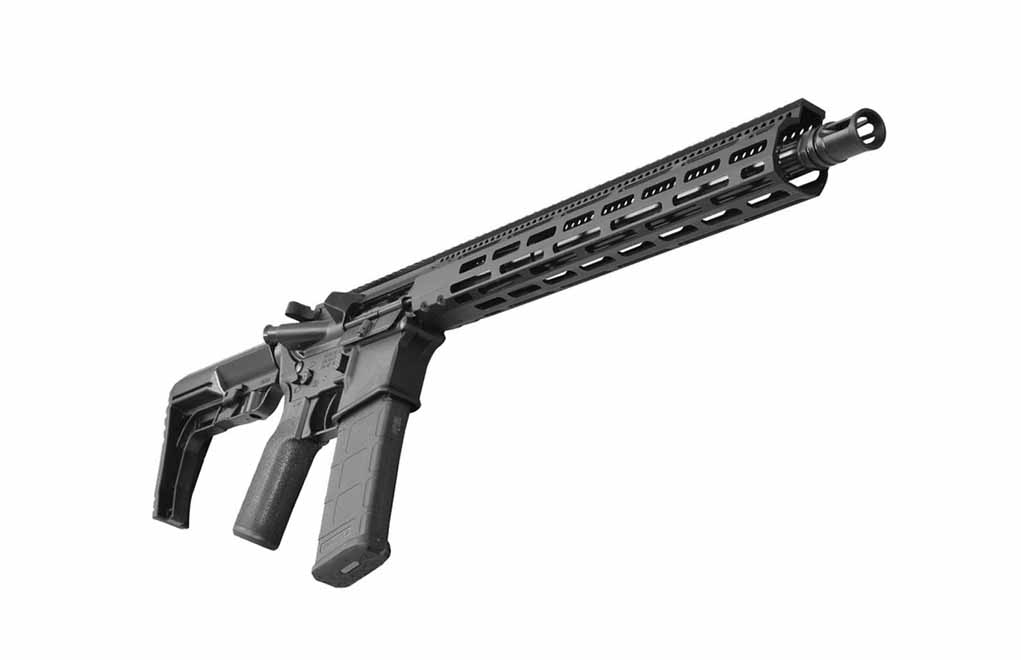 No need to break the bank, these 8 budget AR-15 options will get you on target and leave money for ammo.
What Are The Best Budget AR-15 Options:
White-hot as a plasma cutter, that's how it was around a decade ago. When everyone was certain politics would quash ownership, demand for AR-15 got so out of control the most basic models moved for insane price. A grand, some times more. Hard to believe, but true.
Outside of recent events of pandemic proportions (this was originally written March 2020), American's appetite for the handy rifle has been somewhat slaked. Certainly, shooters still love to build and buy Eugene Stoner's masterpiece. But they aren't donning their high school baseball spikes to trample over the rest of the market to nab one. In a word—again outside recent events—the market has normalized.
The performance of the AR-15 has not. In fact, given the wealth of top-rate ammunition, excellent upgrades and plenty of quality pre-built options, the rifle is better than ever. Spend the money and you can almost guarantee something tailored exactly to your needs. It'll shot like a laser beam and be built to hand down to a son or daughter. The other end of the price spectrum isn't shabby either.
Entry-level models, though not tuned to the level of perfection of the top-shelf stuff, are still worthy investments—especially if you're new to the AR-15 game. Yeah, you'll most likely have a gritty mil-spec trigger out of the box and the handguard will be more Honda Civic than Corvette. But the rifle itself will hold its own well enough for home defense, target practice or even to fill a survival gun role.
That said, we've collected 8 of the best budget AR-15 options that more than fit the bill for these applications and any others you might cook up. Our ceiling for this article is $800, which nets you a pretty good rifle, believe it or not. But before we get to the litany of rifles, it might be worth boning up on some basics of what to look for in an AR-15 in the first place.
AR-15 Considerations
Patrick Sweeney has literally written a stack of books on the AR-15. In turn, the master gunsmith and all-around firearms guru provides a good source in hashing out the particulars of the rifle. He has an excellent article of the points to consider to get the best AR-15 for your buck. It's well worth the read even if you're familiar with the gun.
In synopsis, the aspects he urges you to home in on are:
Caliber
Size
Barrel Length
Stock
Grips
Handguards
Barrel Twist
Construction Material
Overall Quality
Again, follow the link and read up. Sweeney goes much more in-depth on each point to give a well-round view of how to asses a build.
Supplementary to this is Richard Mann's look at AR-15 caliber and cartridge options. While most of the affordable guns we'll look at come in the standard .223 Rem/5.56x45mm NATO, it won't hurt to build an idea about what the gun can and will pitch.
AR-15 Upgrades
Next to the AR-15's performance, modularity is perhaps the gun's greatest attraction. From buttstock to front sight post, there isn't a facet of the rifle that can't be fiddled to perfection. Needless to say, your options are legion and far too vast to cover here. Instead, we'll zero in on one feature of the gun you should consider top of your AR-15 upgrade list—its trigger.
---
Get On Target With The AR:
---
By and large, what is known as a mil-spec trigger is a nasty beast. It'll get your gun to go BANG!, but it won't do much to enhance its performance. As you progress as a shooter, you'll find those crunchy, gritty, squishy triggers detract from your accuracy potential. Thankfully, putting a better bang switch into your rifle is among the simplest upgrades and for the money one of the best values. With that in mind, it's wise to factor an extra $100 to $200 into the base price for an upgraded AR-15 trigger. Yeah, it ups your investment, but you won't find it a waste of money by any stretch.
The fine print behind us lets jump into the meat of the matter.
Best Budget AR-15 Options
Smith & Wesson M&P 15 Sport II
While not as storied a history with the rifle as some, Smith & Wesson has proved more than adept at producing the platform since 2006. It's M&P 15 Sport II is a bare-bones budget AR-15, but one that performs superbly. It's an excellent choice to familiarize yourself with the platform or fill the role as a no-frills fighter for home defense.
The base model has a 16-inch barrel, Armornite finished including the bore and comes outfitted with an A2 front sight and folding Magpul MBUS rear. Standard, the direct-impingement operated gun boasts a 30-round magazine, though Smith & Wesson sells state-compliant models for both capacity and configuration.
Smith & Wesson keeps the rifle simple, which includes chambering—5.56. But the lack of variety in calibers gives the company time to concentrate on the M&P 15's top-notch performance. MSRP: $752, smith-wesson.com
Ruger AR-556
A latecomer to the AR game, Ruger has made up plenty of ground. Its AR-556 has fast become a favorite among newbies and old hands alike, offering clockwork performance at a fair price. Especially the standard model.
As its name implies its strictly a 5.56 chambering, though if you wander up the pricing tiers Ruger does offer some other calibers. The rifle has a medium contour 16.10-inch cold-hammer-forged barrel, with a 1:8 twist rate and is topped with a proprietary flash suppressor. The muzzle is cut with a ½-28 thread, so the AR-556 is more than ready for you to slap on a suppressor.
The budget AR-15 is outfitted with an A2 front sight and the company's rapid-deploy rear that folds away, but is ready at a moment's notice. The AR-556 has attachment points including a QD socket and bayonet lug, for a sling, as well as accessory mounting options. Though, its glass-filled polymer handguard does leave a bit to be desired. Still, it's functional and gets the job done. MSRP: $799, ruger.com
Core 15 Scout
Core Rifles Systems has a solid line-up of AR-15s, include its entry-level Scout. A basic M4-pattern, there isn't a ton of surprises to the carbine, but in this case, boring is good. Well-made and familiar, the Scout is tediously reliable and right on the money downrange. What else do you need?
Core, however, does allow you to upgrade the 5.56 rifle before it gets in your hot little hands, none of the extra's putting the gun over this article's price threshold. Perhaps the most weighty, the option for a nickel-boron bolt-carrier group (BCG). The high-tech alloy is more wear-resistant, as well as self-lubricating, ensuring smoother performance over the long haul. Additionally, you can choose a left-handed configuration and have the option of three color choices: black, flat dark earth and OD green. All in all, pretty slick for a budget AR-15 well south of $800. MSRP: $629, core15rifles.com
Del-Ton Sierra 316L
If you're a penny pincher, Del-Ton is a good brand to fall in love with. The better part of its catalog comes in at less than $800, yet the company doesn't skimp with their builds.
We gravitate to the Sierra 316L ourselves, given the flattop has a better handguard than you'll find on most guns in its class. A free-floated unit, it keeps barrel's harmonics pristine improving the rifle's overall accuracy potential. Furthermore, M-Lok slots at the 3, 6 and 9 o'clock positions give plenty of room for accessory attachment. Plus it has a load of high-end features: chrome-moly-vanadium barrel (1:7 twist), DTI low-profile gas block, phosphate steel carrier assembly, chrome-lined carrier interior, among other things.
The hitch for some on the 16-inch barreled carbine, it's a flattop. In turn, you'll have to invest in an optic or iron sights, if you don't have either. Still, if you're willing to take the extra leap at an aiming solution, the Sierra 316L provides you a superior platform for an entry-level price. MSRP: $675, del-ton.com
Palmetto State Armory (PSA) PA-15
Long a purveyor of excellently priced and made ARs, few top Palmetto State AR Armory when it comes to value. Again, it's one of those companies where budget AR-15 options are the norm, but its base model PA-15 is tough to beat when you're getting your legs with the platform. First and foremost, because the carbine ticks like a clock, leaving you free to master the platform, not addressing stoppages (though, you should work on that too).
The M4-pattern carbine boasts a 16-inch M4 profile chrome-moly-vanadium barrel (1:7 twist), mid-length gas system and aircraft-grade aluminum receivers. It has an A2 front sight and Magpul quick deploy rear, as well as a stainless-steel carrier and Carpenter 158 steel bolt head, which is tough as nails. In the rear, the 5.56 has a 6-position buttstock, upfront a Magpul MOE carbine-length handguard, which does boast some M-Lok real estate. A plain-Jane build, to be sure. But one you can count on. MSRP: $719, palmettostatearmory.com
Radical Firearms
One of those hidden gem companies, Radical Firearms gives you a lot of options in piecing together your gun. One of the most welcome, the choice of rails. In all, there are five styles to choose from, better matching the gun to your particular application. The ultralight FCR, ridge FGS and quad-rail FGQ all keep the carbine's price rock-bottom; but the suppressor-friendly MHR and ultra-slim RPR won't break the bank. In all cases, they free-float the barrel, offer a ton of attachment points and boast top rails that runs seamlessly into the receiver.
Even better, with Radical you have caliber options running from 5.56 NATO up to .450 SOCOM. Though, only the standby AR caliber and .300 Blackout chamberings keep the gun at its most economical. The one hang-up, it does require you to invest in an optic or iron sights. But with everything else—including price—Radical Firearms offers that's a small bump with this budget AR-15. MSRP: Starting at $599, radicalfirearms.com
Aero Precision AR-15M
Aero Precision makes a dang fine rifle and, if you're a bit more advanced, have nearly everything you need to piece one together. If you're in the market for something well-priced and fit to meet any challenge, its AR-15M is right down your alley. The M4-pattern carbine is nimble, on-target and easy on the wallet.
What the budget AR-15 brings to the table is what you'd expect out of a well-made carbine: 16-inch chrome-moly-vanadium barrel, mid-length gas system, stainless steel carrier group and carpenter 158 alloy bolt. Additionally, it's outfitted with an A2 front sight, Magpul MBUS rear and A2 flash hider. Honestly, you'll find the configuration on plenty of other builds. However, Aero ensures the fit of their guns is tight and that they perform near flawlessly. In the end, that's what you really need. MSRP: $739
Discontinued, But Available Budget AR-15
Bushmaster XM-15
Bushmaster has been shuttered by Remington, along with all its other MSR holding. A shame, since for more than 40 years they turned out a solid rifle, many well within most shooter's budgets. The XM-15 sure was. While its certain supplies of this budget AR-15 will start to dwindle, they are still available and generally come in at the $600 mark or below. Given, like all ARs, the M4-pattern carbine is completely aftermarket supported it could prove a solid investment for those willing to hunt one out. Not to mention, a little nostalgic to boot.
NEXT STEP: Download Your Free Storm Tactical Printable Target Pack
62 Printable MOA Targets with DOT Drills - Rifle Range in YARDS
This impressive target pack from our friends at Storm Tactical contains
62 printable targets
for rifle and handgun range use. Target grids and bullseye sizes are in MOA. Ideal for long-range shooting!
Get Free Targets
---