Updated 7/11/2020
Of all the Henry rifles, these five are the top of the bunch.
What Henry rifles do you need in your collection:
Everybody Loves Henry
Henry rifles… utter the phrase and even the most novice firearms enthusiast knows of what you speak. It's brass and hardwood and lever-actions and a good dash of the old west. Tried and true performance and perhaps more fun than might be legally advisable.
The New Jersey-based company has become legendary in a relatively short amount of time. Just a quarter century that's all the gunmaker has been around. But in an industry that tends to measure longevity in half and full centuries, it's a blink of an eye. And Henry's success, in many respects, came against the odds.
Historical Beginnings
Always steeped in old-style firearms, Louis Imperato started the company as a manufacturer of replica black powder revolvers in Brooklyn, NY in 1993. Acquiring the rights to the Henry Repeating Arms brand name soon after with his son and long-time company president, Anthony, the company soul product was what is now known as the Classic Lever-Action .22. Black powder and lever-actions, gutsy choices in the go-go 1990s and right on target.
Striking a nerve with the American shooting public, those humble roots blossomed into one of the country's most substantial gun manufactures. Now, Henry Repeating Arms are made in two states (New Jersey and Wisconsin), has roughly 250,000 sq. ft. of manufacturing space and employs more than 475 people. Furthermore, they turn out everything from rifles, shotguns even pistols (yes, the Mare's Leg is considered a pistol) in lever-action, semi-auto, single-shot, even pump action. The gunmaker even dusted off the old 1860 Henry Rifle design in recent years, truly helping it live up to its name.
The Five
Impressive, still for many one thing will always come to mind when talking Henry and that's Henry rifles. And like any Titan, the company has produced some must-have models over the years. So, without further ado, here's a look at five Henry rifles no gun safe is truly complete without.
All-Weather Lever-Action .45-70 Government
Chance meetings with coastal browns or big timber bull elk, you might not find better medicine than the .45-70 Government. Furthermore, it's arguable Henry's All-Weather Lever-Action is the ideal delivery system. Configured as a guide gun, the 18-inch barreled rifle is nimble as they come allowing shooters to deliver 300 to 500 grains of heavy metal to a target in a snap. Though, with a more tactical bent, the Model X is also a solid choice, especially given it boasts a loading gate. Many will consider this a huge advantage. As to the All-Weather, a semi-buckhorn rear sight aids in its quick-handling, especially with a diamond insert that draws the eye intuitively to the notch, while also providing the capability of more precise work at distance. Furthermore, the rifle comes drilled and tapped, so adding a scope requires minimal effort.
Some will have a bone to pick with the four-round lever-action, given metal components are hard-chrome plated, not stainless steel. Yet, the treatment, when done properly adds hardness to the surface of the metal components, reduces friction and proves as resistant, if not more so, than some stainless steel. A break from in looks from most Henry rifles, the furniture is dark – jet black, due to specially-treatment to the walnut meant to resist temperature, moisture and abuse. Some might like the idea of polymer better, but the hardwood isn't a particularly bad option on the .45-70, giving the gun recoil-eating heft. MSRP: $1,050
Long Ranger .243 Win.
Users demanded it and Henry listened. A newish addition and a break in design from traditional Henry rifles, the Long Ranger has succeeded wildly in its charge. As its name suggests, the rifle aims to extend the range of Henry's lever-actions, which forced the company to reevaluate how they'd tackle the platform. The receiver is longer, made of aluminum and features a six-lug rotating bolt, as well as a removable box magazine. The results are more than respectable, given the Long Ranger is capable of MOA performance with the benefit of lever-action speed.
The nice part, Henry didn't compromise in creating what is fast becoming a shooter favorite. Despite the modernization, the Long Ranger is completely American made and retains the attractive lines common to Henry rifles. To the latter point, the rifle's straight grip, excellent walnut stock and sharp checkering (fore-end and grip) go a long way towards this end. Available with or without iron sights, in either case, the rifle comes drilled and tapped, so adding a scope is no fuss, no muss.
To my mind, the mild recoiling, yet highly effective .243 Win., would get plenty out of the 20-inch barreled rifle and potentially makes it pure dynamite for anything from deer down to varmints. Yet there are no complaints about 6.5 Creedmoor, .223 Rem./5.56 NATO and .308 Win. options, which opens the rifles to nearly any application short of dangerous game. MSRP: $1,066
Golden Boy
Might it be the finest .22 LR to ever come down the pike? There's certainly a case for it. Even if it didn't happen to boil down the "Best," there's still no denying the Golden Boy is a hell of a fun gun to run. From Hollywood cowboy good looks to fast action, and of course accuracy, the brass-frame rimfire has and continues to mesmerize shooters of all ages. Why not? In practiced hands, the 20-inch octagon barreled lever-action is nearly as fast as any semi-auto out there and, with rich walnut, is more attractive than most of that lot. Easy to see why the Golden Boy is among the most popular of all Henry rifles.
Thing is, looks and tradition come at a cost, above and beyond dollars and cents. The rifle is heavy for a rimfire, a whisker under 7 pounds. This aspect could make it a bit cumbersome, especially in young hands, walking timber after squirrels or cottontails. And yes, there is a price – monetary this time – to get behind the Golden Boy's business end; it runs nearly twice as much as most Ruger 10/22. Then again, just look at it – you're not getting cheated. A few of the other notable points on the rifle are a semi-buckhorn rear sight, tapped and drilled receiver (for scope) and a transfer-bar safety so the rifle is safe to carry with a round in the chamber. MSRP: $587
---
Raise Your Lever-Action IQ:
---
Big Boy Classic .44 Mag.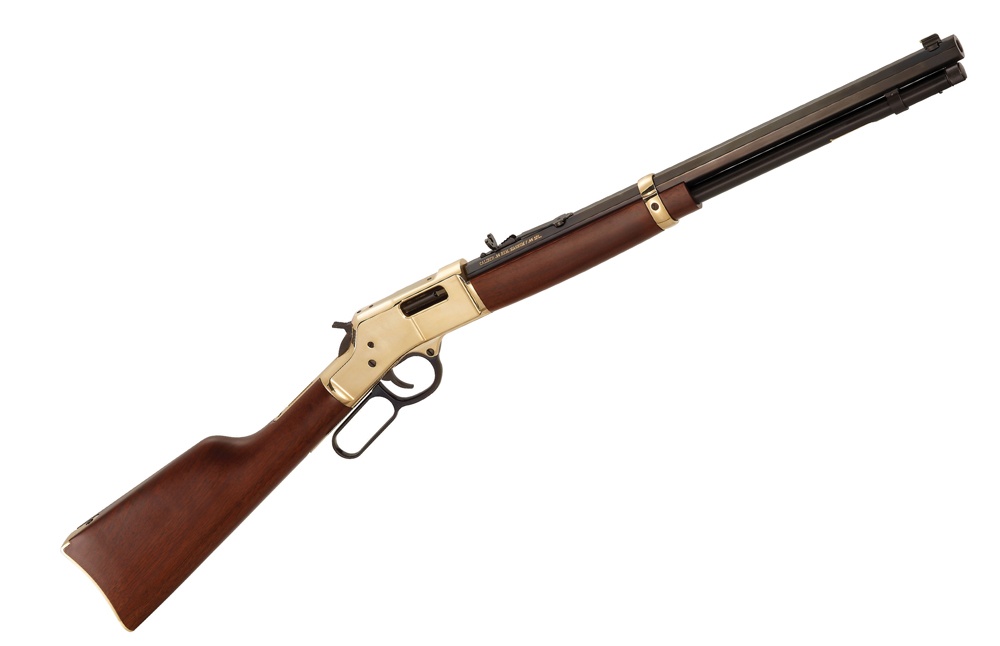 Pistol-caliber long guns tend to raise some shooters' hackles. But Henry's Big Boy line of lever-actions smashes most of their objections. Chambered in a wide selection handgun magnums, the rifle is plenty powerful, in many cases substantially enhancing a cartridge's ballistics compared to a revolver. How much more? In the neighborhood of 300 to 400 fps, when making the jump from a 4-inch barreled handgun to an 18-inch barreled rifle. In the end, you're left with a manageable firearm with the chops to defend your home and put meat on the table On top of that, with the Big Boy you'll look good doing so.
Of the nine models and seemingly endless variations, the Big Boy Classic has the most to offer in the aesthetics and flexibility departments. Though, the more tactically configured Big Boy Model X comes in a close second, given it conforms more to modern-shooters' wants and needs, such as a rail and loading gate. As far as the Classic goes, it's brass-frame (it is a Henry after all), rich walnut, semi-buckhorn rear sight and octagon blued steel barrel, the model is the epitome of the company's gun-making ethos. Additionally, with five caliber choices (.44 Mag., .45 Colt, .357 Mag., .41 Mag., and .327 Fed Mag.) it's fit to fill any role you demand of it. All of the options are solid, though, it seems a crime not to go whole hog with a Big Boy and chamber it .44 Magnum. MSRP: $945
U.S. Survival AR-7
The most practical of all Henry rifles, the AR-7 has lifesaving potential. Designed by Eugen Stoner as a survival gun and optimized to provide rugged performance no matter the circumstances, the semi-automatic stays at hand wherever you might venture.
The bugger is only 3.5 pounds and, when broken down and stowed in the buttstock, roughly 16-inches in length. That compact, it's ideal to stow in a rucksack for a deep backcountry trek or as an emergency gun in a boat, car or camper. Additionally, the AR-7's weight, or lack thereof, means you can pack in more ammo – never a bad idea.
Constructed of ABS plastic, foam filled, the stock gives the rifle a unique property – it floats. Or at least it does when broken down and stowed in the watertight stock. The 16-inch barrel is steel covered with corrosion-resistant ABS plastic, which attaches to the receiver via a barrel nut. The receiver then slides directly into the stock and stays in place via a set screw. Assembly takes less than a minute. The blowback rimfire feeds off 8-round steel magazines and has a 3/8-inch accessory rail, so an optic is a possibility. Barebones, the semi-auto comes outfitted with a rear peep-aperture and front blade. Best of all, for the penny-wise prepper, the AR-7 comes nowhere close to breaking the bank. MSRP: $305 (Black finish model)
Were we on target with our Henry rifle picks? Do you have favorite in the list? What gem did we miss. Tell us in the comments below.
For more information on Henry Rifles, please visit henryusa.com.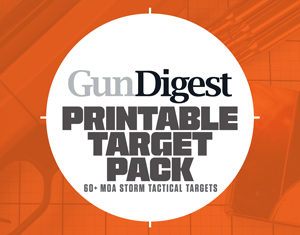 Next Step: Get your FREE Printable Target Pack
Enhance your shooting precision with our 62 MOA Targets, perfect for rifles and handguns. Crafted in collaboration with Storm Tactical for accuracy and versatility.
Subscribe to the Gun Digest email newsletter and get your downloadable target pack sent straight to your inbox. Stay updated with the latest firearms info in the industry.