The history of Henry rifles is intrinsically tied to the taming of the American frontier, so let's take a deeper look at the first commercially successful lever-action.
These days, rifles like the AR-15 have seduced the younger generation of gun owners, causing them to overlook the lever-action rifle's versatility, simplicity and reliability. Lever actions aren't just for old guys living out their John Wayne fantasies; they're still very usable rifles in a practical sense, as well as being extremely fun to shoot.
Few rifle designs have been as impactful on American history as the 1860 Henry rifle. Seeing as it was the basis for the rifle that won the West, the Winchester 1873, Benjamin Tyler Henry had more of an impact on the United States expiation westward than he could have dreamed of. I doubt that when Henry watched the first 1860 Henry rifles leave the factory, he suspected that, 160 years later, his name would grace nearly 300,000 firearms a year.
That isn't a result of the rifle's initial success, but rather the impact the design had on Anthony Imperato, who partnered with his father, Louis, to bring the Henry name back to the firearm world in 1996. Since the first Henry H001 Classic Lever Action .22 LR rolled off the production line, over a million have made their way into the hands of nostalgic Americans. Sure, there isn't a direct connection to Benjamin Tyler Henry, but you have to appreciate Henry Repeating Arms' role in keeping the timeless lever-action design alive and well.
Without Henry, younger generations of shooters wouldn't know anything other than AR-15s and the like. Attainable, American-made lever-action rifles ensure that today's gun-loving youth won't overlook the lever-action rifle's versatility, simplicity and reliability. Nothing else seems to replicate the magic of a well-built lever-action.
The First Henry Rifle
You can't talk about Henry Repeating Arms without talking about the 1860 Henry Rifle; it did become the basis for virtually every rifle Winchester produced following it. The design actually dates back to 1848, when Walter Hunt built a couple prototypes of his revolutionary lever-operated rifle, but there were still some design issues that needed to be worked out.
Several other men tried their hand at improving the action, and it was finally produced in some volume by the Volcanic Repeating Arms company. Production at Volcanic lasted only a year with an unknown number of rifles built, when Oliver Winchester took over the company and reorganized as New Haven Arms Company, where Benjamin Tyler Henry put the final touches on what we think of the classic Henry rifle while working as plant superintendent.
With the improvements to the rifle and a brand-new cartridge, the .44 Henry rimfire, the 1860 Henry saw limited success with roughly 14,000 rifles produced.
Load on Sunday, Shoot All Week
Just because the Henry didn't see the large-scale adoption the Spencer rifle saw shouldn't fool you; Henry's rifle makes appearances in some notable events in American history. Even President Abraham Lincoln was given a beautifully engraved gold-plated rifle, as was the Secretary of War and the Secretary of the Navy. The obvious goal was mass adoption of the Henry rifle, but New Haven fell short of their goal, with only 1,731 of the rifles being delivered to the U.S. Government.
With such a small purchase, the Henry was never formally adopted, but more than 6,000 of the rifles ended up in the hands of Union troops who purchased them out of their own pocket rather than use the issued Spencer rifle. The Henry's 15-round capacity made it particularly attractive to raiding parties, scouts and those assigned with flank guard duty.
When Confederate Colonel John Mosby referred to the Henry as "that damned Yankee rifle that can be loaded on Sunday and fired all week," it was clear that Henry's rifle had an impact. That all ended in 1866, when production of the Henry rifle ceased, and New Haven Arms was restructured again as Winchester Repeating Arms. The rifle would go on to be developed into the Winchester 1866, which saw a long, 33-year production run and wide-scale adoption with foreign armies and those seeking fame and fortune in the West.
The Henry Name Is Resurrected
Once production of the 1860 Henry ended, the Henry name faded into obscurity until Anthony Imperato trademarked the name in 1996. Anthony and his father, Louis, set up a manufacturing facility in Brooklyn, New York, to produce the Henry H001 .22 rimfire lever-action 131 years after the last rifle to bear the Henry name came off the assembly line.
Since there isn't any affiliation with Benjamin Tyler Henry or New Haven Arms Company, the company started by the Imperatos wasn't really bringing a defunct company back, but rather the birth of a brand-new one that paid homage to an influential design.
With a blank canvas, Henry Repeating Arms has grown to a size that Benjamin Tyler Henry would've never even dreamed of in the mid 1800s, with no signs of slowing down. Today, Henry employs nearly 500 people and has over a quarter-million square feet of manufacturing space between their headquarters in Bayonne, New Jersey, and Henry's second facility in Rice Lake, Wisconsin.
When the slogan "Made in America Or Not Made at All" was chosen, they weren't playing around. Every Henry is born in the United States; there are no exceptions … ever.
A Model for Every Need
With two facilities that you could pack over five football fields into, it shouldn't be a surprise that their product lineup is pretty dang expansive. Boiling it down to the basic models without taking into account variations in barrels, finish and caliber, Henry has something like 12 models to choose from. That number jumps to 253 when you start adding in caliber, finish and other variations.
Even if you only have a cursory interest in owning a lever-action, there's likely something in the Henry catalog that you'll appreciate in their trademark brass finish, polished silver, black or my personal favorite option, case colored.
The Classic Henry H001 .22 Rifle
If you're looking to scratch the Old West itch, there are few better choices than a Henry H001. Over a million have made it to the market as of 2017. Currently, the H001 isn't offered in a side gate variant, and no plans to offer one have been announced. It isn't hard to understand why when you take into consideration that the palatable $405 MSRP would increase quite a lot to offset the increased complexity of a side gate H001. That isn't to say that it wouldn't be awesome, because it would.
The rifle is chambered in .22 LR, but it'll also shoot .22 Long and .22 Short … offering more versatility than a 10/22. The overall feel of the rifle is very retro, with adjustable buckhorn sights and American walnut furniture. Loading is done just like all Henry rifles, by removing a removable plunger tube from the magazine, sliding the rounds in and then replacing the plunger tube.
Variants ranging from the standard H001 to customized special editions are available; there's no shortage of choices.
The Mare's Leg Pistol
One of the more unique firearms in the Henry lineup is their Mare's Leg, a lever-action pistol modeled after Steve McQueen's character on the late '50s TV show Wanted: Dead or Alive. The pistol is available in .22 Long Rifle, .22 Magnum, .357 Magnum, .44 Magnum and even .45 Colt. Unfortunately, the Mare's Leg isn't offered with Henry's new side gate, but that's bound to happen sooner or later.
Henry Big Boy Rifles
Like the first lever-actions, the Henry Big Boy rifles are chambered in what ends up being an intermediate cartridge. Offered in .357 Magnum, .44 Magnum and .45 Colt, the Big Boy might be an ideal option if you're looking for a rifle that shares the same cartridge as your revolver.
While you might think you need a .30-30 Winchester or even the Long Ranger to take medium game, the Big Boy will do it in a handier package with less recoil. The .357 Magnum case color is a personal favorite, with a 125-grain out of a 20-inch barrel performing very similar to a 7.62x39mm or .300 Blackout in a carbine.
A Big Boy might even be a great choice for a defensive rifle should you live in a restrictive area, or if you feel more comfortable with a lever gun than a semi-auto.
Large-Caliber Lever-Actions
Henry's large-caliber lever actions are very similar to the Big Boy rifles—they're just chambered in .30-30, .45-70 Government, .38-55 Winchester and .35 Remington.
The large-caliber rifles were the first to be updated with the new side gate and maintain the removable plunger, should you prefer to use the tube to load rather than the side gate. The ability to remove the magazine tube plunger means that downloading your rifle after a hunt won't put unneeded wear on your ammunition. Options aren't a bad thing sometimes.
Pump-Action Rimfire, The Long Ranger & Shotguns
If your particular brand of nostalgia is reliving those times at the fair with a pump-action .22, the Pump Action Octagon might be what you need. Sadly, there aren't any other pump-action rifles in the Henry product line.
How about something for hunting longer ranges than a .30-30 Win. is capable of? The Long Ranger is aptly named—it's chambered in .308 Winchester or 6.5 Creedmoor. Since the ammunition wouldn't work so well in a tube magazine, Henry fitted this rifle with a detachable box magazine, and the rifle's mechanism is significantly different than the rest of their line because it relies on a rotating bolt. As weird as it sounds, the idea of a 6.5 Creedmoor lever action can be appealing due to its uniqueness.
The lineup gets a bit weird when we look at their shotguns: Not only does Henry offer 12- and 20-gauge single-shot break actions, but they also offer a lever-action .410 shotgun based off the large-caliber lever-action rifle, as well as the Lever Action Axe. The Axe is a non-NFA firearm and, like all their lever-action .410 shotguns, it features a side gate loading port.
New Original Henry Rifles
The most coveted of Henry rifles is, without a doubt, the New Original Henry Rifles. Carrying an MSRP of $2,590, it might seem like they're priced crazy high when compared to the rest of the Henry line, but that changes the second you realize a New Haven produced 1860 Henry rifle will set you back about the same money as a brand-new Porsche 911.
If you want an 1860 Henry you can actually enjoy on the range, the Henry New Original Henry is the ticket.
Modernized X Models
In an effort to bring the lever action into the 21st century, Henry introduced the X Model with the features that a younger-generation shooter might look for, such as M-Lok slots and a rail to mount a bipod or flashlight. The biggest benefit is the fiber-optic sights and the threaded barrel. With suppressed hunting legal in many states, the ability to add a can is a welcome option.
Integrated sling mounting points, a side gate loading port and synthetic furniture make the X Model a workhorse that's sure to serve someone for decades.
What does the future hold for Henry Repeating Arms? Well, those secrets are kept locked up pretty tight, but hopefully a wood-stocked variant of the X Model is on the books. Whatever the case, the Henry brand is here to stay for generations to come.
Editor's Note: This article originally appeared in the 2021 USA special issue of Gun Digest the Magazine.
---
Raise Your Lever-Action IQ: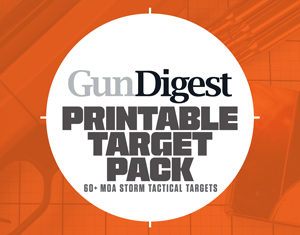 Next Step: Get your FREE Printable Target Pack
Enhance your shooting precision with our 62 MOA Targets, perfect for rifles and handguns. Crafted in collaboration with Storm Tactical for accuracy and versatility.
Subscribe to the Gun Digest email newsletter and get your downloadable target pack sent straight to your inbox. Stay updated with the latest firearms info in the industry.