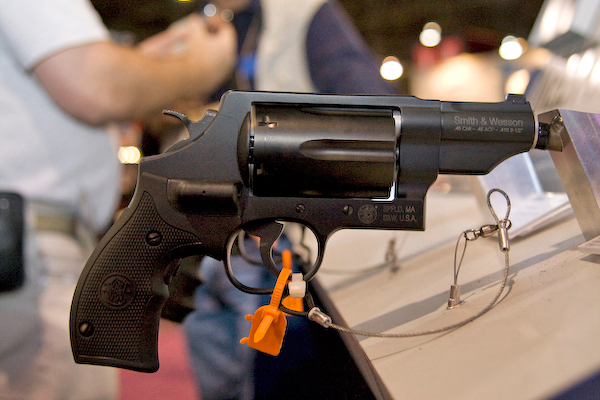 Gun Digest: How can the Guns & Values book save gun buyers on their next purchase?
Jerry Lee: The Official Gun Digest Book of Guns & Prices covers virtually every brand and model of firearm made or sold in the United States since the mid 1800s. We include information on the many different model variants, specifications, calibers, and features that can add or detract from values. Prices are shown for different grades of condition and give the reader a starting point for determining what a given gun is worth in today's market.
Gun Digest: How does it help gun buyers and sellers understand the gun market (should it be carried to gun shows?)
Jerry Lee: This book gives estimated retail values for firearms — in other words, the probable asking prices one would expect to see in a gun store or at a gun show. Whether buyer or seller, it's important of course to have an idea of "what's it worth?" before you walk in the door. As with any item, you have to allow for a reasonable profit margin for the seller. What's reasonable? That depends on the gun's rarity or popularity, the seller's overhead, and often regional and seasonal differences. Deer rifles in late summer or early fall are likely to be priced higher as hunting season approaches than at other times of the year. So, if you are offering a gun to a dealer, do not expect to get a "retail" price but probably 20 to 40 percent below what the dealer expects to get for it. Which means you are usually better off selling it yourself. (Be sure you know the laws in your area and follow them. Background check legislation is an ever-changing thing today.)
The Official Gun Digest Book of Guns & Prices is sized to make it portable enough to take to a gun show. I can't image going to a show without it. Whether you're buying or selling, you have to know the market. Plus, the book is full of information on the history of many popular guns, when they were made, changes over the years, etc. Guns that are currently in production are many times priced less than the MSRP.
Gun Digest: From where are the values derived?

Jerry Lee: We consult the major auction companies that specialize in firearms, among them James Julia, Rock Island, Heritage, Amoskeag and others. Auction prices are especially helpful in keeping up to date on high-end collectible values. We also have a group of experts who give us input every year on specific brands and models, trends in popularity, what's hot and what's not.
Gun Digest: What is the scope of content, how does it compare to other gun value books?
Jerry Lee: To keep the size of the book more compact and portable, the main difference in the Official Gun Digest Book of Guns & Prices and Standard Catalog of Firearms is that Standard Catalog includes thousands of photos to illustrate the guns. This adds hundreds of pages to the size of Standard Catalog. The photos are nice to have if you're reading the book in your easy chair at home, but not if you're walking through a gun store or a show. Blue Book also has no photos, except for a few to illustrate a rather complex grading system. Blue Book also has information on some of the more obscure manufacturers, which pushes the number of pages much higher, plus a higher suggested retail price than the other gun value guides.
 
Gun Digest: Can you share any personal examples of yourself or someone you know being ripped off? How would a book of this type have helped?
Jerry Lee: In my younger days I often bought, sold or traded guns at gun shows. This was long before any price guides for used guns were in print. There were times when I later realized I got the short end of a deal, mainly just for not having a better idea what the gun or guns were worth.
Gun Digest: Anything that didn't make it into the book you can share?
Jerry Lee: It's a long process, generally four to six months to gather the information on new guns, consult with our experts on changes in values, new companies that have come along, old companies that have gone out of business, moved or merged with other companies. We often hear rumors about things going on in the industry and firearms legislation, for example, but we have to remember that what we publish will be on the bookshelf for years. That often leads to last minute changes in the book. We are careful not to list a new gun company until we know that production is under way and that they will be around for a while. As in other industries, a new company or even an existing one, will introduce an exciting new model at the SHOT Show, and then wait for orders to come in before actually putting it into production. So, we try very hard to make sure that what is in our book is accurate and up to date.
---
Get your copy here…
The Official Gun Digest Book of Guns & Prices 2016, 11th Edition
Fully updated, The Official Gun Digest Book of Guns & Prices, 11th Edition is the perfect companion to take to any gun store, show or auction. The comprehensive guide gives you the power to identify and price thousands of non-military firearms from around the globe. Yet the wealth of information this volume provides has been condensed into an easy-to-use format and portable size. Order here