Gun Digest asked co-editor Andrew Johnson to highlight some things he learned about current gun offerings while researching gun values for the latest edition of Gun Digest Book of Modern Gun Values. Here are his responses.
Gun Digest: In putting together the new Gun Digest Book of Modern Gun Values, what were some notable examples of new guns that caught your attention?
Andrew Johnson: Being an avid upland game hunter from South Dakota, Benelli's entry into the over-under shotgun market with the addition of the 828U to their existing lineup of semi-auto and pump shotguns was noteworthy. It'll be interesting to see if Benelli continues down this path with even more models after dipping their toes into the over/under market.
The new handguns from Armscor/Rock Island Armory also caught my eye. At first blush, their various lines of full-size, sub-compact and compact styles would seem to fit any handgunner's personality. Perhaps what's more interesting is their new, proprietary 22 TCM caliber offering in several 1911-style semi-auto pistols. Armscor/Rock Island claims the 22 TCM is a low-recoil load that can still produce muzzle velocities of 2,000 fps, which is flat-out amazing from a handgun.
Gun Digest: Your main role in editing the latest edition of the book was hunting up new firearms. What trends did you uncover?
Andrew Johnson: While 1911-style handguns still reign supreme, it seems the idea of lighter, compact models is the new mantra of many handgun manufacturers.
For example, several large manufacturers added compact and subcompact models to their existing lines of full-size, popular models. Updated models from Kimber, Sphinx and Ruger reflect this trend.
What's more, several manufacturers chose to add completely new compact models instead of updating their existing lines of handguns. Beretta, for example, has made a conscious effort with its Pico and Nano models to appeal to the growing interest of the compact conceal-and-carry crowd.
With rifles, it seems the market is trending toward satisfying the growing desire consumers have for modern sporting rifles. It was apparent when compiling the list of new rifles that manufacturers were developing more AR-platform models than adding updated or new models of bolt-action rifles.
At the same time, the apparent trend with the new bolt-action rifles hitting the market was that less is more. Several manufacturers now carry budget-friendly, no-frills series of bolt-action rifles that appeal to a buyer's wallet without sacrificing accuracy. Updated or new examples of this trend include the Savage Axis, Mossberg Patriot, Ruger American, Remington 783, Tikka T3 and Winchester XPR models. A variety of calibers, stock options, finishes and even scoped packages are available within each of these series, appealing to a wide range of shooting and hunting interests.
Gun Digest: For someone unfamiliar with the book, what can they expect to find inside — how can the average gun owner who buys, sells and researches guns use the book to his/her advantage?
Andrew Johnson: This book is a great tool not only for gun lovers and collectors, but it's also ideal for people in the market for a new or used handgun, rifle or shotgun. It's also useful for folks who plan on selling firearms for the proper value.
The book provides a brief description of each gun on the market today, as well as those that have been discontinued. Below each model's description is a basic price guideline for varying degrees of quality, such as new, excellent and very good. The prices, of course, are meant for reference only, but they can provide an accurate estimate for most anyone on how much a firearm is, or perhaps more importantly, isn't worth.
Additionally, thousands of photographs have been carefully selected to represent the best picture of many models or even to help illustrate subtle nuances that set certain models apart from other firearms.
Long story short, this is a comprehensive list of firearm models and values that is a must-have for anyone looking to increase their knowledge and understanding of today's market.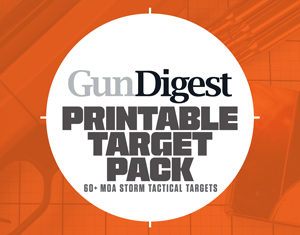 Next Step: Get your FREE Printable Target Pack
Enhance your shooting precision with our 62 MOA Targets, perfect for rifles and handguns. Crafted in collaboration with Storm Tactical for accuracy and versatility.
Subscribe to the Gun Digest email newsletter and get your downloadable target pack sent straight to your inbox. Stay updated with the latest firearms info in the industry.