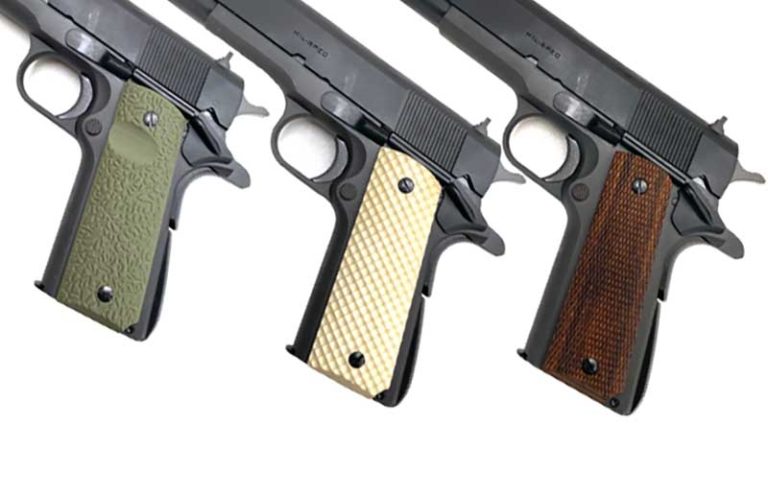 These simple 1911 upgrades can improve the feel and performance of your 1911 with little to no hand-fitting required.
When we talk about upgrading the 1911, it's often not an easy process. As I detailed in my recent article, "So, You Want to Build a 1911?", there's rarely such a thing as a true "drop-in" part for a 1911. Those looking to make upgrades are thus in for a bit of work, sometimes in the form of a major project and others as a simple bit of file work.
But here's the good news: Upgrading your 1911 isn't difficult if you have some patience and know where to make an educated, low-effort change that enhances performance.
Wilson Combat's Quick Fixes For Function
Unlike today's newly designed guns, the century-old 1911 design doesn't always come out of the box running well. I've had some versions of the old warhorse that, as it turns out, were expensive paperweights.
These guns were delivered from some well-known, name-brand makers. Yes, it's regrettable and fully possible that $1,200 gun you saw at the gun shop will malfunction with hollow points. The old man remedy is to polish the feed ramp or "break it in" for reliability, but if your gun needs a 500-round break-in period (easily $300 to $750 in today's ammo prices), what you're really getting is a gun that has corners cut in manufacturing, and the burden of performance is on you, the buyer, not the maker.
I've got little time for excuses. My prized Colt M45A1 you've likely seen grace these pages has seen 15,000 rounds with no malfunctions to speak of, and this from a gun that came off the standard Colt assembly line. Brand notwithstanding, this is how a 1911 should perform in the 2020s; there's simply no excuse for a modern gun to require a break-in for function.
If you're having reliability issues, the first thing I'd do is upgrade to Wilson Combat magazines. When I get a 1911 in for testing, I never use the factory mags because the only brand of 1911 mags I trust is Wilson. These mags are superior in design and execution, and even in troubled 1911s that have feed issues with different bullet shapes, I've noticed most problems go away instantly. I like to replace the plastic base pad on mine with the steel version. It's low profile and aesthetically pleasing while still allowing enough protrusion to allow you to slam it home.
The magazine issues are also sometimes tied to the magazine release itself. Again, I look to companies like Wilson Combat for their Bulletproof line of parts. They make several lengths of releases depending on if you're looking for something for competition or carry, but I'm more concerned with the internal geometry.
Many 1911s have issues with seating the magazine or allowing an empty mag to drop free. If I'm experiencing this issue, my go-to fix is to upgrade to one of the Wilson releases. They're better made as far as the internal angles, and they immediately remedy hard seating or mag sticking.
If I'm experiencing extraction issues, I'll immediately drop in a Wilson Bulletproof extractor. This is a completely drop-in upgrade that'll improve ejection and feeding issues if you're having lock-up problems or failure of the slide to go into battery. I heartily recommend this for all 1911s; the part is just so cheap and so good that including it makes complete sense, especially when looking to spruce up a used gun or a gun show find.
The last Wilson part I'll address is the drop-in beavertail safety for GI-type frames. This is a no-gunsmith option that allows you to switch from the uncomfortable and often hand-biting GI grip safety and provides the shooter with greater control and comfort. The only issue with this part is that it's quite obviously designed for some variance in frames and, as such, there's a gap between the beavertail and the frame. This is largely cosmetic, but for some people that's a deal-breaker. A note here is that you'll also need to swap out the hammer to a modern style; the spurred GI type won't work with the beavertail.
Cylinder & Slide Has The Guts To Perform
The internals of the 1911 can be frightening when they all come spilling out. I recall being dumbfounded as I did a full disassembly on my first one. Once you get the hang of how they all fit together, it usually goes in a wide bell curve of dread to confidence then back to dread. At the peak of our Gaussian curve, we look at it with understanding, but in my hard-earned and advanced skill set I've gone back to terror in knowing just how much can go wrong if I make one errant file stroke.
Suffice to say, my days of hand-fitting internals for fun are over. I very much prefer what are known as "trigger pull kits," like those made by Cylinder & Slide. These are top-notch parts that are of extremely high quality and hardness. I've fitted many of these kits over the years and can say that for virtually all factory frame guns there's very little, if any, fitting to be done. Note: I'm not saying these are truly drop-in, but they're extremely close.
If you want a substantial upgrade over factory triggers, this is a safe way to go, and the C&S parts do exactly as they advertise. My go-to kit is the 4-pound version for .45 ACP. I also have a fondness for the three-part MARSOC pull kit, though this is just the hammer, sear and disconnector. I prefer a stiff, crisp pull on my 1911s for carry, but for field use I like just a hair of take-up and overtravel. The C&S kits can be used in tandem with each other, though your end result may be a bit different than advertised.
Grips: More Than Looks
The simplest and probably most overlooked drop-in upgrade you can make to your 1911 for functional improvement is the grips. The grip is your interface with the gun. Yet, grips are overlooked today with polymer-framed guns being popular. It's exceedingly common to send your Glock out to have the frame stippled for better grip, likewise to see people add stick-on textured grip wraps or even add rubber sleeves to improve their relationship to their piece.
The 1911 is blessed with simple stock panels. All you need to do to dramatically change how your gun fits your hand is spin four screws.
LOK grips is my go-to company due to the sheer amount of options they offer for the 1911, employing a group of skilled craft artisans and artists who can make just about any grip with any type of inlay you can imagine. I toured their facility and was impressed at not only their production capabilities, but also the amount of effort they put into making something as seemingly benign as gun grips. Another company that offers a tremendous amount of 1911 grip options is VZ Grips.
The general problem with gun grips is that they're a benign proposition; some people don't change them or even know they can. The 1911 is so easy to change in this department that I sometimes will buy one I like for the general features, then change grips to make it look and feel how I want in the hand.
I'm all about how my guns look. An old man I knew once said he couldn't stand modern polymer guns because they gave him nothing to look at, and, in his opinion, a gun was 1 percent shooting, 99 percent being looked at or fiddled with—a notion that I tend to agree with.
The functional angle of 1911 grips comes from what you intend to do with them. If I'm carrying one, I like it to be a smoother grip that won't snag on clothing or chafe my sides. I prefer a mild texture for field guns with no mag release cutout, something that will allow a good grip for steadying a shot without being so aggressive that it's uncomfortable or sharp if I'm in deep cold.
For guns I shoot for work or competition, I like a very aggressive texture with a thumb cutout for the magazine release. On these guns, I also like a palm swell or a taper that drives my hand up into the beavertail safety, thus allowing me to keep a high grip for fast shooting.
Gotta Enjoy the Little Things
I have to make a short list of drop-in improvements that often go overlooked. The little plunger tube spring (a $3 part at most) could do for a change on most 1911s after a few years. Refresher spring packs are available from most places, and Brownells stocks many brands like Wolff, Ed Brown, Wilson and more. The springs on a 1911 can be easily swapped out in regular maintenance. I personally do mine on an as-needed basis, not really on a specific round count.
Sights are one of those things that are occasionally harder to change on a 1911, but it can be done. You'll need to pay particular attention to the sight cut and dovetail type. If I were you, I'd decide if sight type is important to you from the start or be prepared to have a gunsmith install a set for you. If you want night sights on a 1911, it may be better to buy one with them factory installed. It can be a real pain to find the correct dovetails; many companies make their own versions that aren't interchangeable with aftermarket—or at least not easily.
Editor's Note: This article originally appeared in the 2021 December issue of Gun Digest the Magazine.
---
Raise Your 1911 IQ: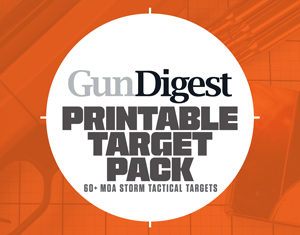 Next Step: Get your FREE Printable Target Pack
Enhance your shooting precision with our 62 MOA Targets, perfect for rifles and handguns. Crafted in collaboration with Storm Tactical for accuracy and versatility.
Subscribe to the Gun Digest email newsletter and get your downloadable target pack sent straight to your inbox. Stay updated with the latest firearms info in the industry.