Primary Weapons Systems has now entered the silencer game with the launch of the BDE Suppressor line, starting with the BDE 762.
Primary Weapons Systems has just announced its entry into the suppressor market with the launch of the BDE Suppressor line. The first can in the lineup is the BDE 762, a .30-caliber, modular suppressor made from titanium alloy.
The BDE 762 is a modular design that ships with four removable baffles. The included set of wrenches allows for easy configuration in the field, adding or removing baffles as desired to decrease length or increase sound suppression capabilities. The baffles are made of titanium alloy and produced using 3D printing technology. This construction technique combined with the state-of-the-art material allows for the components to be durable, lightweight and very effective at reducing noise output thanks to the more complex internal design enabled by 3D printing. Depending on the number of baffles attached, the BDE 762 ranges from 6.5 to 8.2 inches in length and 12.7 to 17.4 ounces in weight. They also feature a universal 1.375×24 thread pitch, making them compatible with most suppressor mounts.
PWS implemented some other smart choices into the BDE 762 design as well. The baffles are taper-threaded to prevent loosening and reduce carbon buildup that leads to locking, and they feature symmetrical notches to ensure there's no impact shift. The outside of the BDE 762 also sports a unique design that will supposedly help reduce heat mirage. The titanium components are anodized and the whole can is finished with black Cerakote.
Nate Treadaway, CEO of PWS, said this about the company's new suppressor:
One of the things I've always admired about PWS has been the ability to innovate. The addition of additive manufacturing (3D printing) capabilities to our Boise facility will further accelerate that commitment…We feel confident that the BDE 762 has versatility and performance characteristics that simply can't be replicated with traditional suppressor manufacturing processes.
The BDE 762 has an MSRP of $1,099.95 and it's available now.
For more information, please visit primaryweapons.com.
---
More Suppressor Info: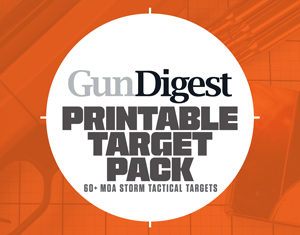 Next Step: Get your FREE Printable Target Pack
Enhance your shooting precision with our 62 MOA Targets, perfect for rifles and handguns. Crafted in collaboration with Storm Tactical for accuracy and versatility.
Subscribe to the Gun Digest email newsletter and get your downloadable target pack sent straight to your inbox. Stay updated with the latest firearms info in the industry.