Jacob Grey has just announced the TWC 9, a double-stack 9mm 1911 pistol.
The 1911 will probably never go out of style, but the classic single-stack varieties are lacking in capacity and features by modern standards. Hence the current popularity of the 9mm double-stack 1911, especially those sporting things like optics-ready slides and accessory rails. Jacob Grey is the latest company to announce its own spin on this concept in the form of the TWC 9.
The frame and grip of the TWC 9 are made of billet 7075 aluminum, and the pistol has a stainless steel 4.25-inch bull barrel with a 1:10 twist and a Nowlin ramp. Jacob Grey says that the CNC-machined billet aluminum frame and grip result in a very tight and smooth pistol while also providing good structural integrity and reducing the overall weight.
Other features of the 9mm TWC 9 include its CRT (Controlled Radius Trigger) that offers a consistent and crisp 3.5-pound trigger pull, its stainless steel optics-ready slide that's cut for RMR/RMSc-pattern red dots and its suppressor-height tritium front and rear sights from XS Sights. The TWC 9 also has an ambidextrous safety, a flared magwell and uses standard 2011-pattern magazines.
Todd Neice, President of Sales and Marketing at Jacob Grey, said this about the TWC 9:
I wanted to utilize our tech and aerospace history and combine it with the Jacob Grey Custom 1911 successes to build a production gun that is priced right and second to none in quality. Once you get your hands on this firearm you will quickly see that we succeeded.
The TWC 9 is available now and it has an MSRP of $2,499.
For more information, please visit jacobgreyfirearms.com.
---
More 1911s: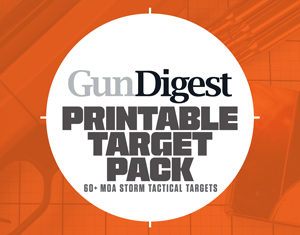 Next Step: Get your FREE Printable Target Pack
Enhance your shooting precision with our 62 MOA Targets, perfect for rifles and handguns. Crafted in collaboration with Storm Tactical for accuracy and versatility.
Subscribe to the Gun Digest email newsletter and get your downloadable target pack sent straight to your inbox. Stay updated with the latest firearms info in the industry.