Looking for a new iron or piece of kit to enhance the one you already own? Check out these 7 new bits of guns and gear to grow your firearms wish list.
The New Guns And Gear:
Nightstick TWM-852XL

Nightstick angles its gear toward law enforcement, which generally means its lights are well designed and rugged. This certainly is the case with the TWM-852XL. Kicking out 850 lumens for just shy of two hours, the fairly compact unit more than has the chops to enhance any carbine or SBR's low-light utility. But it's the long-gun controls that tend to win kudos. A rear-mounted single, dual-action momentary and constant-on thumb button provides shooters immediate and tactile activa-tion. Furthermore, at only 4.5 ounces, the aircraft-grade aluminum touch is tough—rated as IP-X7 waterproof. Compatible with Picatinny rail systems, the TWM-852XL is ready to rock with most mounting systems out of the box.
MSRP: $100
---
Viridian RFX45 Closed Emitter Green Dot

Closed emitter pistol optics and green-dot sights seem to only be getting more popular, which makes Viridian's new release perfectly timed. The RFX45's robustness is reinforced by a machined 6061 aluminum housing, fully multi-coated lenses and an IPX6 environmental rating. Other notable features include its instant-on activation, auto shut-off and advertised 50,000-hour battery life (powered by one CR2032). The RFX45 also has a generous 24mm lens, a 5-MOA green-dot reticle and 10 manually adjustable illumination settings (eight visible, two for night vision). The ACRO isn't the only mounting pattern available for the RFX45: Viridian also sells adapters for Glock MOS, RMR and Docter mounts, as well as Picatinny rails.
MSRP: $459
---
N8 Tactical Magna-Clip

N8 Tactical mostly makes holsters, but the company sells spare magazine carriers as well. Until now, those have been traditional designs, but the company has cooked up something different with its Magna-Clip. The mag carrier uses three very powerful neodymium-grade mag-nets to retain pistol magazines. This makes it compatible with virtually any all-metal or metal-lined handgun magazine, including Glock mags. The body of the carrier itself features a spring-steel pocket clip, which not only holds the magazine in place but also helps to conceal it by looking like an ordinary pocketknife clip.
MSRP: $30
---
Vortex Defender CCW Red-Dot

Tailored for compact carry guns, Vortex's new micro red-dot sight offers top performance at a relatively friendly price. Chief among these is the Defender CCW's ample sight window, offering exceptional peripheral vision and spatial awareness. At the same tick, the sight only measures 1.6 inches long, has a weight of just 0.95 ounce and offers a slim profile for a snag-free draw. Additionally, it mounts via the com-mon Shield RMS footprint. Available with a 3- or 6-MOA dot, the Defender has a motion-activated reticle and auto-shutoff to save battery life when not in use (14-hour timer). The Defender CCW also has a manually adjustable brightness setting, and the battery can be replaced without removing the optic from the weapon (takes one CR1632).
MSRP: $350
---
Sightmark Wraith Mini Thermal Riflescope

The optics in Sightmark's Wraith riflescope line were already capable of seeing in the dark thanks to their built-in CMOS sensors and IR illuminators, but the new Wraith Mini Thermal takes things to a new level. The model features a 384×288 resolution thermal sensor and five thermal color-palette display modes. The unit has a 1,400-yard max detection range, a 2x optical magnification range with 1-8x digital zoom and an OLED display with a 1024×768 resolution so images remain crisp even at higher zoom levels. Users can use a micro-SD card to record their shots, store five firearm profiles on the unit and choose between a wide variety of reticle and color options. However, the scope eats batteries (two CR123A) with a 3.5- to 4.5-hour battery life.
MSRP: $2,100
---
Ruger ReadyDot Micro Reflex Sight

Ruger has put an interesting twist in creating a wallet-friendly red-dot option. The ReadyDot pitches the batteries into the ashcan and opts for fiber optics. Because of this, the optic automatically adjusts the dot's brightness to the ambient light level. Given this, its large 15-MOA dot is very visible and easy to use in most conditions, excluding pitch dark. What's more, it's also non-adjustable and has no controls for changing windage or elevation. Why? Ruger claims that with compatible pistols the ReadyDot will be zeroed out of the box. The ReadyDot might not be the first option for your CCW pistol, but for range toys and fun shooters, it offers up plenty for little money.
MSRP: $100
---
SureFire X400 Ultra

Engineered to fit virtually any rail-equipped pistol, the X400 offers an illumination and aiming solution for nearly anyone who totes a pistol. On top of this, it really kicks out the light. With a recoil-proof LED and TIR lens, the X400 focuses 1,000 lumens of light into a smooth, far-reaching hybrid beam with a large central spot and plenty of spill light. This is an extremely effective combination for close- to medium-range engagements. Available in traditional red (635 nanometers) or high-vis green (515 nanometers), its 5-milliwatt laser is highly visible to the human eye to help the user get on target quickly and accurately. With a Mil-spec hard-anodized aluminum body, it can handle hard knocks and stay in the fight.
MSRP: Starting at $679
Editor's Note: This article originally appeared in the November 2023 issue of Gun Digest the Magazine.
---
Get More Guns And Gear: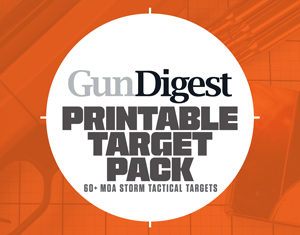 Next Step: Get your FREE Printable Target Pack
Enhance your shooting precision with our 62 MOA Targets, perfect for rifles and handguns. Crafted in collaboration with Storm Tactical for accuracy and versatility.
Subscribe to the Gun Digest email newsletter and get your downloadable target pack sent straight to your inbox. Stay updated with the latest firearms info in the industry.