Refined for superior on-person defense, the limited-edition Sig P220 LEGION Carry SAO is a cut above the rest.
The concept behind Sig Sauer's LEGION series is to provide the discerning shooter with a pistol a cut above the rest. Impressive, given the guns that make up the series are generally considered classics in their own right. But it's difficult to argue the behemoth gunmaker's results in turning out indisputable top-shelf options in the premium line. Take the newly minted Sig P220 LEGION Carry SAO for instance.
Not the first single-action only P220 to come down the pike—Sig has offered them over the years, most recently a 10mm P220 LEGION—the Carry model has some nice enhancements for the system. Chiefly, the gunmaker includes a flat-faced trigger from its Custom Works shop on the .45 ACP, which should ensure a pretty sweet break. Already, the pistol trips muck like a 1911, but should feel even lighter given the shoe design provides better leverage. Additionally, the flat face aids in a more linear trigger press, improving the pistol's accuracy potential.
The Sig P220 LEGION Carry SAO boasts several other desirable features found in the line, including a stainless-steel slide with the company's Electro-Optics X-RAY3 high Visibility day/night sights, front cocking serrations, aggressive G10 grips and Elite LEGION gray Cerakote finish. Per its name, it's configured for carry with a 3.9-inch barrel and very compact 5.5-inch height. Furthermore, the pistol is lightened up a hair thanks to an aluminum-alloy frame, but still weighs in on the heavy side for an on-person piece—right around 30 ounces. Also, it holds its own with other single-stack .45s for capacity, keeping 8+1 round on tap.
There is a catch to the new Sig—it's a limited edition. The gunmaker announced it's making only 500 P220 LEGION Carry SAO pistols, which means they'll move fast. Particularly in today's market. As to what the gem will set you back, Sig hasn't released an MSRP. However, for context, the full-sized P220 LEGION SAO generally commands the princely sum of $1,200 retail.
Sig P220 LEGION Carry SAO
Caliber: .45 ACP
Capacity: 8+1
Sights: X-RAY3 Day/Night Sights
Overall Length: 7.1 inches
Overall Width: 1.5 inches
Height: 5.5 inches
Barrel Length: 3.9 inches
Weight: 30.4 ounces
Rail: M1913
Trigger: Custom Works Flat, SAO
Grips: Black G10
Finish: LEGION Gray Frame
Material: Aluminum Alloy Slide
Material: Stainless Steel
For more information on the P220 LEGION Carry SAO, please visit sigsauer.com.
---
Raise Your Sig Sauer IQ: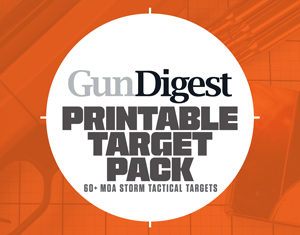 Next Step: Get your FREE Printable Target Pack
Enhance your shooting precision with our 62 MOA Targets, perfect for rifles and handguns. Crafted in collaboration with Storm Tactical for accuracy and versatility.
Subscribe to the Gun Digest email newsletter and get your downloadable target pack sent straight to your inbox. Stay updated with the latest firearms info in the industry.