It's been a 20-year wait for Sig to re-enter the bolt-action market and it's done so in style. Innovative and accurate, the Sig Cross rethinks what the rifle can be.
Sig Sauer is one of the most dynamic and innovative companies in the firearms industry today. This statement might seem to be one full of pomp and fluff, but you'll be taxed to find a single company as of recently that's introduced more designs with as much widespread acceptance—and criticism—than Sig Sauer.
In this special article, Gun Digest provides a first look at one of the only existing prototypes of Sig's brand-new Cross bolt-action rifle.
The Sig Cross is a ground-breaking design. Never before has there been a world-class bolt rifle introduced with an expected street price of less than $1,500. That, alone, will be enough to attract flocks of shooters to the design. And, while we're going to cover the details of the rifle, there first needs to be some discussion of what this gun means to the industry as a whole.
Backstory: P320 and P365
Sig Sauer has introduced two handguns that have shaken the entire foundation of their respective markets. The underdog story of the P320 is one that will likely never be forgotten. The modularity of the design, as well as its uncompromising reliability, has allowed it to soar. It now has the distinction of wearing the titles of "M17" and "M18" in the hands of the United States military. It can also be found in an increasing number of law enforcement holsters and in the hands of a growing number of competitors.
Sig then introduced a gun that's rewritten "concealed carry." The P365 was such an alarming design to the industry as a whole that it spawned an entire new genre of pistol in order to compete with it.
Sig Cross Rewrites The Bolt-Action Story
While its impact on the market might not be as immediate as the P365 or as stinging as the adoption of the M17, the Sig Cross has essentially rewritten the story of the bolt-action.
Exactly what's so innovative about this particular design? The answer lies in the fact that Sig's design-and-engineering team was going to make something completely its own. The product designers had been approaching their leadership for a couple of years, without success, for the development of a bolt-action. The decision was that if they were going to make a bolt-action, it would be something that had never been done before—and was accessible to more people than ever.
I spent a long time talking with Patrick Hanley, one of the people responsible for bringing the Cross into the world.
"The Cross is a very interesting project," Hanley explained. "We started this two years ago after talking internally about moving into this category. We spent countless hours debating in rooms of 20 people what the correct paths and attributes were for this rifle; and, in the end, I think it was worth every minute of it."
The Crossover Sig Cross Concept
The Sig Cross isn't just a tactical rifle. In fact, it's designed as a crossover among all types of rifles available today. Again, I received one of just three firing prototypes: Later versions will have a whole host of adaptable accessories that will make it customizable for nearly any situation for which a person might need a rifle.
According to Hanley, the initial discussion started with a question:
"How do we get a hunting rifle to have the quality and features of a precision rifle without allowing the weight to be a deterrent to hunters?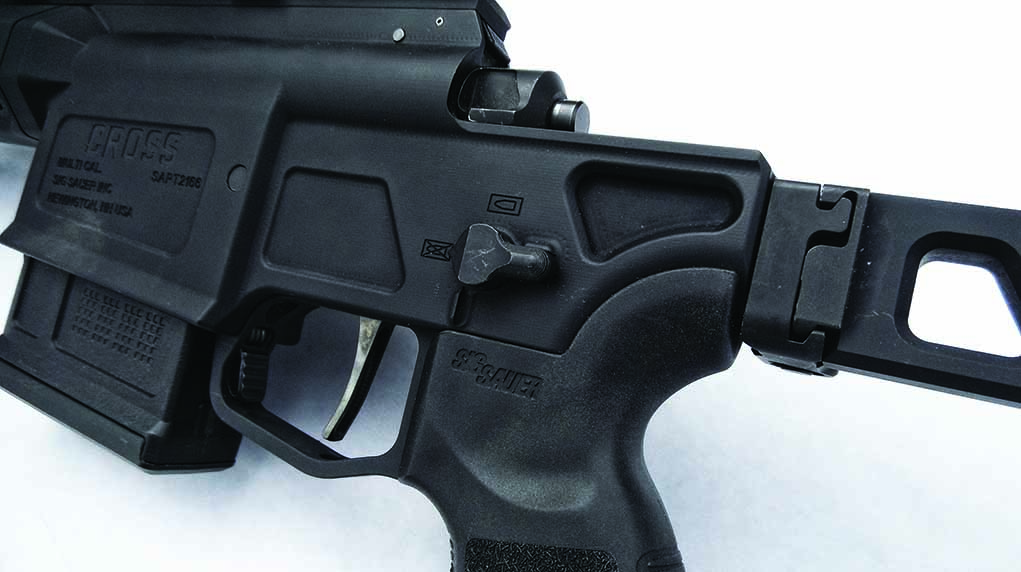 We knew that to do this, it should be our own design. From its front to back, this rifle was designed at Sig in New Hampshire. We started from there with the one-piece receiver, thus eliminating the need for bedding, action screws and all the other associated weak points present on existing bolt-action platforms. This, of course, means we were able to create a next-generation hunting rifle, as well as a next-generation everything rifle."
Many of the pieces on the prototype rifle featured in this article are 3D printed. There will be some variance between what you see here and what ends up in your safe this coming spring (although I don't know any of the exact details of those changes at this time).
Hanley explained, "We went to work on the trigger, which we also knew would need to hit it out of the park—or the rifle would fail. Our team designed a fully housed two-stage match trigger with a range of adjustment between 2.5 and 4.5 pounds and eliminating the creep. This will allow users to have a trigger out of the box that they should never need to change.
"The stock was also a big part of the rifle, because outside of folding, most hunting rifles don't have a range to give you enough adjustment to make the rifle fit comfortably. We looked at every angle on this stock and gave it all the adjustment you could possibly need: comb height, pad height, pad cant (screws on the pad assembly go 7 degrees either way), a reversible comb and length of pull.
"Finally came the barrel," Hanley continued. "To us, accuracy will always be the biggest point of contention in a quality rifle. We have national PRS champions, Delta snipers and people who can flat-out shoot at the Sig Academy. They put this thing through the ringer. As a result, the barrels we're making in house have been fine-tuned to be one of the best the market will see."
Another Industry Game-Changer
The rifle I received was chambered in .308 Winchester and had a 16-inch barrel. Sig is planning to release a 6.5 Creedmoor version, along with the .308 Win.
When it comes to the discussion of caliber, there are big plans for the Sig Cross. With this rifle, we'll likely see the first commercially available firearms chambered for Sig's revolutionary Fury high-pressure ammunition. The first of these is the .277 Fury, a round developed from Sig's new cartridge case design for the Army's next-gen weapon systems. The performance factors this ammunition will generate is nothing short of extraordinary. Expect even more innovation shortly—you'll be surprised with what's coming.
Because the Cross design is meant to cross a performance "bridge" between legacy ammunition and next-generation, high-pressure ammunition, it has some features that are put in place to deal with extra power.
The bolt features a 60-degree throw and a three-lug bolt head. The bolt head features an extra set of lugs designed as a backup for the extreme pressures generated by the Fury ammunition. The action is incredibly rigid—but also very light. Its monolithic design is bolstered by the fact that it uses a barrel extension system similar to that on an AR-15. I've been assured that the design will allow the user to make quick and easy barrel changes, so expect an aftermarket following.
The Sig Cross at the Range
It should be noted that the rifle I received, in addition to being a prototype, had seen quite a bit of ammunition: It was one of only three firing examples. The accuracy I initially recorded was not spectacular, but it turned out to be the fault of the ammunition. I was able to consistently print ¾-inch, five-shot groups at 100 meters using Hornady 168-grain match ammunition. The best group was five shots into ½ inch. This trend then continued with Sig 175-grain match ammo, with accuracy being sub-MOA at all ranges. The final Cross product should be even more accurate.
Additional Features
A great feature of the Sig Cross is that it's light. The total loaded weight, with scope, was fewer than 9 pounds. That's impressive for an all-metal, precision bolt-action rifle. Many of the rifles I've used in a similar role have weighed upward of 15 pounds. The Cross's light weight and compact folded size will make it quite popular among backpack hunters and those who have to navigate across diverse terrain.
The Cross feeds from standard AICS-pattern magazines. I tried several different brands in the rifle, and all fed just fine. Among the mags tested were genuine AICS and Alpha magazines.
While it might raise eyebrows that the SR 25 magazine was not chosen, there's a sound reason behind it: The single-stack profile of the AICS lends itself to a thinner overall width and more flexibility for new cartridges as they come out, many of which would need proprietary magazines.
The Future
This rifle might be a hard sell as a hunting gun for some people. It certainly has a tactical vibe to it, which could keep the traditionalists at bay. Even so, there's a great future for the Sig Cross. An entire host of accessories, parts, barrels and myriad other upgrades is scheduled to be released for the system. There is, in fact, a long-action version planned that's just entered into its initial design phase.
This design is the first of a brand-new generation of ultra-capable firearms available to the public. This isn't a simple gimmick or new spin on an old concept. The Cross is the herald of what's to come.
For more information on the Sig Cross, please visit sigsauer.com.
The article originally appeared in the February 2020 issue of Gun Digest the Magazine.
---
Raise Your Sig Sauer IQ: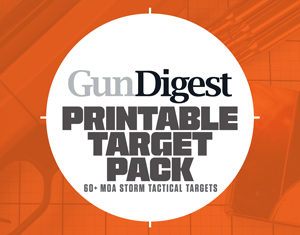 Next Step: Get your FREE Printable Target Pack
Enhance your shooting precision with our 62 MOA Targets, perfect for rifles and handguns. Crafted in collaboration with Storm Tactical for accuracy and versatility.
Subscribe to the Gun Digest email newsletter and get your downloadable target pack sent straight to your inbox. Stay updated with the latest firearms info in the industry.